Best beaches in Costa Rica: Getaway tropical beach vacation
In this article we're going to explore some of the best beaches in Costa Rica, as well as information to prepare your trip and more.
7min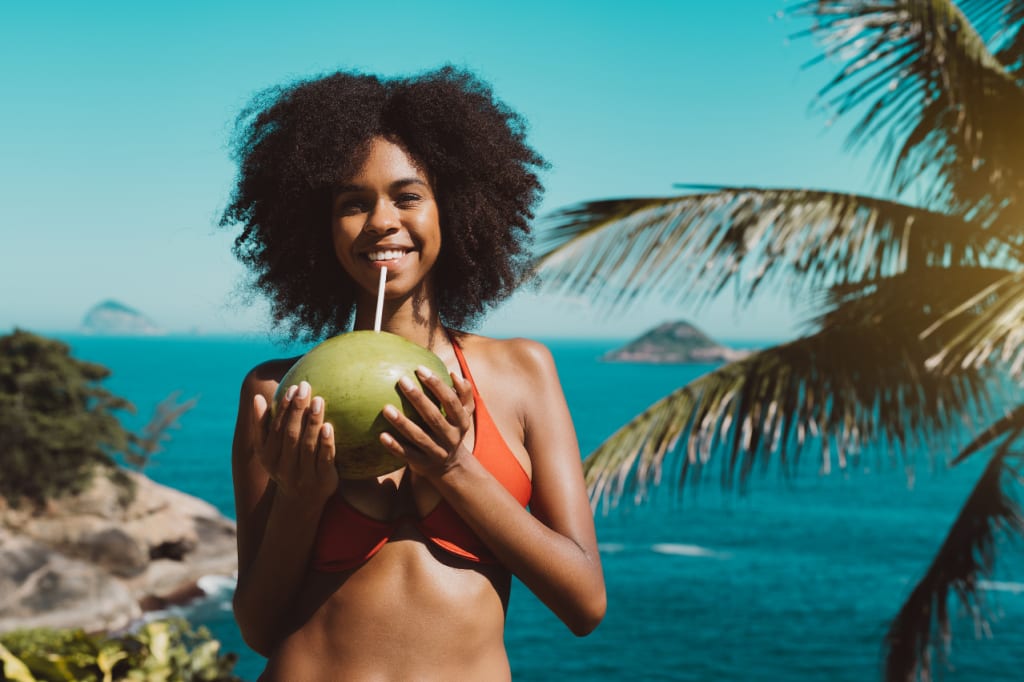 Costa Rica is one of those hidden beauties that is a pure and raw natural creation. It's one of the most biodiverse countries in the entire world and has so much to offer to not only tourists but also the wildlife that calls the rich coast its home.
Best Beaches in Costa Rica: Top 9 Beaches to explore and enjoy
There are hundreds of charted and uncharted tropical beaches in Costa Rica that are each uniquely beautiful and all offer their own unique flair, but we're going to discuss some of the most popular beaches that lie on the Caribbean & Pacific coasts.
1. Parque Nacional Manuel Antonio
Known to be possibly the best beach in Costa Rica, Parque Nacional Manuel Antonio is certainly a sight for the eye.
Located on the Pacific coast, this beach offers tours to see all the area has to offer. It's an awesome place to see dolphins, jetski, or just enjoy a relaxing beach day by the water.
2. Espadilla South Beach
Also posted on the Pacific Coast, Playa Espadillo Sur is located inside of Parque Nacional Manuel Antonio.
It's a gorgeous location inside the national park where people enjoy spending the day soaking up sun by the beach and is extremely tourist friendly.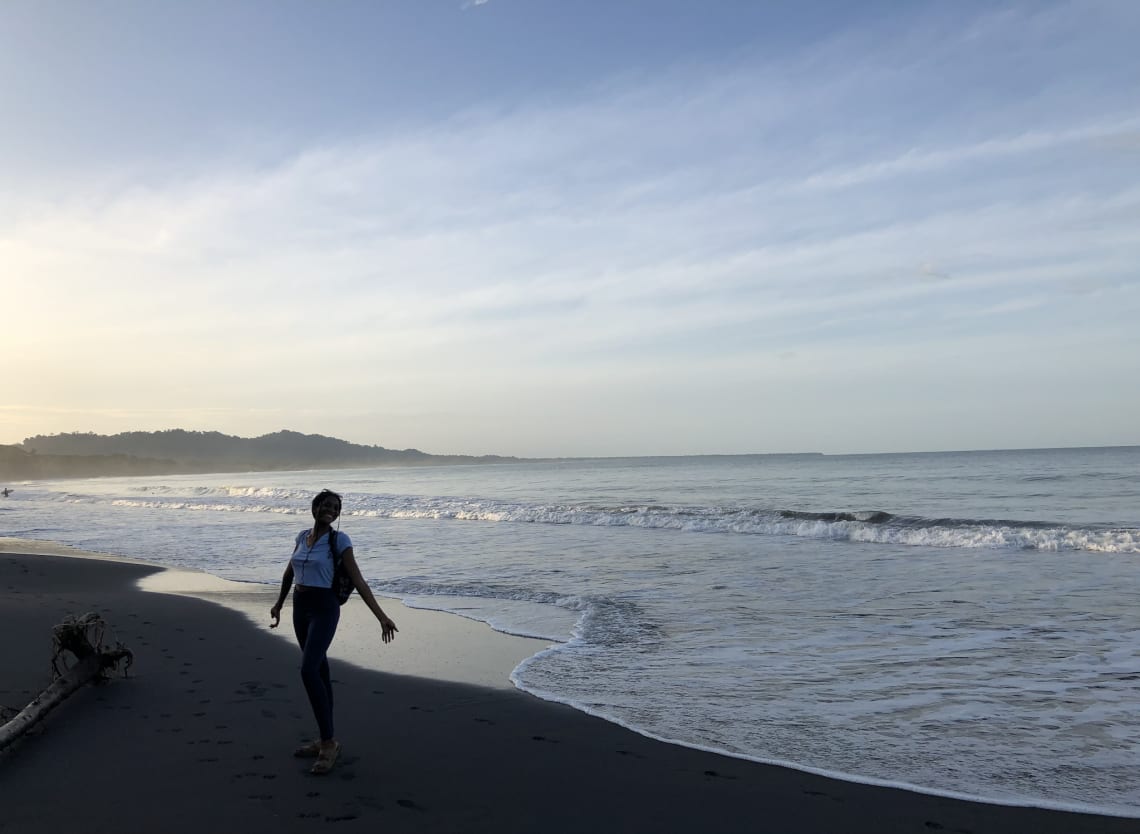 3. Playa Negra, Puerto Viejo
Located on the Caribbean side, Playa Negra in Puerto Viejo was probably one of my most enjoyable times spent in Costa Rica.
The sand is a beautiful pearl black and consists of remnants of volcanic ash and is surprisingly extremely lush and soft!
Head to this spot to capture a beautifully unique picture.
4. Punta Uva Beach, Puerto Viejo
Punta Uva has chill vibes, picnic worthy scenery, and rough waves (at times). In the Caribbean town of Puerto Viejo in the Limon Province, Punta Uva is about 5 miles from downtown Puerto Viejo and makes for the perfect bike ride if you're up for it.
Grab a speaker and a snack, some water, and your camera because the views along the way are sure to take your breath away.
5. Manzanillo Beach
Don't be confused! There are two Manzanillos in Costa Rica situated on both coasts.
Located in Puntarenas on the southern tip of the Nicoya peninsula, the Manzanillo on the Pacific side is not well known to tourists but is a hotspot for locals.
The Manzanillo on the other side of the country in the Caribbean sea however is a small fishing town that offers a fusion of Afro-Caribbean and Latin vibes. This beach is gorgeous, loved by many, and makes a great spot for snorkeling.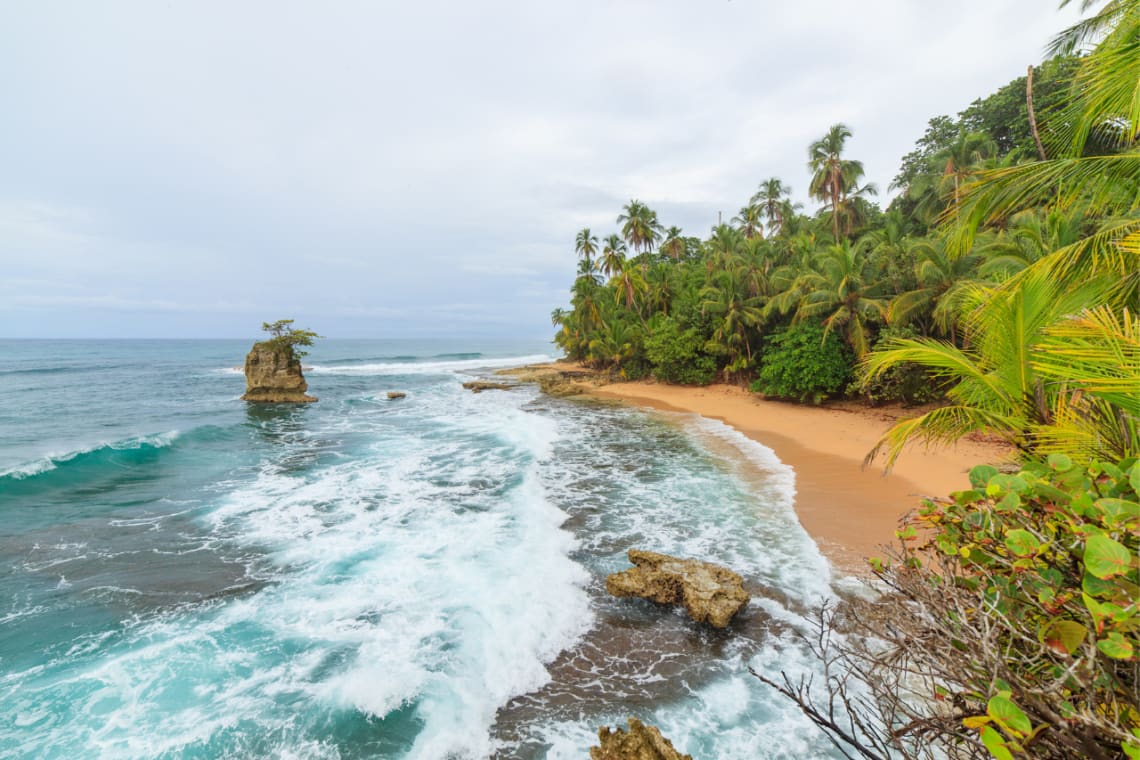 6. Tamarindo Beach
A bit more North on the Nicoya peninsula on the Pacific side lies the beautiful Tamarindo Beach.
About an hour drive from the Liberia airport, Tamarindo has plenty of activities and restaurants for tourists to enjoy once they arrive at this cute little beach town.
7. Montezuma Beach
Another Pacific side beach, the town of Montezuma serves a population of expats and locals who enjoy nature and laid back living.
There are several other beaches located nearby as well as a nature reserve so check it out if you ever get the chance to make it near this city.
8. Samara Beach
Samara is one of those hidden and overlooked beauties that doesn't receive the recognition it deserves, but also gets to benefit and preserve a lot of its natural nature by not receiving that many visitors.
Bring a blanket and snacks as you're going to watch the sunsets here, they're unlike no other.
9. Playa Conchal
Located in the Guanacaste Province on the Pacific Coast, Playa Conchal is also extremely close to another famous beach we discussed earlier, Tamarindo.
The best time to visit this beach and Costa Rica in general is December through April as the area rewards tourists with 10 hours of daily sunshine.
Plan your Costa Rica itinerary with the 11 best things to do in Costa Rica.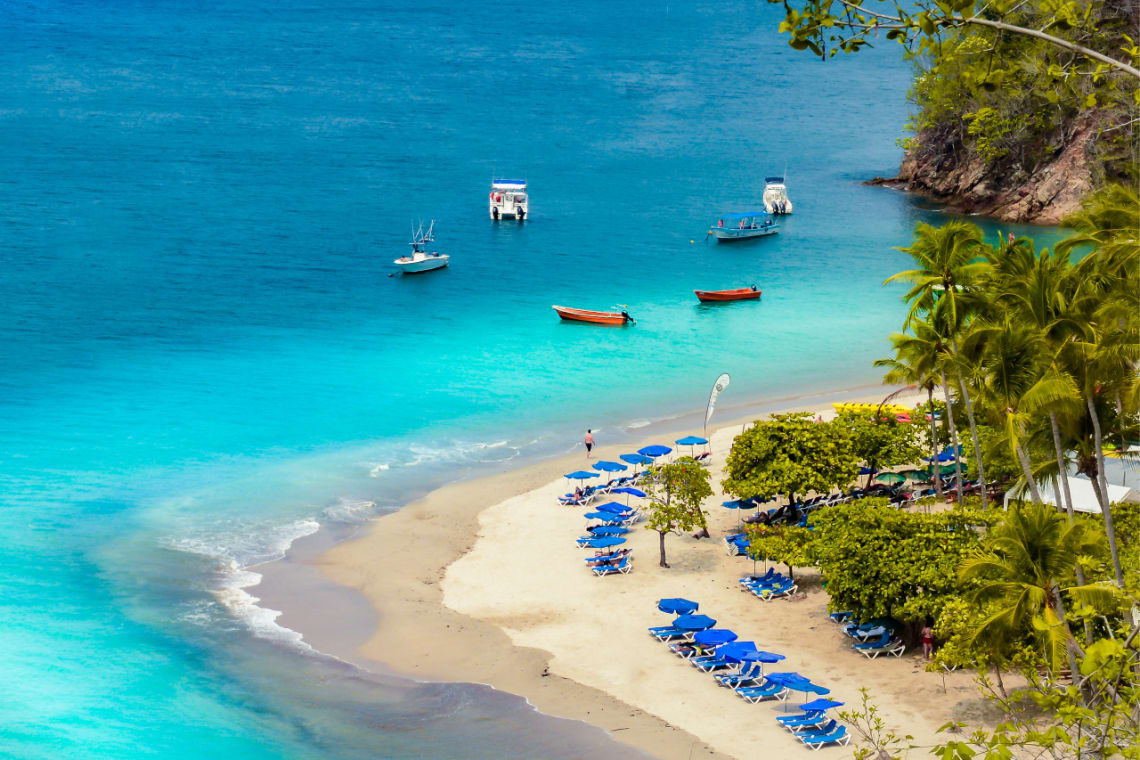 Choosing the best beaches in Costa Rica: Caribbean Coast vs. Pacific Coast
The "rich coast" (Costa Rica) wasn't named rich for no reason. It is a tropical destination with two smaller peninsulas and has two sea's on each side of the country giving it a major island type feel.
Although it is a nation with a united culture and friendly vibes, giving the true Pura Vida experience; the feel of the two coasts may be different.
Lets go ahead and discuss the main differences between the Pacific and Caribbean coasts of Costa Rica.
Costa Rica's Pacific Coast: Tourist friendly beach towns
The Pacific side of Costa Rica was reported to be a bit more developed than its cousin on the Caribbean side (but it is still equally as beautiful and worthy).
There are tons of expat and tourist towns going all along the Pacific that offer welcoming and friendly vibes.
There are so many popular and well known beaches that go all along the Pacific Coast whereas most of the Caribbean's beaches are on the south side.
The Pacific side also houses more national parks and nature based activities making it a popular go-to spot for tourists alike.
Costa Rica's Caribbean Coast: Afro Caribbean fusion
It's been said by quite a few that the Caribbean coast offers more laid back, authentic vibes.
As a traveler that yearns to get the most authentic experience possible, the Caribbean coast was the perfect place for me.
Both the Caribbean and Pacific coasts offer beautiful beaches but this side is home to Tortuguero beach which is absolutely perfect for spotting wild aquatic life!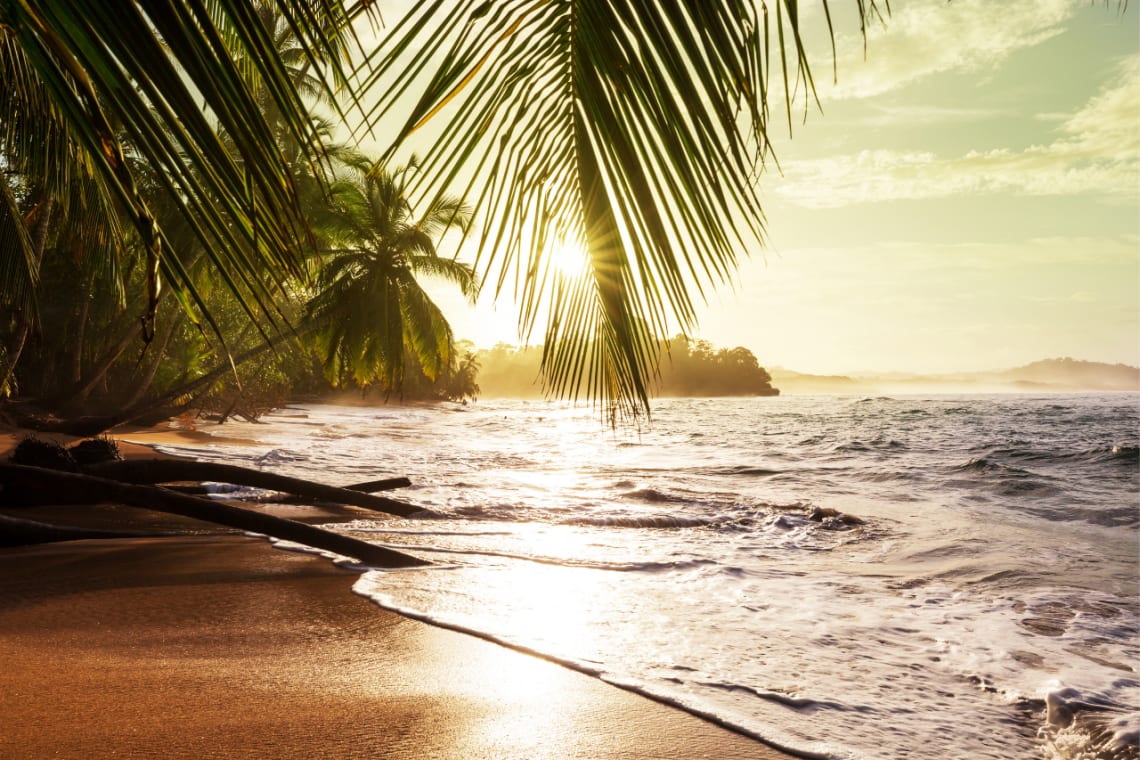 Costa Rica Beach Safety: What to know before swimming in Costa Rica's beaches
When people head to the beautiful Central American country, their first thought is to immediately head to the beach. While Costa Rica is widely known for surf life and gorgeous beaches, the tides can get extremely dangerous.
Around 200 people die every year due to drowning in rough Costa Rica waves. If there are signs saying the tides of the day are dangerously high, it's best to use common sense and not swim too far.
Rip currents are commonly the strong waves that unfortunately cause surfers and swimmers to drown. This wave takes the victim far away from the shore and the safety of land.
Many people see rough waves going into the water assuming they'll be fine and then realize the waves are too rough for them to handle.
It's always important to test the wave currents and strength of the waves of any beach not only in Costa Rica but all over the world.
Planning a trip to Costa Rica: What to know & How to Prepare
Costa Rica is a country that has mostly sunny weather all year round and is a great destination to escape to when winter time comes.
Even though the country has a tropical and mostly sunny climate, it does have its different seasons when it rains everyday.
September through October are known as the rainy months and the weather will be very wet and not make for the best beach day.
The dry months of Costa Rica include December through April where rain is not often making for the perfect exploring experience. November through December is when the rainy season is just starting to end (rain will still be experienced, just not as often) but prices may be a bit higher due to travel during the holiday season.
Check out the full information about the best time to visit Costa Rica.
Where to fly from: How to find affordable flights to Costa Rica
Flying to the Central American destination from one of the 50 United States (with the exception of Hawaii or Alaska) is generally very affordable, a traveler can find flights as low as USD80 for one way.
The two flight search engines I always use to book my flights are skyscanner.com and kiwi.com. Just be sure to check if your flight allows checked baggage as a lot of flights in Central America only allow a personal item.
Don't miss out: How to find cheap flights to anywhere: everything you need to know about low-cost airlines.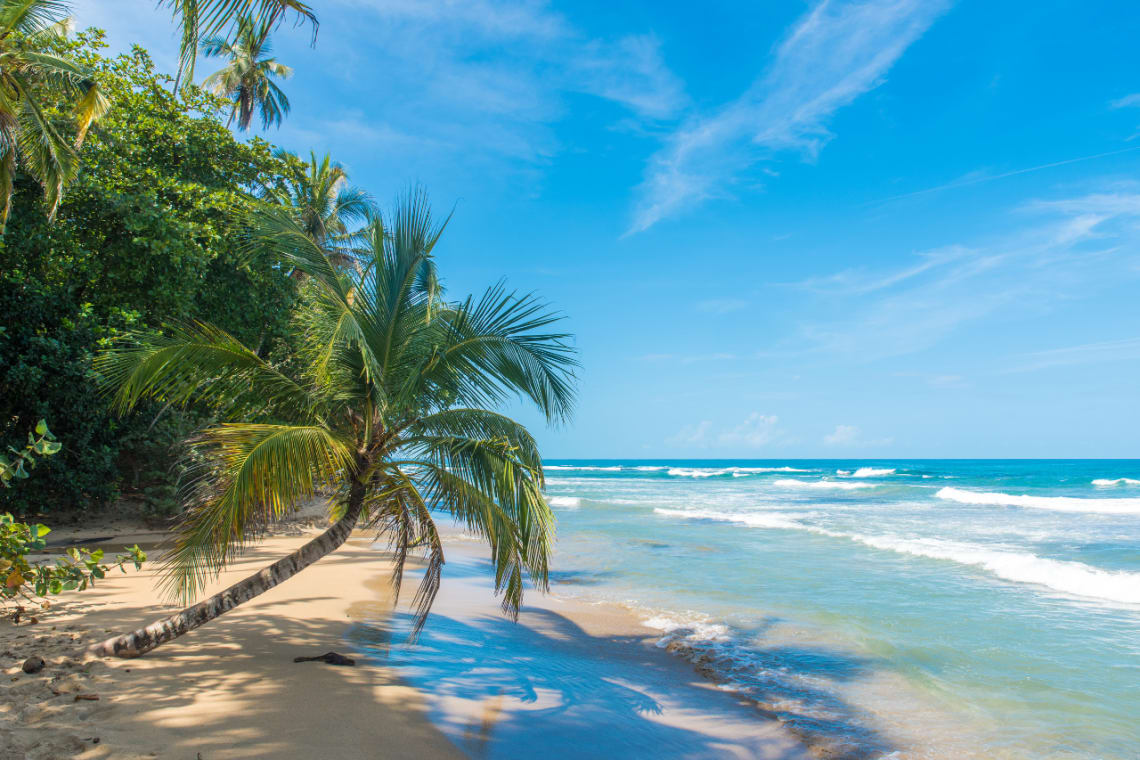 Visit the best beaches in Costa Rica while volunteering
A lot of countries receive a free 3 months on their visa and entry for Costa Rica. Many digital nomads have chosen to turn their vacation into a long term stay with their visa allowance in the country to have a fully immersed cultural experience.
If you're interested in staying in Costa Rica for several months, you can do it by vounteering in exchange of accomodation.
Now you may be asking, how in the world can I stay in such a beautiful place (that is commonly known to be very expensive) for free?
Work exchange or volunteering allows long term travelers to stay in certain destinations by volunteering their time and skills in exchange for accommodation.
WorldPackers is a platform that not only has volunteering positions in Costa Rica but all of Central America including Guatemala, and its neighbors Nicaragua and Panama.
Now that we've learned a little more about what work exchange is, let's explore some of the volunteer positions in Costa Rica:

Enjoy a daily view of a beautiful waterfall and be immersed in nature everyday you awake. With included breakfast, lunch, and dinner, while helping with cleaning, housekeeping, and the reception desk at this eco lodge in Platanillo.
Ready to see the best beaches in Costa Rica for yourself?
Costa Rica is a dream destination with many amazing things to see and do, including seeing wild animals in the tropical rainforest, experiencing native culture, and of course gorgeous beaches.
The country has so much to offer in many and all aspects and I hope everyone has the opportunity to experience the beauty of this country even if just for a few days.
Keep travelling in Central America with these articles:
Also, follow Worldpackers' social media to keep up with the news. We are on Instagram, Tiktok and YouTube!