How to visit Costa Rica on a budget
The ultimate travel guide to visiting Costa Rica on a budget! This tropical and gorgeous country in Central America is gonna caught your eye.
7min
It is so easy to travel to Costa Rica on a budget! This tropical and gorgeous country in Central America is one of the most tourist-friendly countries in the region.
While it is common to enjoy luxury vacations, all-inclusive retreats, and expensive getaways in Costa Rica where you really treat yourself, you can still visit Costa Rica with little money.
In this article, I'll explain the best budget travel tips for Costa Rica. I'll cover accommodation, food, activities, and other ways to travel through Costa Rica on a budget.
So if you're a backpacker with little funds and you want to make your money last as long as possible, don't skip Costa Rica!
How to visit Costa Rica on a budget?
If you're wondering "Is Costa Rica cheap to visit?", the answer is yes and no.
Compared to other Central American countries like Nicaragua or El Salvador, Costa Rica is generally more on the expensive side. It's pretty well-developed and has a thriving tourism industry, so things do cost more.
But compared to expensive countries like Australia, the UK, or the USA, Costa Rica can be very affordable to visit. Following the budget travel tips listed in this article, you can definitely explore this beautiful country without spending much money.
Costa Rica on a budget: currency
Costa Rica on a budget: accommodation

Costa Rica on a budget: food and drinks
Costa Rica on a budget: transport

Costa Rica on a budget: activities

More on budget travel in this part of the world in the guide on How to travel cheap in the Caribbean.
Costa Rica on a budget: currency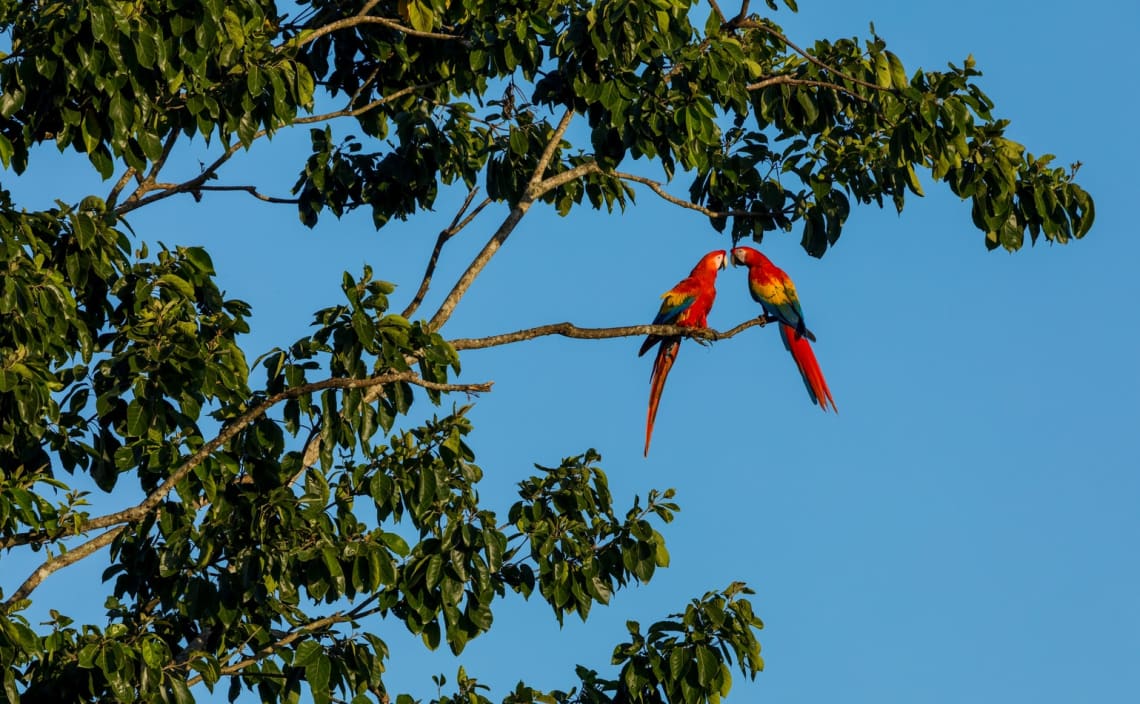 The national currency in Costa Rica is colones. Sometimes you can pay for accommodation and tours in USD, but try to exchange for the local currency just in case. You'll need local cash to pay at local eateries and such.
1 USD = roughly 600 colones
I recommend not exchanging money at the airport, as they tend to charge higher fees. Wait until you get into San Jose or another city or town and exchange at a local bank.
Also, consider getting a debit or credit card with no foreign transaction fees so you don't get a fee when you withdraw foreign currency at an ATM.
Costa Rica on a budget: accommodation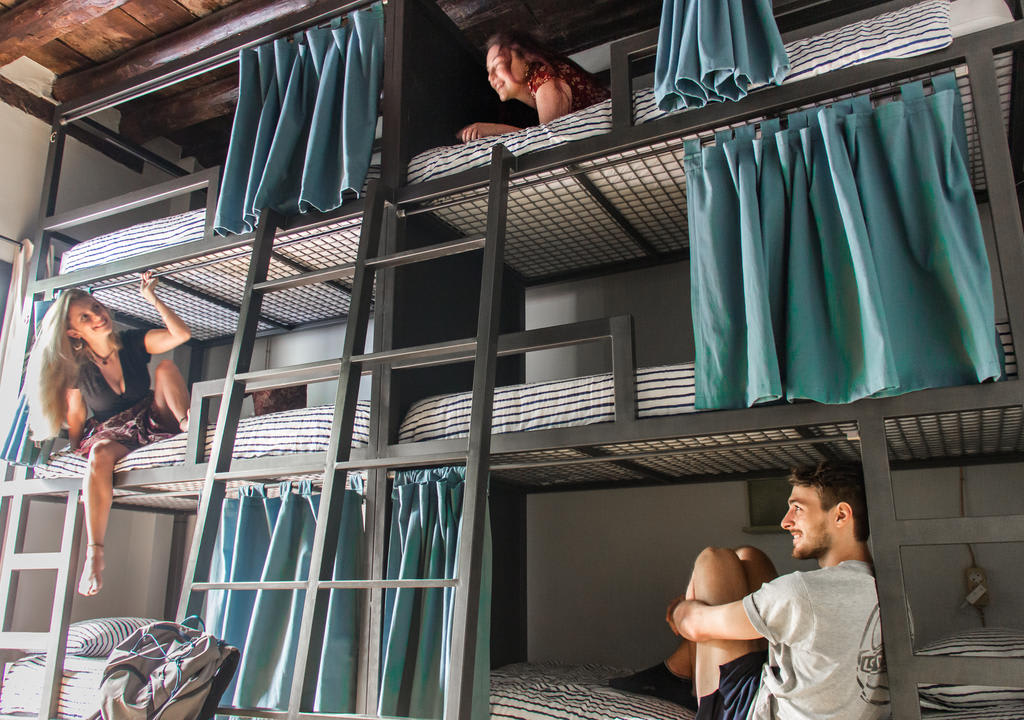 Accommodation is usually the biggest expense while traveling. But there are plenty of options if you're wondering where to stay in Costa Rica on a budget.
Experience Costa Rica with a Work Exchange
First, to save the most money, consider a work exchange. Doing a work exchange allows you to work for your accommodation, so your living expenses are close to nothing. Some work exchanges include free meals and other amenities as well.

In exchange, you'll have to work around 20 hours per week. The work is generally pretty low-key and you don't need prior experience.
Especially in Costa Rica, there are lots of cool eco-lodges and retreats that look for volunteers to help with gardening, cleaning, preparing food, and more. You can have an interesting cultural exchange where you get to learn new skills and meet locals.
If you do have skills like social media, photography, or teaching yoga, there are also lots of cool work exchange opportunities in Costa Rica.
So consider trying a Worldpackers work exchange to have a fun experience and get free accommodation in Costa Rica!
Hostels
The next cheapest accommodation is hostels. Hostels are fun, social places to stay, especially if you're a solo traveler in Costa Rica looking to make friends.
Hostels in Costa Rica cost around 10-15 USD for a shared dorm room. Most dorm rooms have secure lockers where you can store your belongings, as well as friendly staff to help you book activities and plan your stay.
There are also plenty of Airbnbs, guesthouses, and hotels in Costa Rica. But for where to stay in Costa Rica on a budget, I would stick with either work exchanges or hostels.
Costa Rica on a budget: food and drinks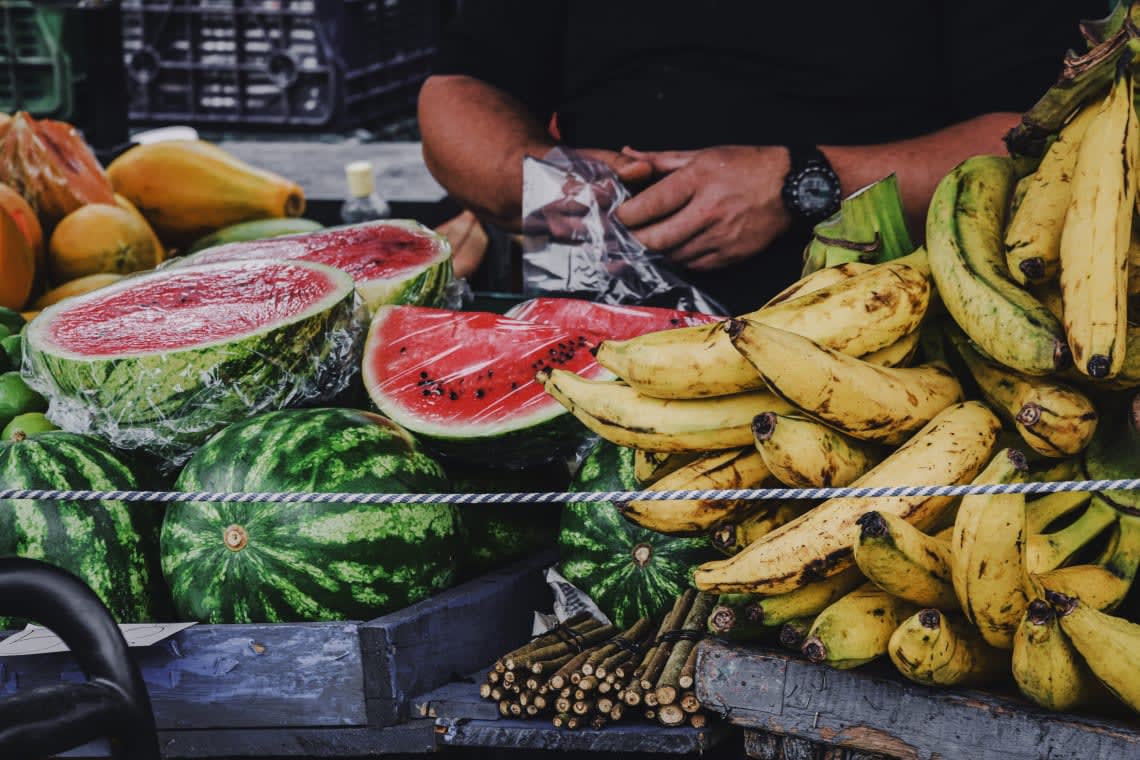 Another tip for traveling Costa Rica on a budget is being mindful about where and what you eat or drink. The biggest budget travel tip is always: eat and drink like the locals.
Because Costa Rica is quite touristy, there are a lot of westernized restaurants that cater to tourists. They serve international dishes like burgers and pizza, and they are also very overpriced. Ditch these places and try to eat local food instead. You'll have a more authentic experience, and you'll save money.
Ask your hostel staff or work exchange hosts about the best local places to eat. You can find delicious local dishes like meat stews, plantains, tamales, and gallo pinto. The latter is a dish of rice and beans that is often eaten at breakfast.
Also try a casado, which is a traditional plate that includes an assortment of local foods. A soda is a small family-run restaurant that offers these heaping plates of food for the equivalent of around 5 USD.
Dabble in the local produce as well, as you can find fresh coconuts and fruits like papayas and bananas. The local foods are always the freshest and most delicious, and they are the cheapest.
The same rule goes for drinking alcohol. On a night out, if you buy cocktails and imported drinks you'll blow through lots of money. But if you drink the local spirits and beers, you'll save money.
Overall, drinking alcohol in Costa Rica is quite expensive. Seek out happy hours if you can, or try to avoid drinking altogether to save money for fun activities!
Costa Rica on a budget: transport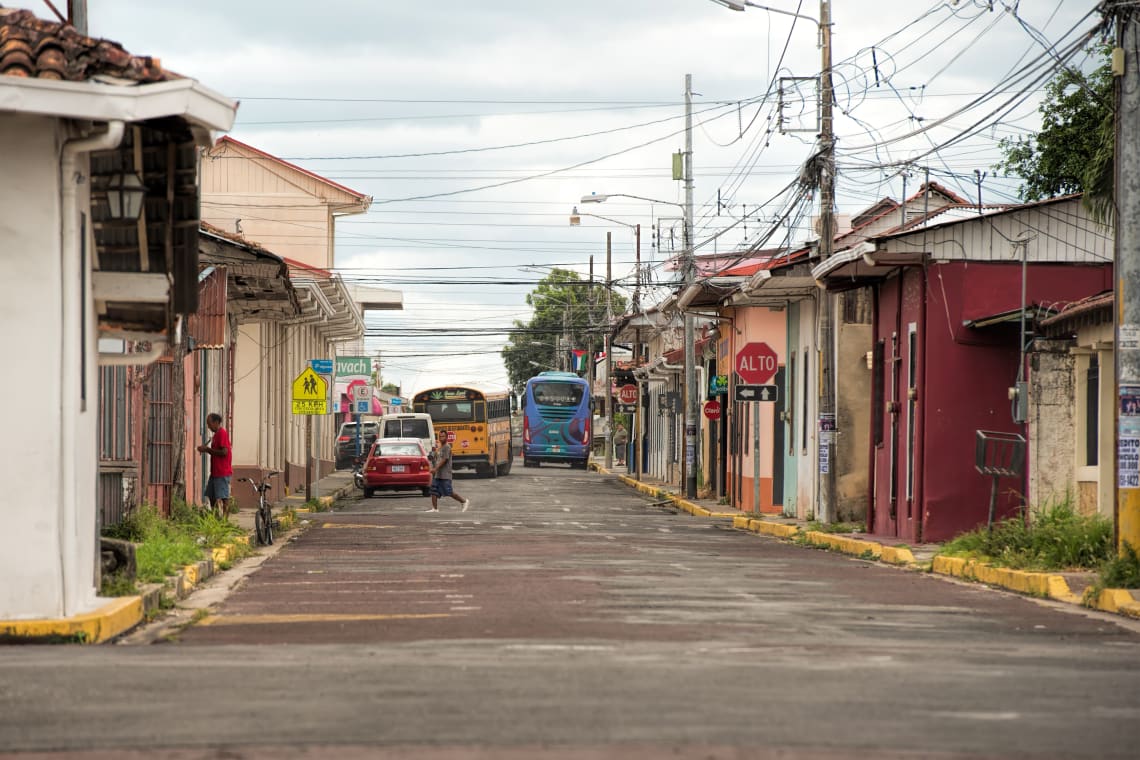 The cheapest form of transport in Costa Rica is a public bus, as is common in many countries. However, public buses in Central America are very slow and generally crowded.
If you're really trying to save money in Costa Rica, take the public buses when you can. It's also a good way to practice Spanish!
The next cheapest form of transport and probably the most common is a shared van or minibus. Costa Rica is a pretty small country, so you can cover a lot of ground in a shared van. The prices are more like 20-30 USD for a long journey, which isn't too bad. The van may also have air-conditioning and will pick you up/drop you off in more convenient locations.
You can take taxis in Costa Rica, but they are more expensive and the rides will add up. Take taxis for short journeys or on a night out partying.
But for traveling longer distances around the country, I recommend a shared van. If you're staying in a hostel or doing a work exchange, it is also very easy to find other travelers to share transport with and lower the costs.
Costa Rica on a budget: activities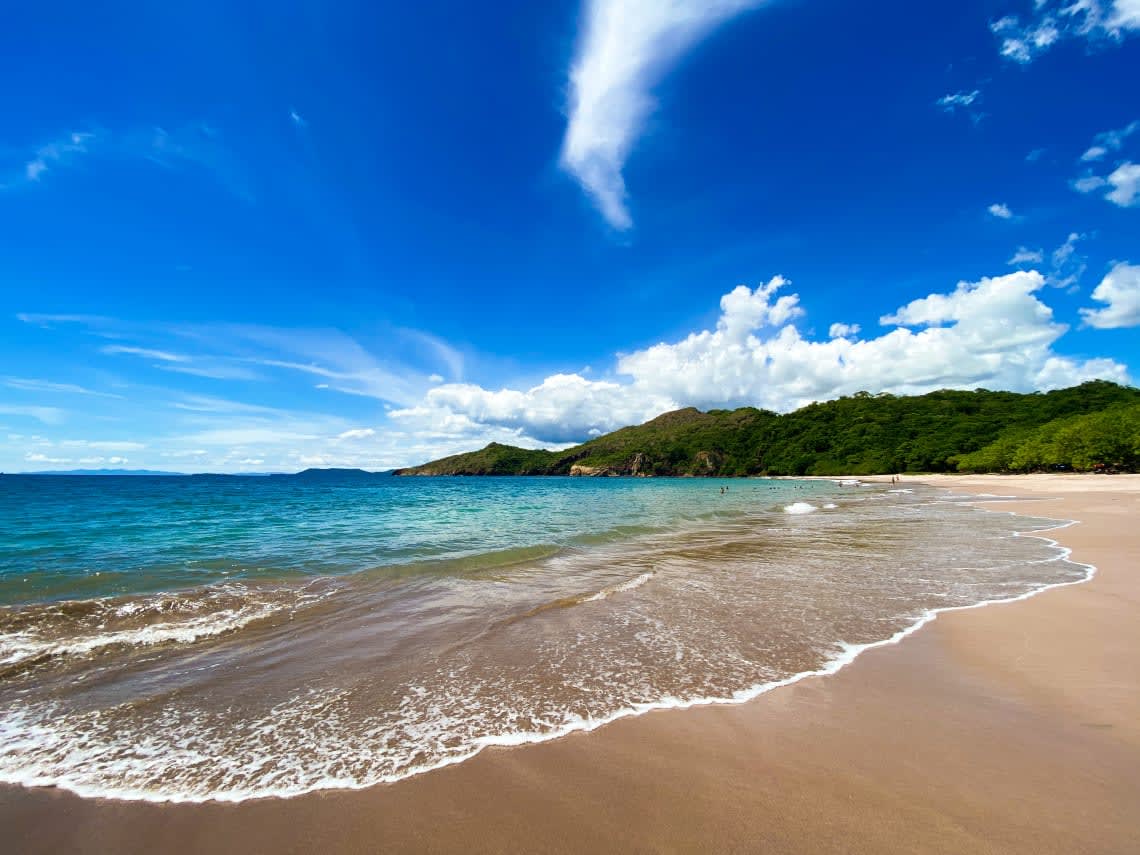 One of the main reasons why it's easy to travel Costa Rica on a budget is that most of the best activities are free.
The country is so rich in natural beauty that all you have to do is explore nature to have an amazing time. Here are some of the best things to do in Costa Rica, all of which can be done on a budget.
Surfing
Visit the Pacific Coast and go surfing at incredible beaches like Playa Avellanas, Playa Negra, Playa Tamarindo, Playa Hermosa, and Playa Langosta.
Surfing and swimming are free, but if you're traveling without a board you may have to rent gear. Luckily, that is pretty cheap in Costa Rica.
For example, in the popular tourist town of Tamarindo, you can rent a surfboard at a local shop for around 5 USD per hour. That is so cheap compared to other countries like the USA and Australia!
Check out which are the best beaches in Costa Rica.
Hiking and Exploring Nature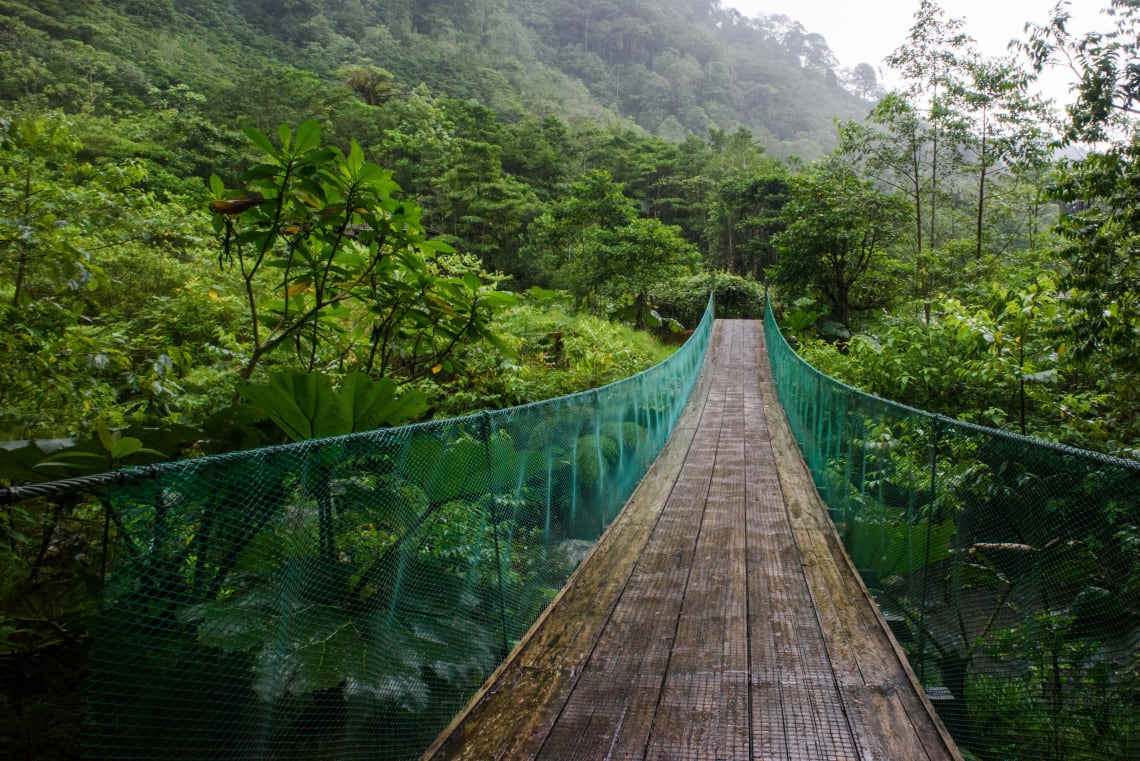 Aside from surfing, hiking is one of the most popular activities to enjoy in Costa Rica. Corcovado National Park, Arenal Volcano National Park, and Santa Rosa National Park are some of the best national parks for hiking in Costa Rica.
Some hiking trails and parks are free, but some charge a fee of around 10-15 USD. But for a stunning location, this is pretty affordable.
The Monteverde Cloud Forest is another one of the most popular places to visit in Costa Rica on a budget.
You can hike and explore for little money, as the area is packed with walking trails and dense jungle. Walk the Hanging Bridges walk over the famous suspension bridges, or complete the classic trails like the Cloud Forest Trail or the Swamp Trail.
Also, be sure to visit the Monteverde Cloud Forest Biological Reserve to see some of the unique and special wildlife.
It is 25 USD to visit the reserve, which is worth it for a full day of immersive exploring. You can also go ziplining for around 50-80 USD. This is obviously more expensive, but it's an unforgettable experience.
Check how the weather is like at different times of the year in the article about The best time to visit Costa Rica.
Coffee Tours
If you're a coffee-lover, don't miss out on a tour of a local coffee plantation while visiting Costa Rica. You can learn all about the local beans, farmers, and their coffee-making process.
Coffee plantation tours usually cost around 30-40 USD, and you can find tours all over the country. Most of them are located near San Jose and the Monteverde Area.
Also, consider volunteering on a coffee farm to learn even more about the process!
Waterfalls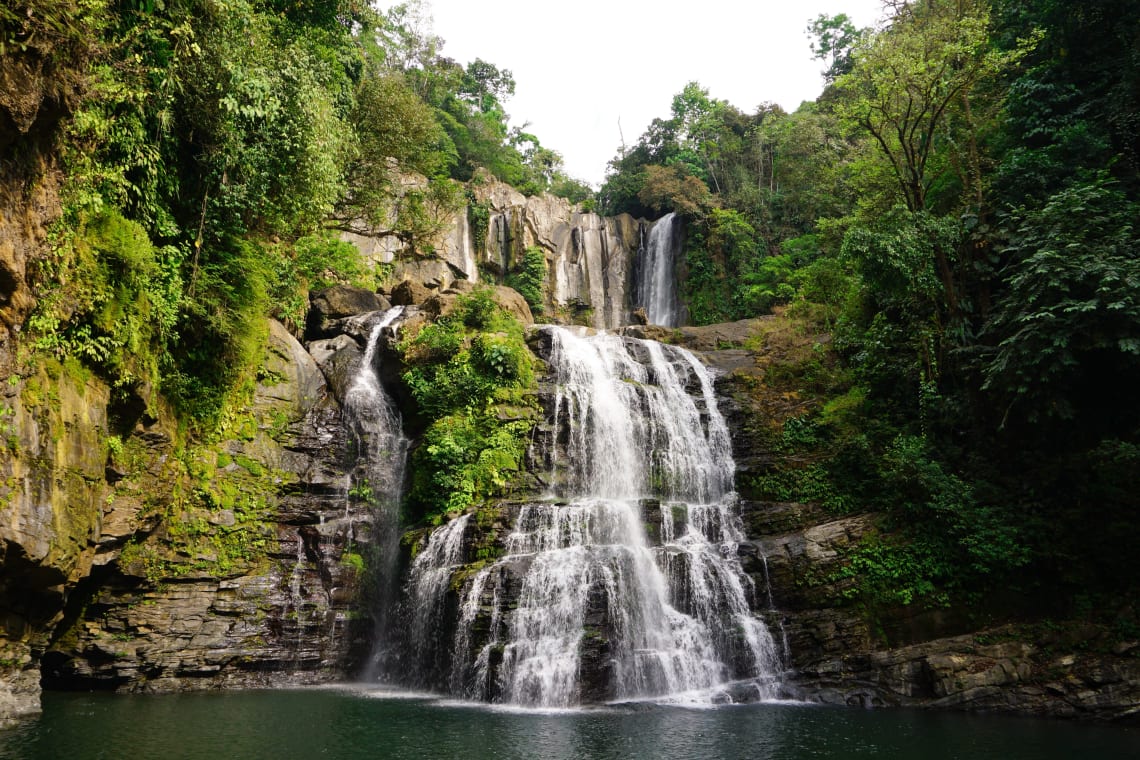 Costa Rica is such a lush country, and there are plenty of waterfalls to see. Waterfalls are usually free to visit, you just have to cover your transport.
If you're staying in a hostel or doing a work exchange in Costa Rica, you're sure to meet other people to share transport with for waterfall day trips.
Some of the best waterfalls in Costa Rica are Llanos de Cortez near Tamarindo, Rio Celeste in Tenorio Volcano National Park, La Fortuna Waterfall near Arenal Volcano, La Paz Waterfall near San Jose, and Nauyaca Waterfall near Dominical. Seeing stunning waterfalls is a must when visiting Costa Rica on a budget vacation!
Keep exploring such amazing Central America destinations like Guatemala and Dominican Republic, and feel free to write any question in comments.

Keep reading about Costa Rica: