Can digital nomads work in Thailand? Best visa options and places to live
An overview of what it's like to work in Thailand as a digital nomad, as well as suggestions for visas and some of the best places to live.
7min
Thailand is one of the most beautiful countries in the world. It is also one of the most popular countries in the world for digital nomads! Due to the vibrant local culture and the cheap cost of living, digital nomads have been flocking to Thailand for years now.
Warm climates, delicious food, friendly people, beautiful landscapes, fast internet, and overall ease and affordability of life make Thailand incredibly attractive to travelers who work online.
But there are many questions about the concept of living in Thailand as a digital nomad. Common confusions include:
Are digital nomads legal in Thailand?
Which visas do digital nomads get for Thailand?
What are the best places in Thailand for digital nomads?
This article will answer all of those questions! So if you're wondering how to be a digital nomad in Thailand and do it legally, read on!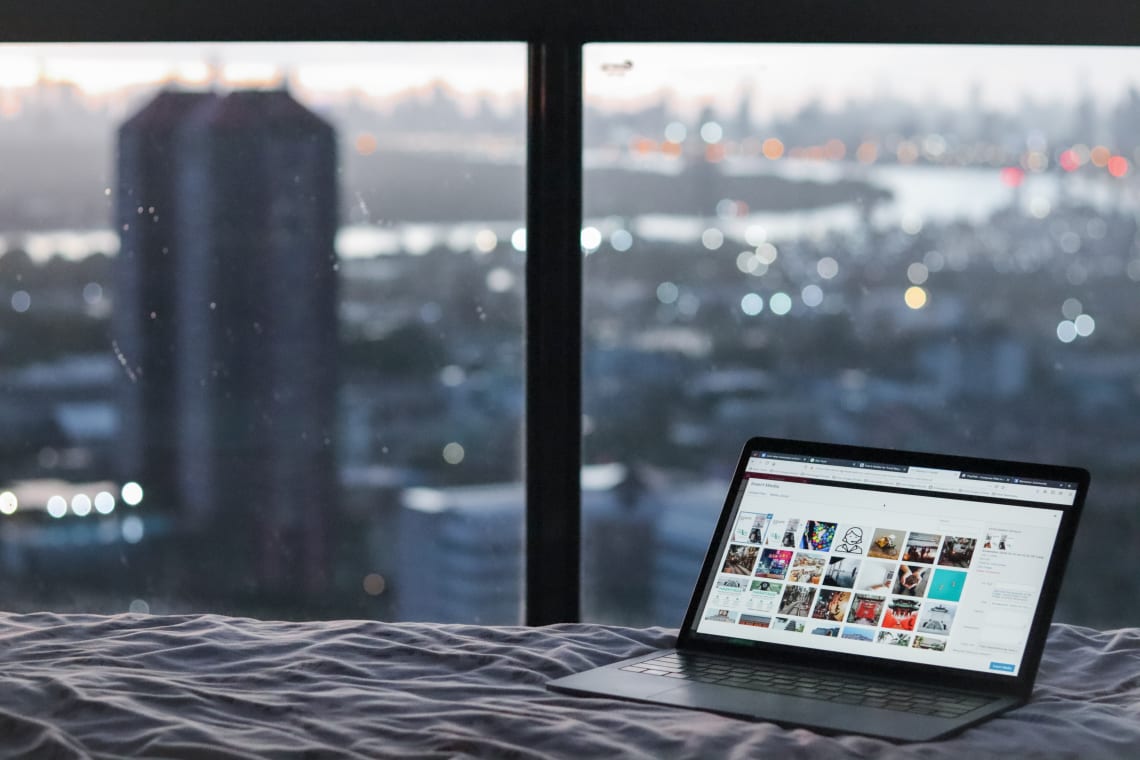 Can digital nomads work in Thailand?
Yes, digital nomads can work in Thailand. But it is important to do your research and obtain the correct visas and work permits. There are three main steps to working in Thailand online:
Obtain the right visa
Obtain a work permit
Pay taxes
These three steps are outlined by the Thai Embassy as necessary steps for foreigners to work in Thailand online. Without doing these three things, you could be in trouble for breaking the law! Let's dive into these topics a bit more so you have an idea about what is required for digital nomads in Thailand.
Tourist visas for Thailand
The visa situation in Thailand has changed over the last few years due to COVID. Digital nomads used to be able to come to Thailand on a 60-day tourist visa, and possibly extend it for another 30 days. After that period, they would leave the country for a bit and stay in a nearby country, then apply for a new tourist visa and start the process over. So digital nomads could stay in Thailand for a while on a tourist visa.
But when the Thai borders closed due to COVID, travelers were unable to hop around to different countries. The lack of digital nomads and travelers in Thailand significantly hurt the economy, which heavily relies on tourism for income. So now that the worst of COVID is behind us (hopefully), Thailand is reforming their visas to suit the resurgence of travel.
You can still travel to Thailand on a tourist visa and work online legally. There are tourist visas that range from 30 days to 6 months, with different restrictions for people of different nationalities. If you travel to Thailand to work online with a tourist visa, make sure you look into a work permit so you are still working legally. I'll discuss work permits shortly!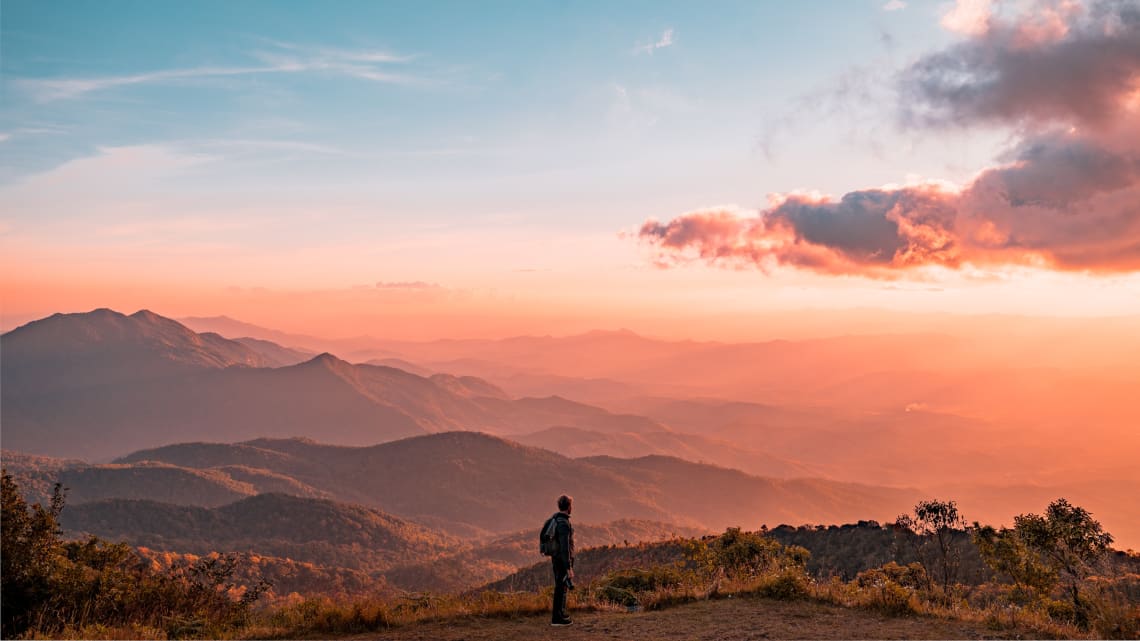 Digital nomad visa for Thailand
There is a new digital nomad visa for Thailand known as the Long Term Residency Visa. This visa grants a stay in Thailand for up to 10 years!
There is also another interesting digital nomad visa for Thailand, also known as a Smart Visa. This visa grants professionals up to 4 years in Thailand.
You have to be making at least $80,000 per year. With these stricter requirements, Thailand is hoping to attract wealthier, highly-skilled professionals to come to the country.
The LTR Visa and the Smart Visa have many requirements in common, and both allow digital nomads to work in Thailand legally. This information is gathered from online research, but make sure you independently research any visa requirements on official government websites before you apply for a visa!
Work permits and taxes for Thailand
The Thai Embassy has a detailed list of what is considered "work", and how that defines whether or not you need a work permit. If you are using Thailand to your benefit and profiting from that, then it is considered work and you need a work permit. When you have a work permit, you will be required to pay taxes as well just like any other Thai citizen.
For example, being a travel blogger and writing lots of content about Thailand requires a work permit. You are using photos from the country, details about the culture, and potentially making money, so that needs a work permit.
If you offer online services such as website design, web development, or running an online shop, you also need a work permit. A Thai person could do all of those jobs, so if you are taking a job away from a local then you need a work permit.
But if you work for an international company and you travel to Thailand for a short time to do some meetings and research, that doesn't require a work permit because it is temporary and it's not taking a job from a local Thai person.
It's a pretty subjective topic that doesn't have a straightforward list of criteria, and much of it will depend on your individual situation. But if you're unsure about whether you need a work permit, do some research on the Thai Embassy website or contact a staff member there directly to discuss your options.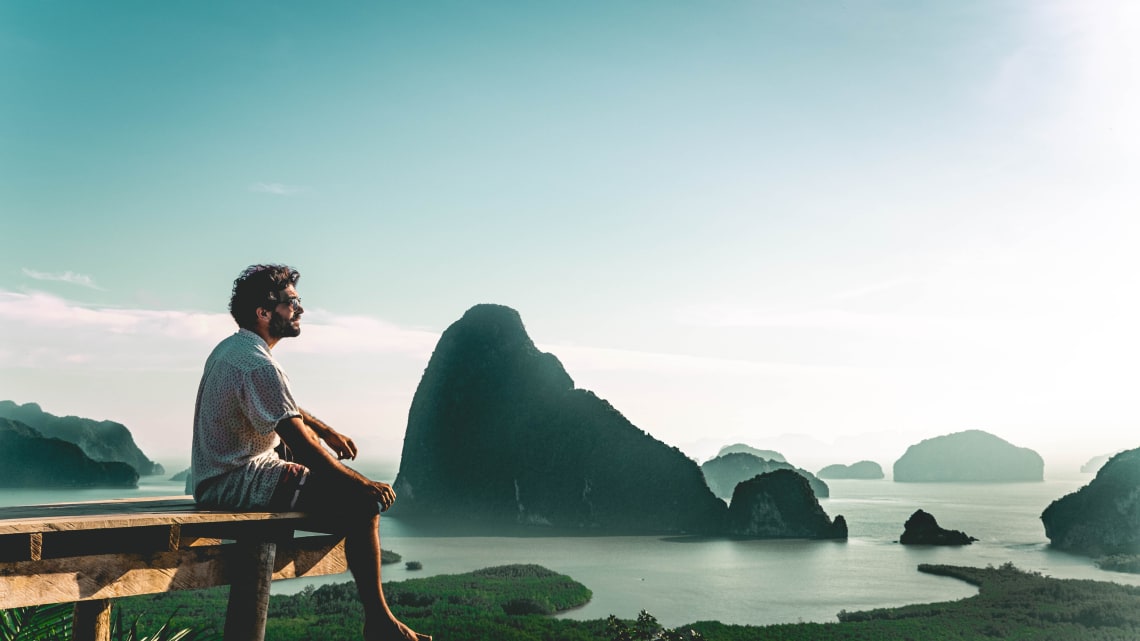 Best places in Thailand for digital nomads
Now let's talk about, "What are the best places in Thailand for digital nomads?". Thailand as a whole is just a great country to live in. It's affordable, it's beautiful, and the local culture is so warm and welcoming. If you want to work as a digital nomad in Thailand, here are some of the top places to live!
A great way to save money and meet locals while working abroad as a digital nomad is by doing a work exchange. You can work in exchange for free accommodation and still get to your digital nomad work in your free time. You will also meet locals and other travelers, so this is an excellent way to make friends! We'll include links to a few Worldpackers work exchanges in Thailand if you're interested in trying this method of traveling while working as a digital nomad.
Bangkok
As the capital city of Thailand, Bangkok is busy and full of excitement. Bangkok is a pretty modern city full of skyscrapers, big businesses, and fast internet. So the city has all the amenities you could need for working as a digital nomad.
Bangkok also has a charming Old City that has most of the tourist attractions. Here are the ancient landmarks, glittering temples, and bustling street markets. The Old City is the most popular area of Bangkok for tourists. But as a digital nomad, you can live and work anywhere in this modern yet humble, well-developed city.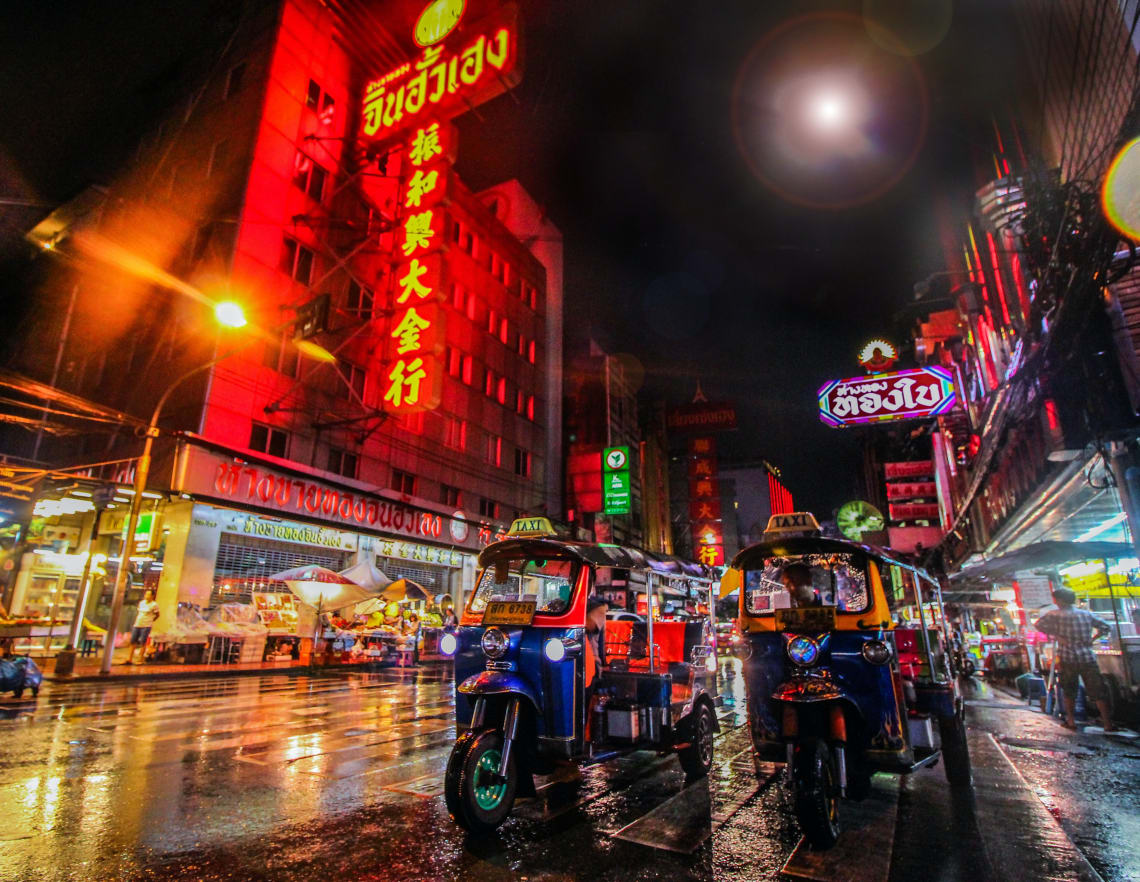 Chiang Mai
Chiang Mai was one of the most popular cities in the world for digital nomads before COVID hit! Located in the north of Thailand, Chiang Mai is a fun city that is full of temples, street markets, local entertainment, and delicious food. Just outside the city, there are vast jungles and mountains that are full of waterfalls and canyons.
In the north of Thailand, not too far from Chiang Mai, there are a few awesome work exchanges that you can try. If you're an animal lover, consider volunteering at an animal shelter near Chiang Mai! Or you can head further into the jungle of the north and work at an eco-village!
Ao Nang
Ao Nang is a lovely resort town on Thailand's southern Andaman Coast. This is a convenient place to live and work as a digital nomad! It is affordable and has all your modern amenities, but it's not as busy or crowded as cities like Chiang Mai or Bangkok.
It's also a great gateway for taking day trips out to the limestone cliffs and pristine beaches of nearby islands.
It's located near some gorgeous national parks that you can visit on your days off! There is even a work exchange available near Khao Sok National Park in this region of Thailand. Help out at this permaculture project and explore southern Thailand!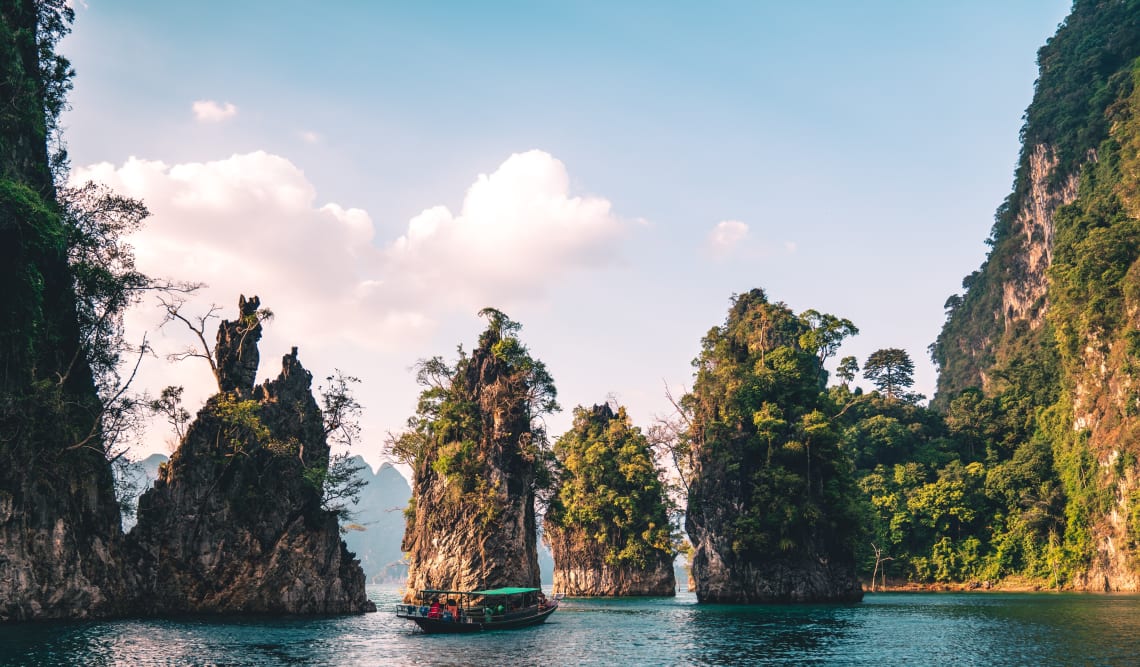 Phuket
Phuket may be the best island to live and work as a digital nomad in Thailand. Located in the Andaman Sea, Phuket is the largest island in Thailand. Even though it is an island, you won't feel isolated or disconnected from society at all! There are daily cheap flights to Phuket from Bangkok, and plenty of ferries to the mainland as well.
Phuket is so huge that you will never run out of things to do here! Visit the stunning beaches, go hiking in the forests, visit all the fun party towns and night markets, or check out the architecture and temples of Phuket Old Town.
There are lots of different neighborhoods in Phuket so you can move around and get a new vibe if you ever need a change!
Surat Thani
Surat Thani is an area of southern Thailand that is mainly used as a gateway for exploring the Gulf of Thailand. Islands like Koh Samui and Koh Pha Ngan are just a short boat ride away, and the limestone cliffs of Ang Thong Marine Park are an easy day trip.
Surat Thani itself isn't a very touristy city and there aren't many famous attractions here. So this is a good place for digital nomads to live in Thailand if they want a relaxing, quiet experience without many other tourists. Living here is like living in the real Thailand away from all the tourists!
Or if you'd rather venture further south and get into nature, you can volunteer at a nearby jungle homestay.
Koh Pha Ngan
Last on this list of the best places in Thailand for digital nomads is Koh Pha Ngan. There are many more amazing Thai locations, but this is just a quick overview!
Koh Pha Ngan is a beautiful island in the Gulf of Thailand that is home to the famous Full Moon Party. So living here means you'll meet lots of international travelers as well as locals.
If you want an intimate island experience, definitely consider living here! This island is quite small, especially compared to Phuket. But there are lots of local eateries and amazing natural attractions, so you'll get to explore nature, meet locals, and have fun while living and working on Koh Pha Ngan!
Want to learn more about planning your trip? By subscribing to the WP pack plan you have unlimited access to +120 courses at Worldpackers Academy, the travel school made by travelers!