How to plan your dream Galapagos Islands vacation on a budget
From flights to free snorkeling, this is your comprehensive guide to a Galapagos Islands vacation as a budget backpacker.
7min
This archipelago is the ultimate bucket list destination for a lot of us. I know it's been at the top of my list since watching David Attenborough at school. But carefully protected islands come with a high price tag, so a lot of backpackers skip over this magical spot.
I recently embarked on my dream Galapagos Islands vacation and have compiled many hours of research — tried and tested — right here for you.
So how much does a vacation to the Galapagos Islands really cost? I'm going to tell you how I travelled for nine days in one of the world's priciest locations and spent just £750. And if you want to exchange work for accommodation, you could lower your budget even more!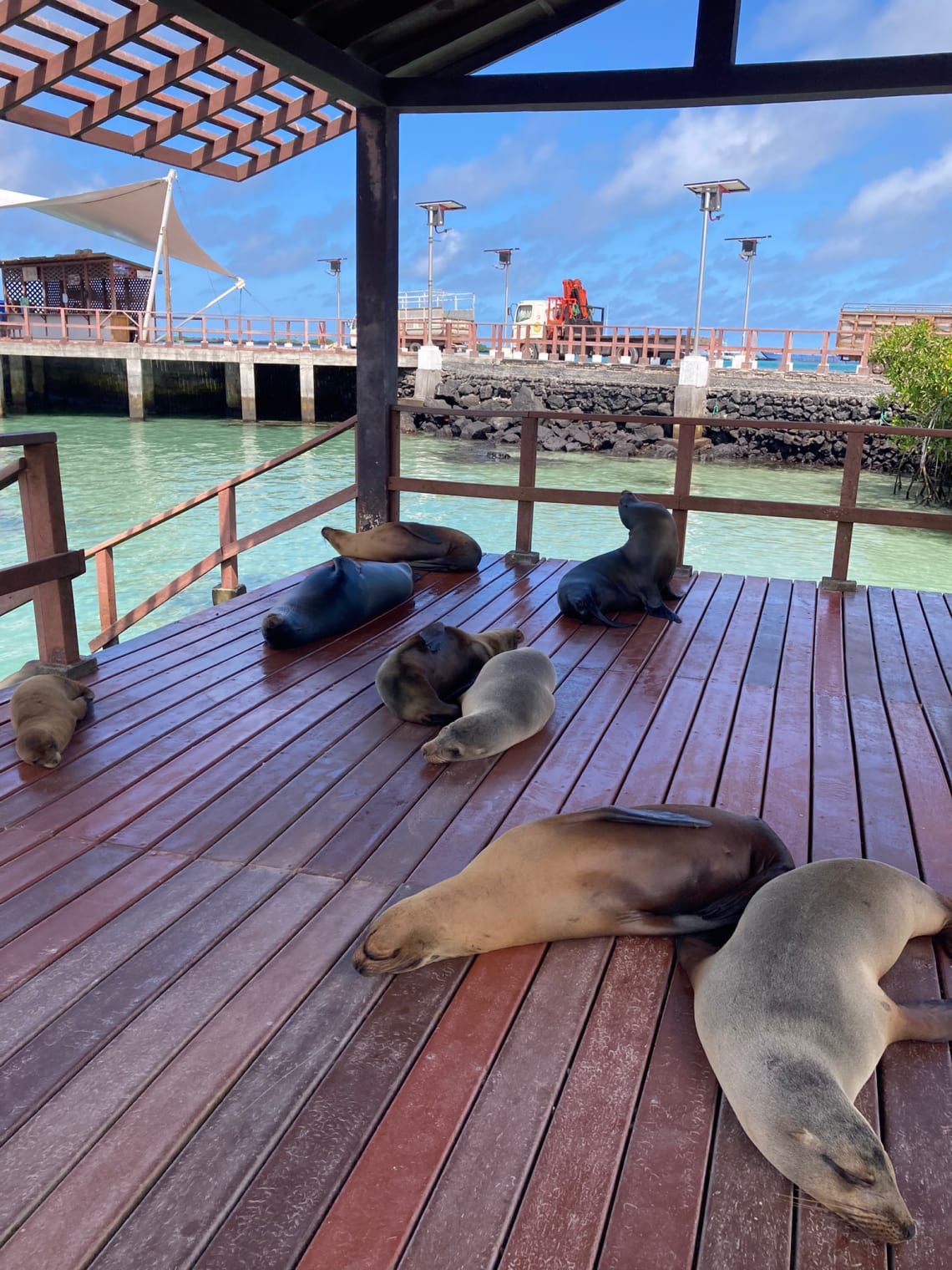 To boat or not to boat: choosing between cruise and land hopping for your Galapagos Islands vacation

The first thing to decide when planning your Galapagos Islands trip is whether you want to take a cruise or stay on land.
The three main islands to stay on are Santa Cruz, Isabela and San Cristobal, and you can do day trips to various other islands from Santa Cruz.
Advantages to a cruise include everything being organised for you; all your transport and food being included plus, you'll get the opportunity to visit islands only available to cruise ships.
However, land hopping is notoriously cheaper, allows you to make the most of free activities on the islands, gives you flexibility with your schedule and is obviously preferable for avoiding seasickness!
I personally chose to island hop and that was the best decision for me, but this is a once-in-a-lifetime trip so think carefully about what you'd like to prioritise.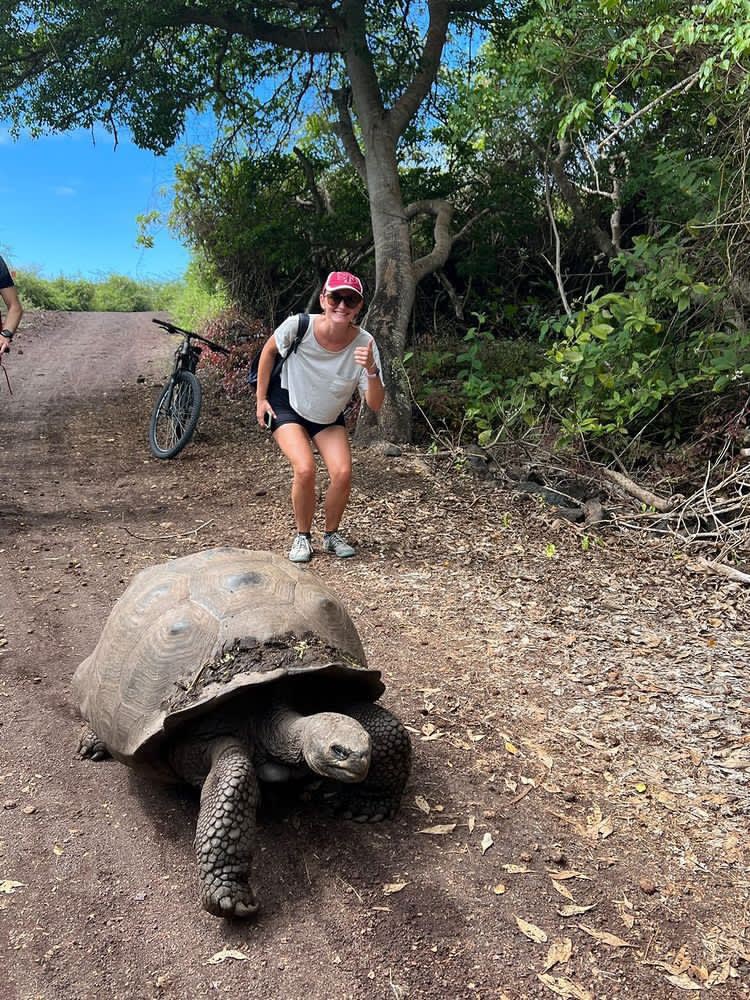 How to get to the Galapagos Islands

The only way to reach the islands is to fly, either with LATAM or Avianca. Here are some tips:
1. Be flexible. Use the "whole month" tool to find the cheapest flights around the time you want to go. My second flight was $83 but flights the day before and after were over $200!
2. Book through the Ecuadorian website, keeping the language in Spanish.
3. Fly into one of Baltra (GPS)/San Cristobal (SCY) and fly out of the other if you're land hopping. This saves money on boats and you can also choose whichever one is cheapest for inbound/outbound on your preferred dates.
4. Book in advance. I booked about five weeks in advance so there was far more availability for cheaper options.
5. Book a "top" tier flight. Anybody that isn't a citizen of Ecuador has to book a "top" tier flight (relevant for both LATAM and Avianca) or they can be charged $150 extra at the airport.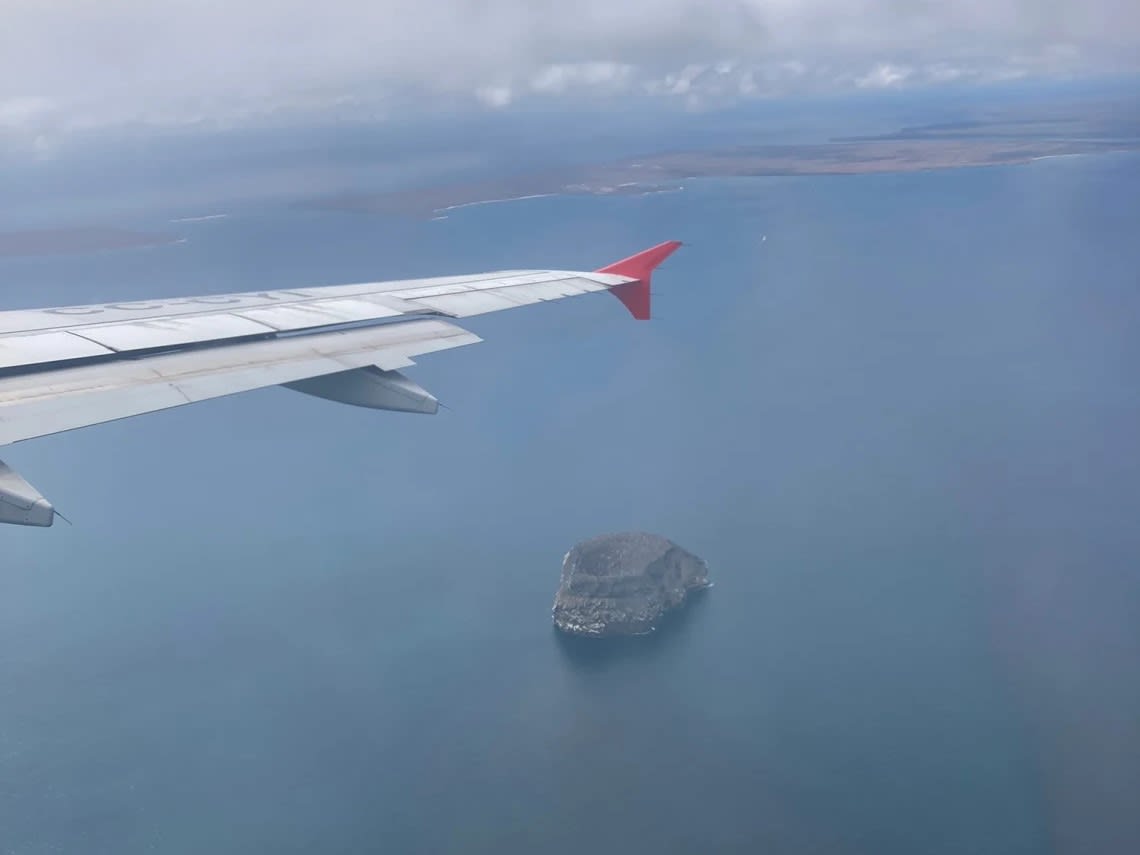 Galapagos Islands vacation: the extra costs you don't hear about

There are some sneaky extra costs when it comes to moving around and between islands so ensure you factor these into your budget:
Entry card (purchase at the airport before your flight) - $20
Entry fee (after landing in the Galapagos) - $100
Baltra airport (GPS) to/from Puerto Ayora, Santa Cruz:
Bus between airport and canal - $5

Boat for canal crossing - $1

Bus between canal and Puerto Ayora - $5
San Cristobal airport to/from Puerto Baquerizo Moreno, San Cristobal:
Walk for free or taxi for $2
Port entry for arrival in:
Santa Cruz - $1
Isabela - $10
San Cristobal - $0
Ferries between islands:
Santa Cruz to/from Isabela - $30
Santa Cruz to/from San Cristobal - $30
Water taxis (needed to get to larger ferries and for some day excursions):
Santa Cruz - $0.50
Isabela - $1
San Cristobal - $0.50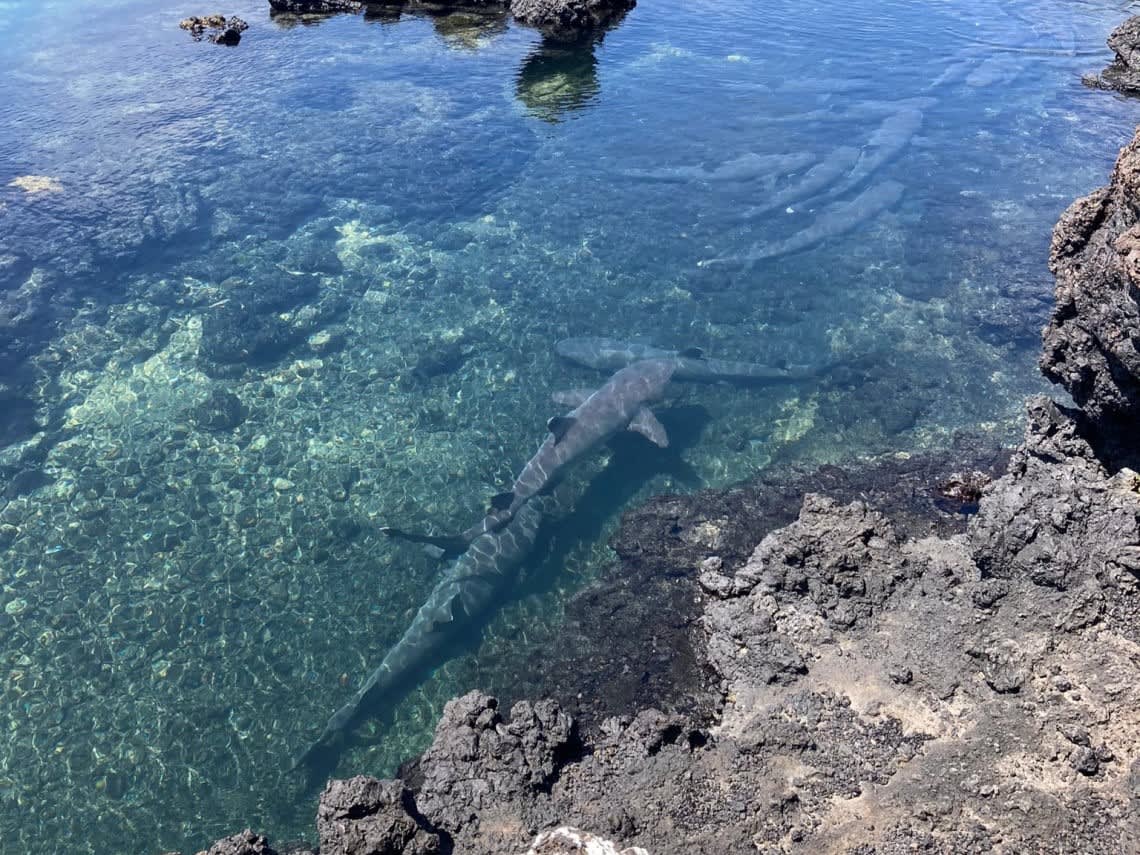 General tips for your Galapagos Islands vacation
First off, what to pack?
Aside from all your standard clothes and toiletries, I'd recommend a waterproof phone case. It's cheaper than a GoPro and often the water is so clear, you'll get pretty decent videos anyway!
Another cost saver is to pack food, as everything purchased on the islands comes at a premium. It's permitted to bring processed, packaged items with you (just avoid nuts/seeds/fresh produce) so I packed granola, pasta and snacks that I bought on the mainland beforehand.
Then last, but by no means least, seasickness tablets. I met many people who have never felt queasy on a boat yet succumbed to sickness on ferries between the islands. It's always best to be prepared and they don't take up much packing space.
Although I don't usually think too far ahead when I travel, I'd strongly recommend making a carefully detailed plan and booking your accommodation in advance for your Galapagos vacation.
The WiFi is weak on all three islands so download maps (and Netflix episodes if you so desire) before you fly. Ferries between islands get booked up so it's recommended to sort these a few days ahead too.
A final point is to bring cash, as many places (including tour companies) don't accept cards. There are ATMs but they're temperamental.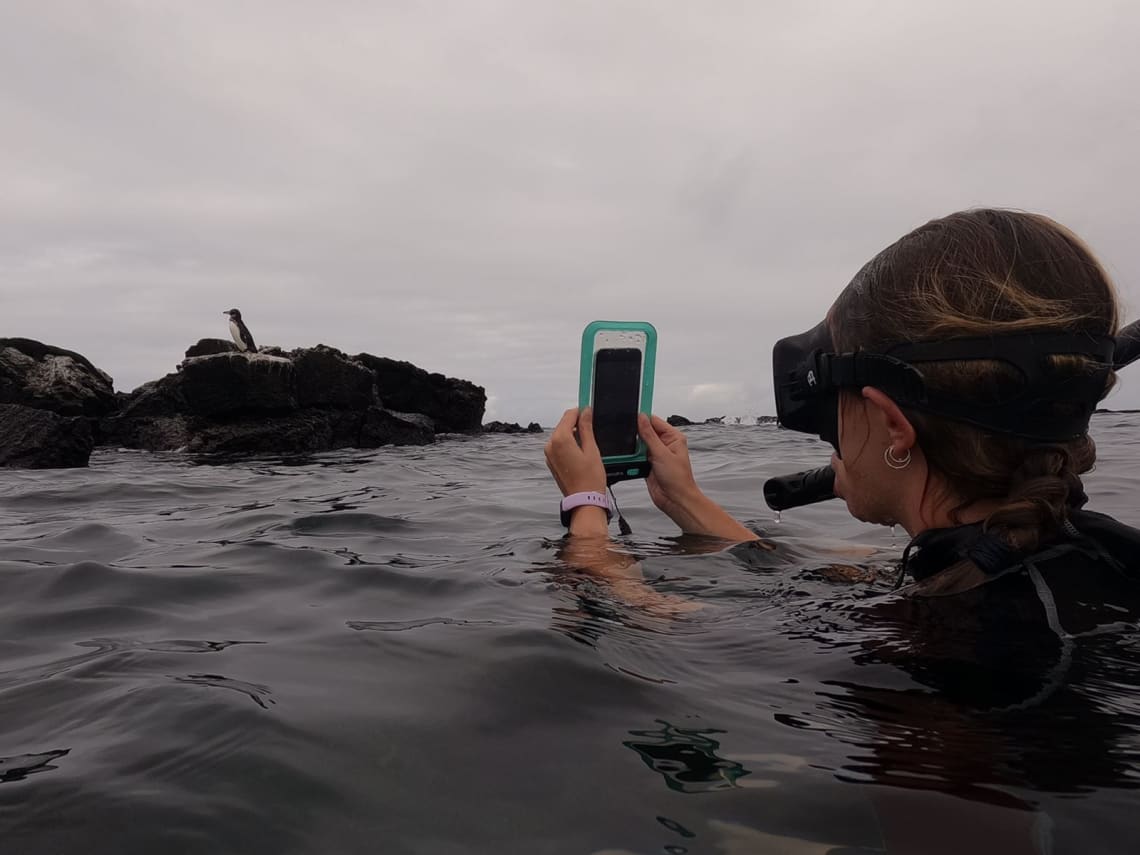 Santa Cruz Island, Galapagos
Free and cheap things to do:
Visit the Charles Darwin centre to learn about the giant tortoise breeding programme and the history of the Galapagos (cost $10, activity time 1 hour). Remember to take your passport to get a stamp!
Snorkel for free at Playa Estacion next to the Charles Darwin centre (snorkels to hire in town for $3/day)
Walk or cycle to Tortuga Bay which is a peaceful place to sit with marine iguanas (activity time 2-3 hours)
Playa Mansa is a 10-minute walk from Tortuga Bay and you can hire a kayak to see large turtles, reef sharks and rays (cost $10/30 minutes)
Take a water taxi ($0.50) to Camino a las Grietas. After a short walk, you reach the entrance point to start a guided walk and snorkel in a volcanic rock canyon (cost $10, activity time 2 hours)
Playa de los Alamenes is a small beach on the way back from Las Grietas
El Chato/Rancho Primicias is private land, home to many giant tortoises (cost $10, activity time ½ day). It's recommended to hire a bicycle ($10) and take the bus ($1) to Santa Rosa. You can then cycle between Los Gemelos crater, the lava tunnels and the tortoise ranch.
Playa El Garrapatero is a beach a little further out of town (cost $40 return taxi, activity time ½ day)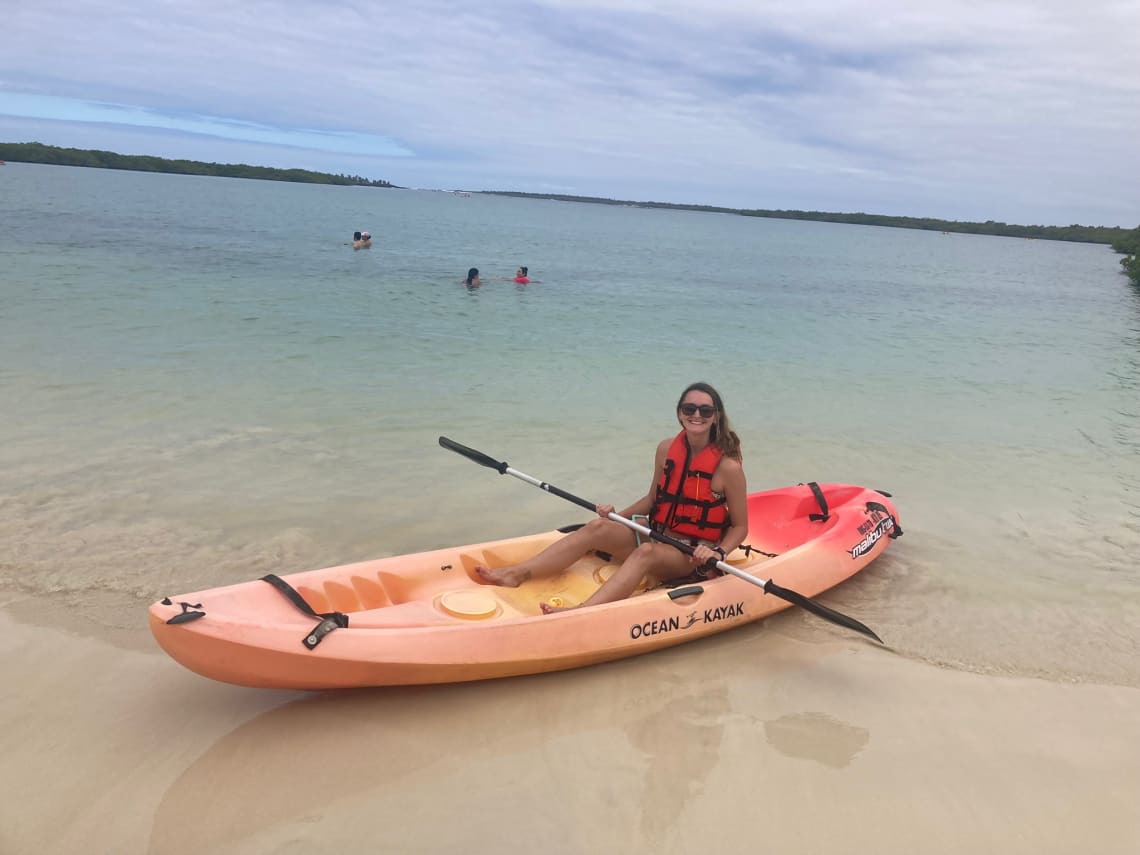 Organised tours
It's not necessary to do an expensive paid tour to see wildlife but it's worth noting that various islands have unique species which may be of interest!
Bartolome Island ~ $230
North Seymour Island ~ $210
Isabela Island ~ $150
Floreana Island ~ $160
Daphne Island ~ $170
Pinzon Island ~ $150
Santa Fe Island ~$160
Plaza Sur Island ~ $250
Accommodation
You can stay and help out in an animal shelter in Santa Cruz, and get free accommodation. Working 5 hours a day and getting 2 free days per week gives you a lot of free time to explore the surroundings and get to know the Galapagos Islands pretty well. Plus, it helps you save a lot on accommodation costs.
Food and drink
Charles Binford Street for $5 local lunches
Santa Cruz Brewery serve beer brewed on Galapagos (pint $7, half pint $5)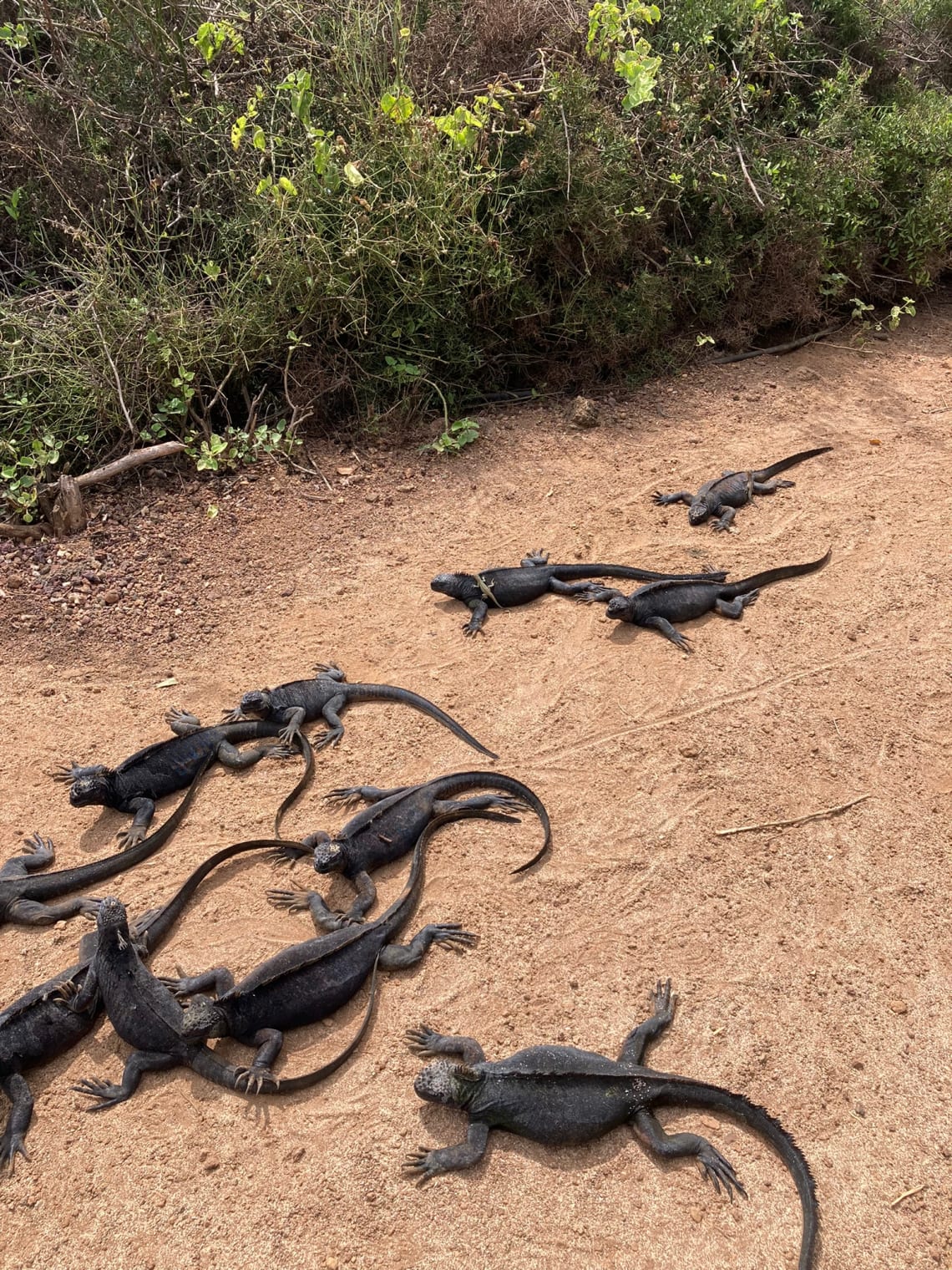 Isabela Island, Galapagos
Free and cheap things to do
Walk (free) or cycle (bike hire $10/day) to Las Lagrimas/Wall of Tears to see the historic site and giant tortoises in the wild
There is free snorkelling at Concha Perla (snorkels to hire in town for $3/day)
Walkway towards the tortoise breeding centre is a great place for spotting flamingoes
Posada de flamengos where you can watch flamingos in their habitat
Do a short tour at Centro de Crianza to learn about the giant tortoise breeding programme (cost $10, activity time ½ hour)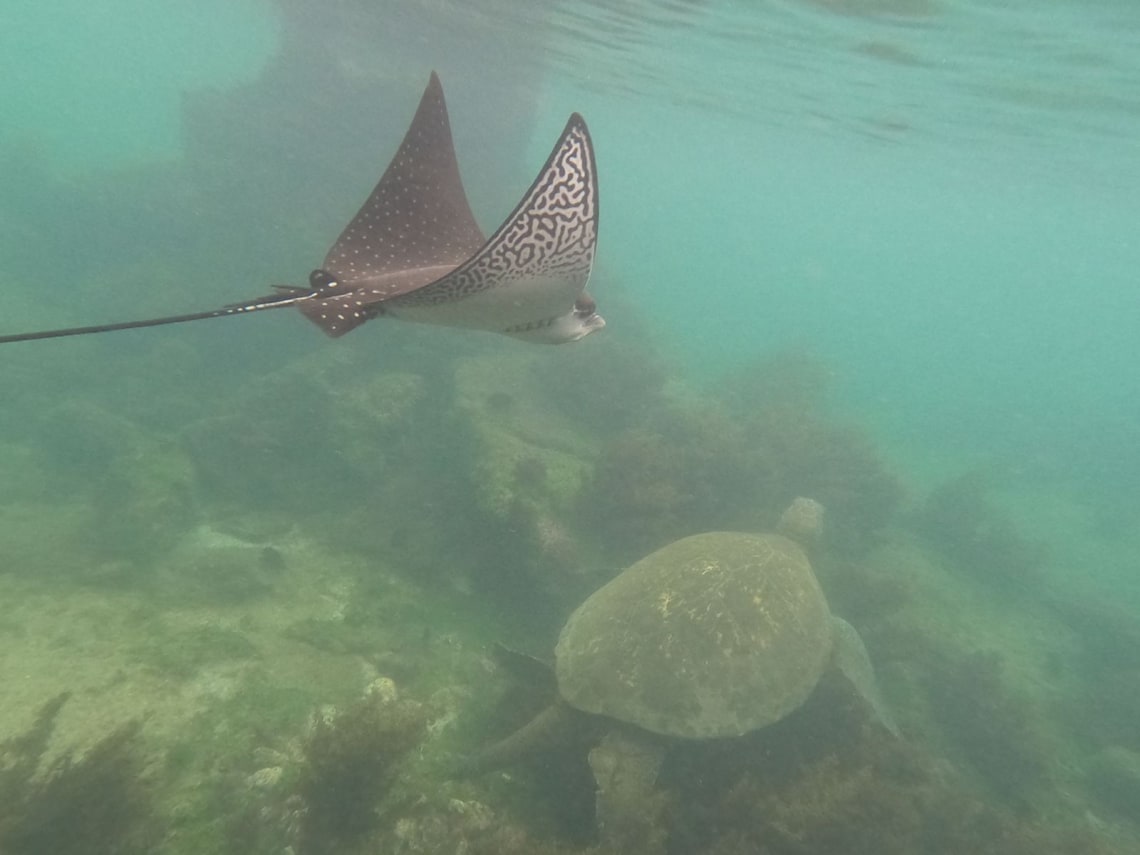 Organised tours
Tintoreras snorkelling ~ $40 (½ day)
Tintoreras kayaking ~ $35 (2 hours)
Sierra Negra crater hike ~ $40 (½ day)
Los Tuneles snorkelling ~ $100
Accommodation
Posada del Caminante $15/night
Food and drink
Cafe Sorbete has excellent banana bread ($2) and juices ($2.50)
Shawarma Hot for a falafel sandwich ($5)
Calle Las Fragatas off the main square has the cheapest lunch deals. The average price in Isabela is $7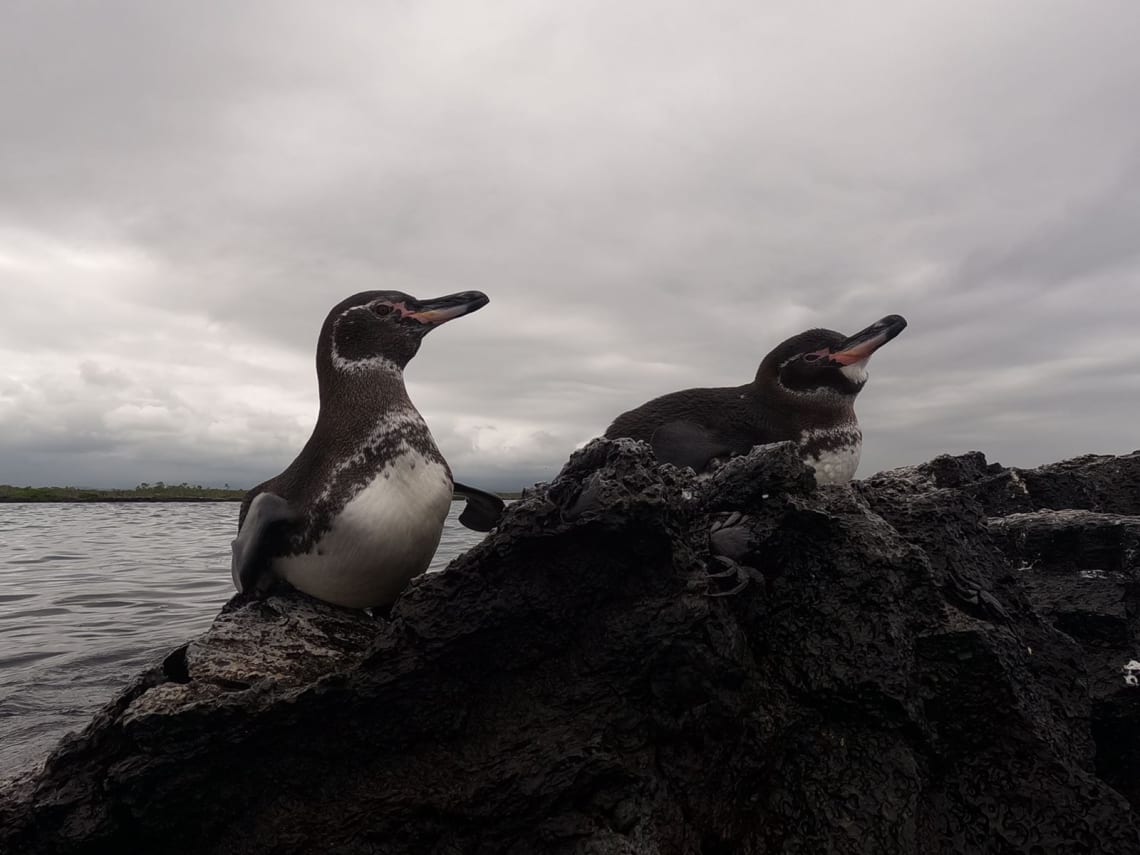 San Cristobal Island, Galapagos
Free and cheap things to do
Snorkel at Tijeretas/Darwin's Cove to see turtles and sea lions up close (snorkels to hire in town for $3/day)
Playa Baquerizo is about an hour-long hike past Tijeretas and is also good for free snorkelling. See rays, black-tipped sharks and big turtles. Make sure you take hiking shoes and lots of water for this one
La Loberia is another snorkelling spot
Sit with sea lions and enjoy a sunset at Playa Mann and Playa Punta Carola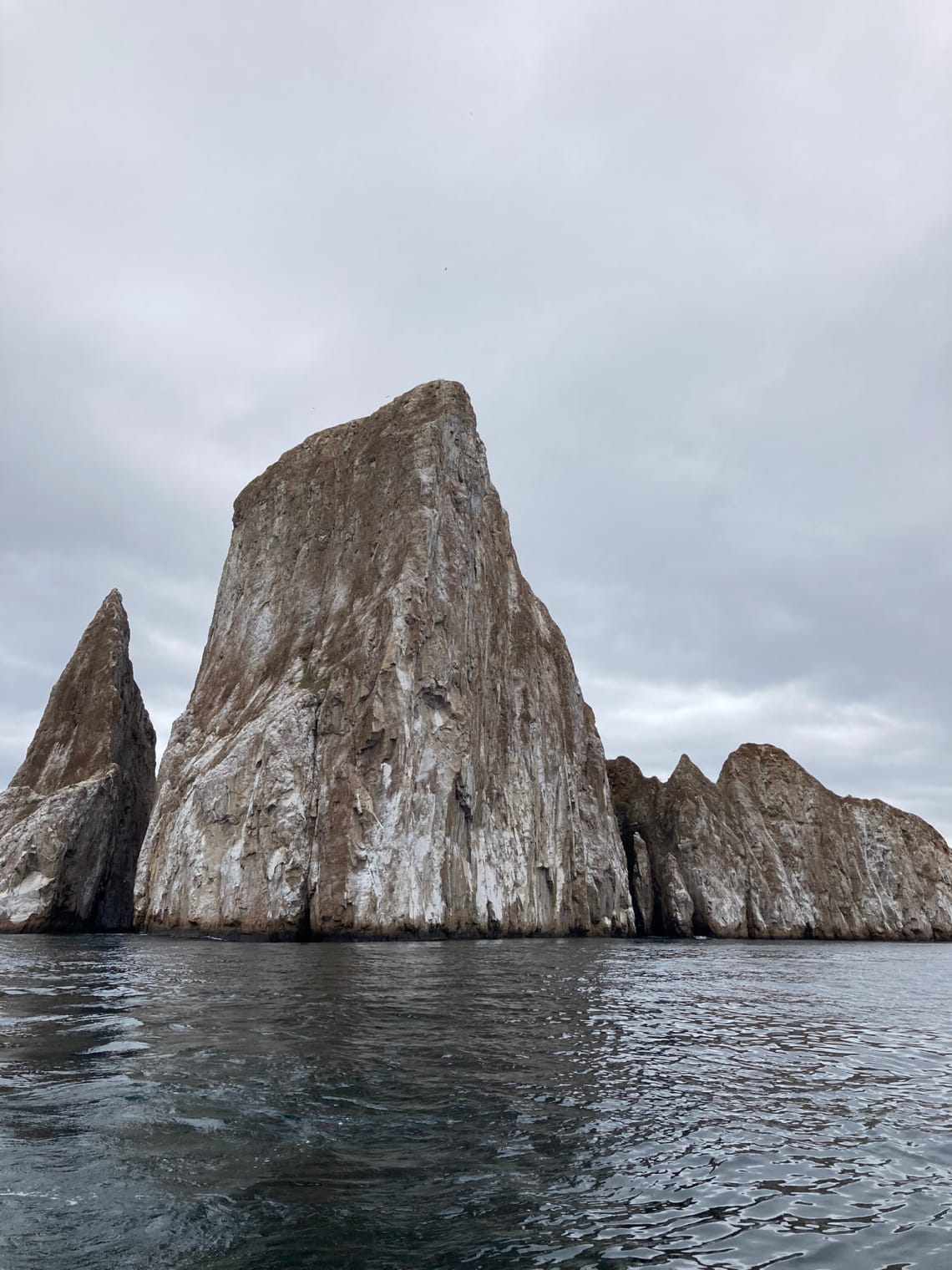 Organised tours
Kicker Rock ~ $100
Tour 360 ~$170
Espanola Island ~$250
Accommodation
There are only private rooms available and most don't have kitchens so choose the cheapest on booking websites.
Food and drink
Kachi Tanta bakery for cheap cookies, bread and cinnamon rolls
Fer's Grill House has burgers for $7
Patagonia Restaurant serve huge juices ($2)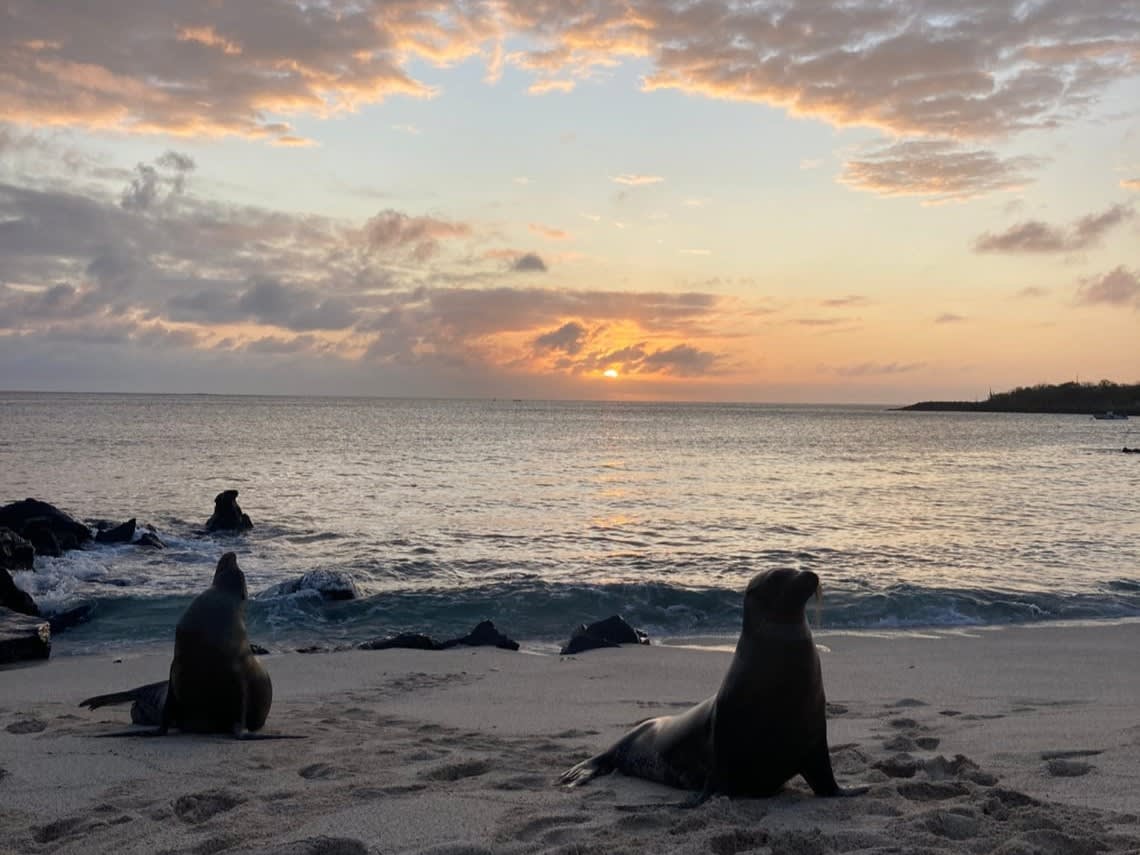 My Galapagos Islands vacation 9-day itinerary
From my research, £1000 for a week in the Galapagos seemed to be fairly 'budget' so that was my rough goal. In the end, I spent about £750 all in!
Day 1: morning flight to Santa Cruz, afternoon free/cheap activities
Day 2: free/cheap activities
Day 3: morning ferry to Isabela, afternoon free/cheap activities
Day 4: free/cheap activities
Day 5: Los Tuneles tour
Day 6: morning Tintoreras snorkelling tour, afternoon free/cheap activities
Day 7: morning ferry to Santa Cruz, afternoon ferry to San Cristobal
Day 8: free/cheap activities
Day 9: Kicker Rock tour
Day 10: morning flight to mainland
What I'd do differently
Visit only one of the giant tortoise centres
Spend longer on San Cristobal
Do one expensive day trip from Santa Cruz
My personal highlights were snorkelling with sea lions at Tijeretas, sunset on Playa Mann, seeing penguins on the Los Tuneles tour and kayaking with rays at Playa Mansa.
Remember that your experience is always going to be different to another person's as the weather varies and you're there to see truly wild animals. They won't always put on the same show!
If you like these tips, follow Worldpackers social media to keep up with the news: we are on Instagram, Tiktok and YouTube!