How to see Madrid on a budget
Madrid deserves its own spotlight. Learn everything you need to know to discover the enchanting Spanish capital like a local and see Madrid on a budget.
13min
I must admit Madrid was a city I wasn't tempted to visit. I simply didn't want to go. It was mainly a work destination; I had to go to make videos for Worldpackers. "I'll go for a week, do the videos and come back home", I said to myself, unsure why, while I was staring the blue waters of Las Palmas de Gran Canaria.
I'd already been in Madrid twice before and never enjoyed it. When I first visited the city 10 years ago, it was as the final destination of a Eurotrip I was on with a friend. And after 45 days of nonstop travel, you can imagine that our energy levels were pretty low.
But the great thing about traveling is that although certain places will make you feel uncomfortable, it's up to you to decide whether or not to give them another chance. After all, traveling is ultimately about getting out of your comfort zone.
This is certainly not to say that whenever you have a negative experience of a place while traveling you should automatically feel inclined to revisit it. But, if your negative experience of a place isn't so much about the place itself, but about your state of being while you were there — then yes, it's usually worth another chance.
And that's exactly my story with Madrid. On my last visit, something shifted. Maybe it was the warmth of the sun in the middle of the European winter, or the contagious warm energy of the locals. Whatever it was, I gave Madrid another chance and I fell in love. It's now one of my favorite cities in Europe.
I left Madrid with such a big smile on my face that I decided to create this guide! Read on to discover everything you need to know to see Madrid on a budget.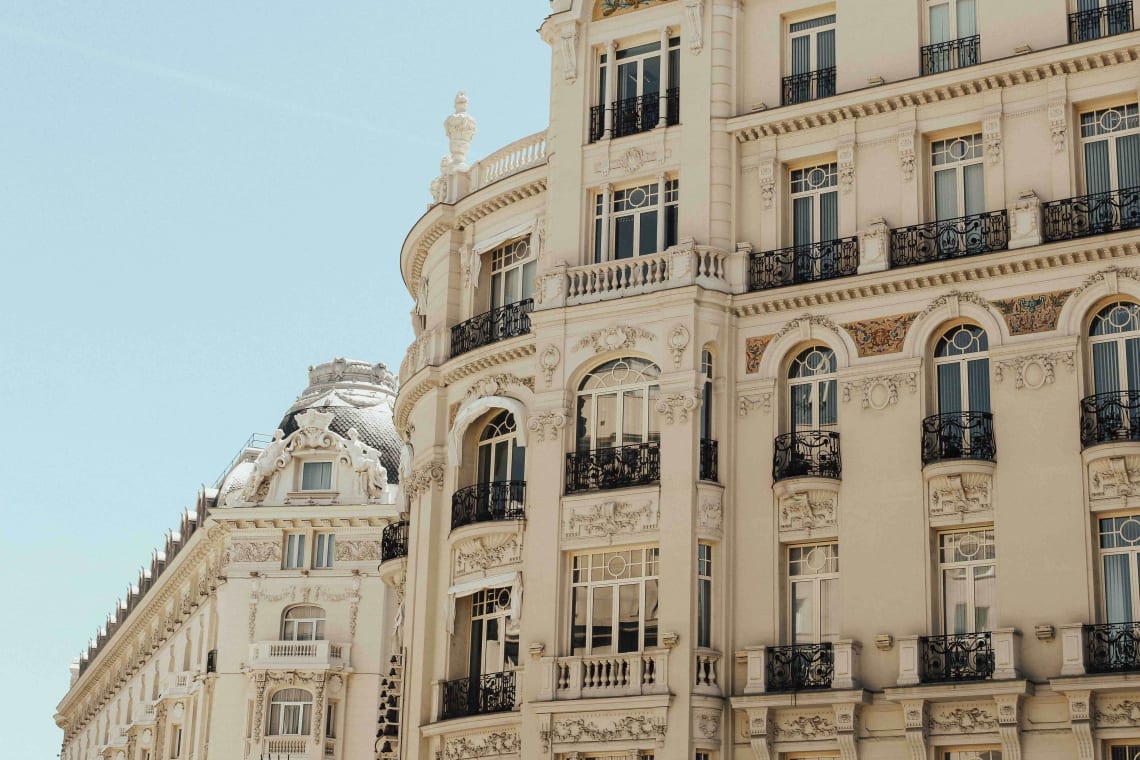 General information
Madrid is located in the middle of Spain and is well-connected with the rest of the country. Its good geographic location, plus the nice vibes and its cultural movement make Madrid a very popular tourist destination.
As the capital city of Spain, Madrid receives millions of tourist per year. Unlike Ibiza and Mallorca and other places that have a defined high season, Madrid's tourist season lasts the whole year. It doesn't matter if it's sunny or cold. There are always people in Madrid.
Madrid's city center and most popular street, the Gran Via are always hustling and bustling. It's a different kind of tourism. People in Madrid are in search of a cultural experience: museums, galleries, architecture, performances, music, food.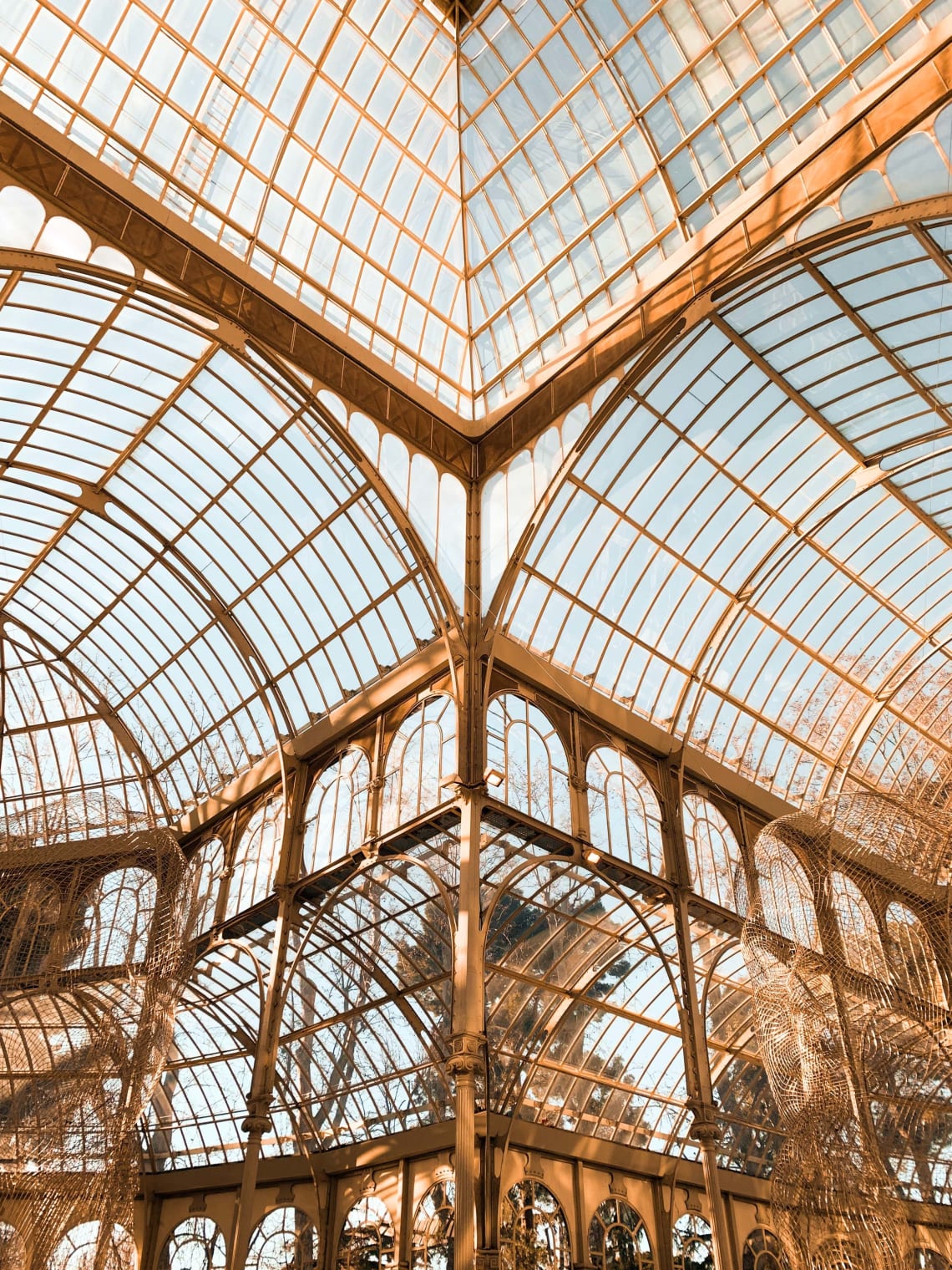 How to travel to Madrid on a budget
Madrid is very well-connected to the rest of Spain, as well as many cities throughout Europe. How you travel to Madrid will depend on the type of trip you are planning and of course, where you are coming from.
If you're already organizing to travel Europe on a budget, you can't miss passing through Madrid! There are lots of ways to get to the Spanish capital and, if you know how to search, you can get really cheap tickets.
Barajas Airport, 45 minutes away from Madrid's city center, is huge. With four different terminals, it's practically a city in and of itself.
Depending on the date you are traveling, getting to Madrid by air can be really cheap. Almost all the world's airline companies (including low cost airlines) operate through Madrid Airport. If your trip dates are flexible, it's possible to find flights to Madrid from other cities in Spain or Europe for 10 Euros or less.
Budget tip: Although you can go to the city center by bus, the easiest and fastest way to go is by metro or with the C1 train.
The cheaper and longer option (and my personal recommendation) is is to buy the Madrid Public Transport Card (you can get it at the airport, before entering to the Metro) and load it with ~10 trips. On your way back to the airport, use your Madrid Public Transport Card to catch the metro to Intercambiador de Americas Station and then take bus #200 straight to Barajas.
Of course, Madrid has also Uber. If you are are a group of three or four people an Uber won't be that expensive, assuming you are sharing costs of the ride.
Whether you are really far from Madrid or just a few hours away, you can find plenty of bus options to go in and out of the city. Most of the bus companies operating in Madrid offer low-cost tickets. Of course, traveling on a budget ticket probably won't be the most comfortable of journeys, but it's a great way to save money while traveling.
Atocha Train Station is Madrid's main train station. Trains from all across Spain and its neighboring countries arrive to Madrid constantly. You can find high-speed trains connecting Madrid and Seville, night trains connecting Madrid with Paris, low-speed budget trains, and everything in between.
For me, traveling by train is a special experience. The noise of the rain hitting the tracks. Watching the landscape change. I love it. I always recommend arriving to a new city by train.
One of the main advantages of arriving to a city by train is that once you reach the station, you are already in the city center. A low cost plane ticket is always great, but it doesn't include the cost of transportation to the city center... and sometimes this can be surprisingly expensive!
Almost all of the roads in Spain are in excellent condition, and the roads in Madrid are no exception. However, traveling to Madrid by car is one thing, but getting around in Madrid by car is another.
If you're planning on traveling to Madrid by rental car, I'd recommend returning it once you arrive. Finding a place to park your car in Madrid can be incredibly difficult, so unless you're planning on taking a lot of day trips, you're better off ditching it.
Are you familiar with the concept of carpooling? Carpooling — or ride-sharing — happens when a person making a trip by car is willing to share fuel expenses with other travelers. Carpooling is just one of the many perks of the collaborative travel community, and is a fantastic advantage for travelers looking to travel on a budget.
Carpooling is really popular in Spain and is almost always cheap. In the worst case scenario, it will be the same price as a bus or train, but at least you'll be in a car full of like-minded travelers!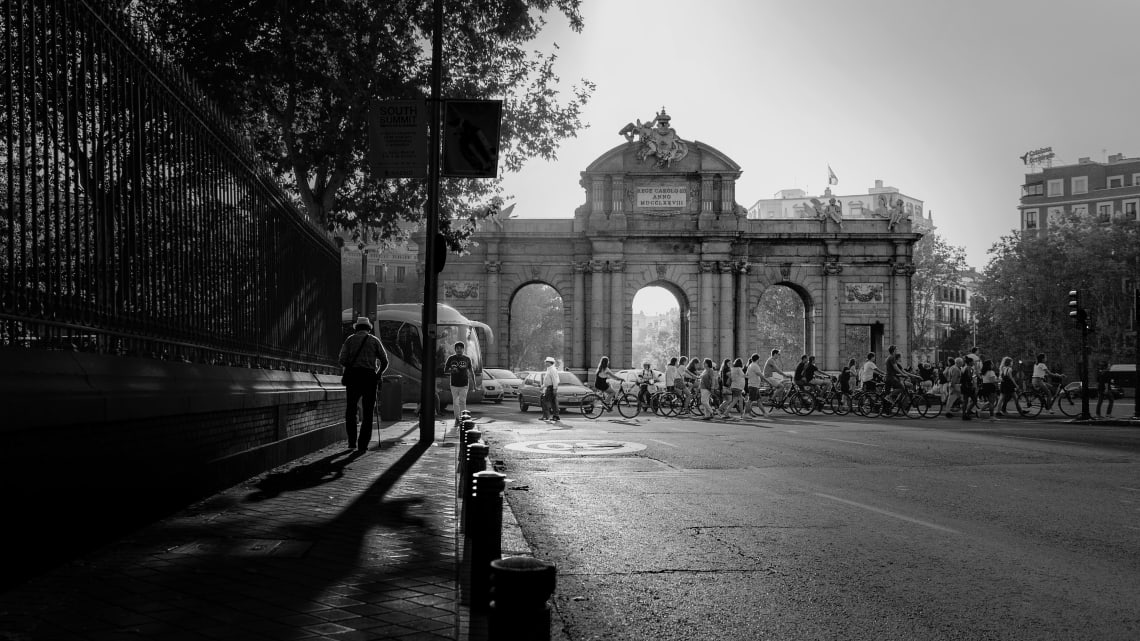 How to get around Madrid on a budget
Madrid has some of the most thorough and least-expensive public transit in Europe.
However, I recommend that you don't use it. That's right — walk! Madrid is a pedestrian's heaven; you can reach most places within the central city by foot, and it's truly the best way to experience the city.
Being underground or inside of a bus will make you miss so many amazing things about Madrid. Use the metro and bus system if you really need it, but know that you'll best connect with Madrid when you're navigating its streets, admiring its astounding architecture and engaging with the vibrant local life everywhere.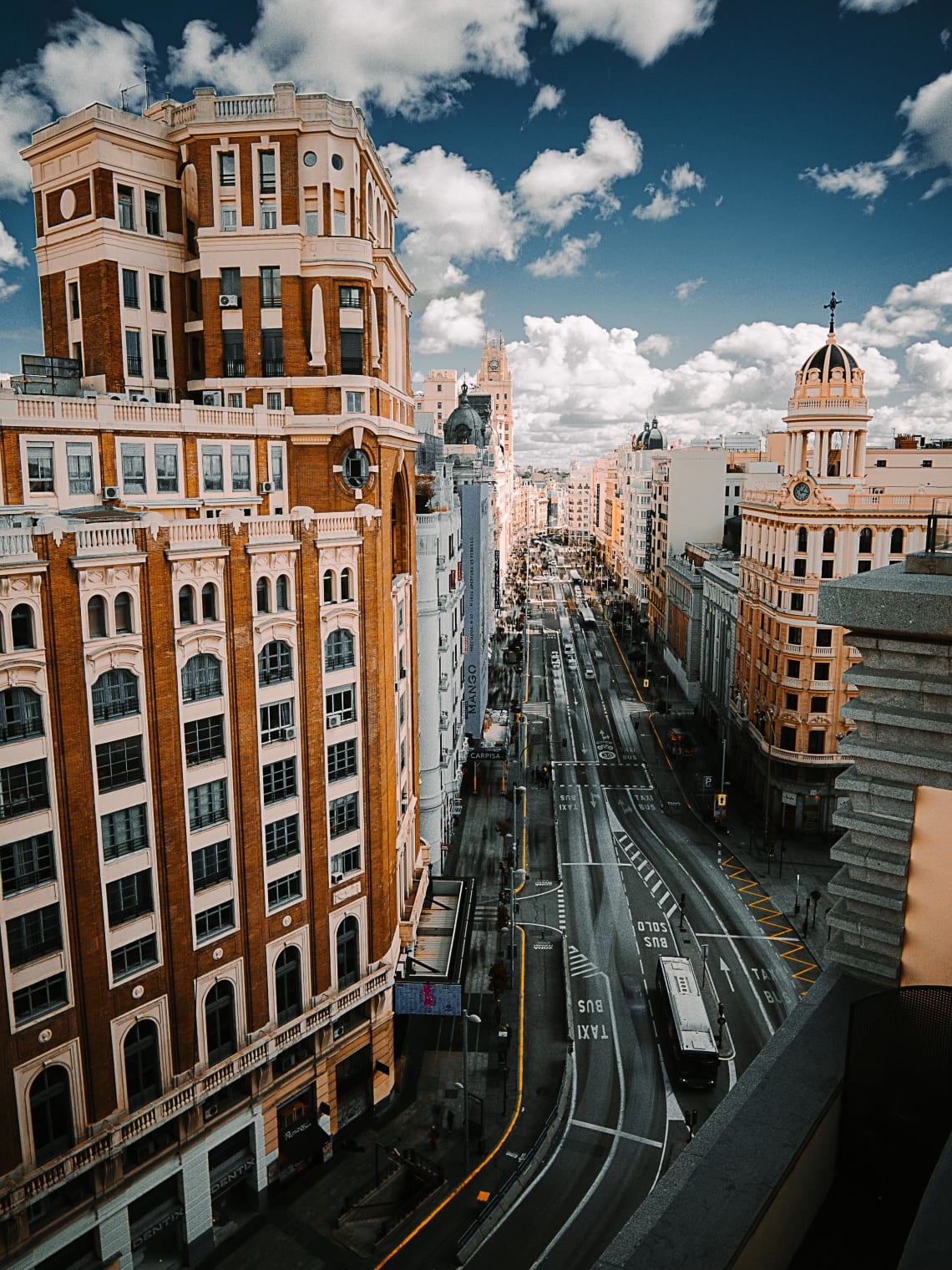 How to see Madrid on a budget
Madrid has so many things to see and do. There are countless guides outlining Madrid's major touristic attractions, so I've decided to share something a little bit different.
The places and activities I've chosen to share are not necessarily all major attractions, but they've each got something unique and they're my seven favorite ways to see and experience Madrid on a budget.
1. Malasaña
Choosing to stay in Malasaña was probably the best decision I made on my last trip to Madrid. From its streets to its bars, vintage clothing shops to coffee shops, Malasaña has a very special charm.
Although there is nothing specific to do in Malasaña, there's somehow so much to explore. Get lost in Malasaña and walk the entire neighborhood. Stop in for a coffee at a café and strike up a conversation with locals, or check out the street art and work on your street photography skills.
Malasaña maintains a very authentic presence in Madrid, and doesn't feel overrun or invaded by tourists.
How to get there: Metro 1 or 10 until Tribunal Station, or Metro 2, 3 or 10 until Plaza España Station. With Line 4, you can stop at Bilbao, San Bernardo or Alonso Martinez Station. You can even go until Gran Via Station (Lines 1 and 5) and walk from there.
Pro tip: Casa Camacho is one of the best bars in Madrid and one the oldest bars in Malasaña. You can drink and eat for a few Euros! Most importantly, they serve a special vermouth with gin that is unique in Madrid. Don't miss this.
2. Debod's Temple
Debod's Temple is such a magical place. There's really no other word to describe it — something about the energy surrounding this place makes it unique. It also offers up the best sunset viewpoint in the city.
Located in the Parque del Cuartel de La Montaña, near Plaza España, Debod's Temple is an Egyptian temple that was donated to Spain by the Egyptian government.
Go for sunset. It can get a little crowded between spring and summer, as it is unfortunately getting more and more touristic. But still, the view is so worth it.
How to get there: The Temple is really close to two well-known streets in Madrid: Gran Via and Calle Princesa. If you want to reach the Temple by Metro, go until Plaza España Station (Lines 3 and 10) or until Ventura Rodriguez (Line 3). You can also reach the Temple by bus.
Pro tip: Before going to the temple, stop at a supermarket and buy some snacks and wine. Enjoy a picnic while watching the sun go down.
3. La Latina
La Latina is one of the oldest neighborhoods in Madrid. The streets of La Latina maintain the charm of years ago, making it another perfect place to get lost exploring.
La Latina is slowly getting more and more popular, and you can find tons of bars and places to go out and enjoy some tapas. It's also a good place for nightlife, particularly discos.
Similar to Malasaña, there is no concrete plan for what you should in La Latina. Just walk, finding hidden gems, and enjoy the stunning architecture and local charm.
How to get there: By Metro, Line 5 goes to La Latina Station.
Pro tip: If you go with a group of friends and want to sit down and drink something, look for Plaza San Andrés, a square with lots of balconies and cozy bars where you can spend a nice evening.
4. Parque del Retiro (Retiro Park)
Welcome to the best park in the world. Parque del Retiro is not just a park, it's a place belonging to a different dimension. You arrive at the Puerta de Alcalá submerged, whether you like it or not, in the vortex of a bustling city capital that walks at a hurried and frenetic pace. But when you cross the portal into Parque del Retiro, everything changes.
I could spend hours and hours walking Parque del Retiro's paths, looking at the small boats, or watching the local artists perform. It's incredibly relaxing.
Except from the Crystal Palace, there is no particular touristic attraction in the park. The park is the attraction itself. Get a book and read, people watch, chill.
Parque del Retiro is my personal favorite spot in Madrid.
How to get there: By Metro, Line 2 goes to Retiro Station.
Pro tip: Just as I recommended for Debod's Temple... there's never a better plan than a picnic in the park!
5. Plaza Mayor, Sol and the Historical Quarter
There is no time of the year that you can visit Madrid and not find thousands of people gathered at Puerta del Sol, taking pictures, sitting at the fountain or just walking in circles. It can be overwhelming.
But, if you walk a bit further and get lost in the little streets of this area, your experience can change dramatically. Check out the Market of San Miguel, or walk until the Cathedral and the Palace. Watching the sunset next to the Palace is a really good show. And after that, walk inside the Sabatini Gardens.
How to get there: Metro until Sol Station and then walk from there.
Pro tip: Go to the coffee shop on the last floor of El Corte Ingles (the one near Callao Avenue) and look at Madrid from the top. It's a beautiful view, and it's free!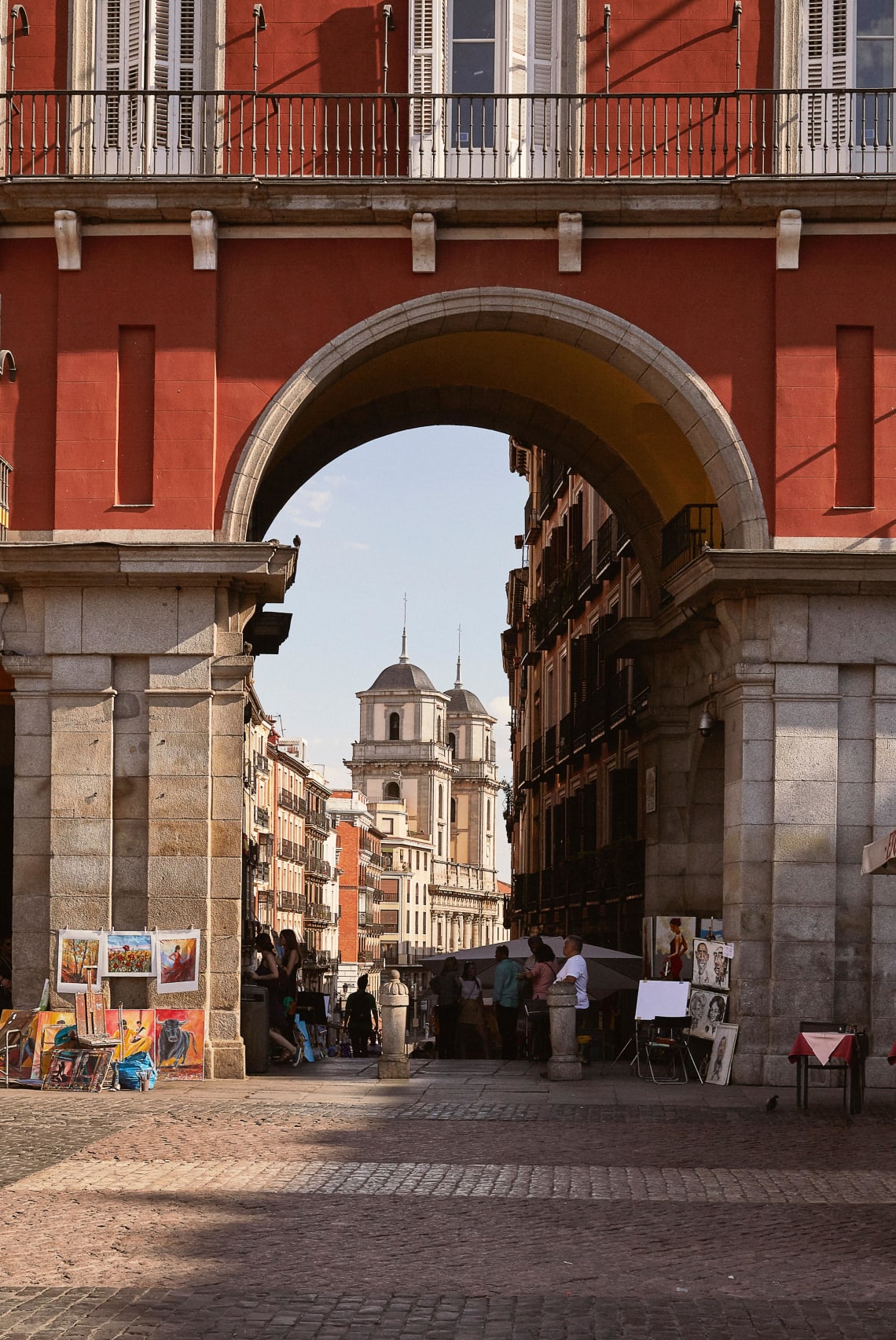 6. Reina Sofia Museum
A few years ago, when I started traveling all over the world, I went inside tons of museums, just to check a box on my bucket list. Nowadays, that's changed. I only go inside museums when I am really interested in them.
But, if there is a museum I could visit again and again it would be the Reina Sofia. The reason for this being that the Reina Sofia Museum boasts one of the finest collections of contemporary art in the world, including Picasso's iconic Guernica.
Pro tip: Each week, the Reina Sofia Museum offers a day where entrance to the museum is completely free for a few hours. Make sure to book your free ticket online in advance, as they are limited.
7. Enjoy a coffee at La Toma
La Toma offers the best coffee in Madrid. I must admit it's not so cheap... but I love coffee and this specialty coffee is complete worth the extra Euro.
The coffee shop, small but charming, is located in the heart of Malasaña and has a great atmosphere. It also offers perfect wifi, so if you're traveling the world as a digital nomad, La Toma is the perfect place to get some work done in Madrid!
You might also be interested in: Top things to do in Alicante: from beaches to castles.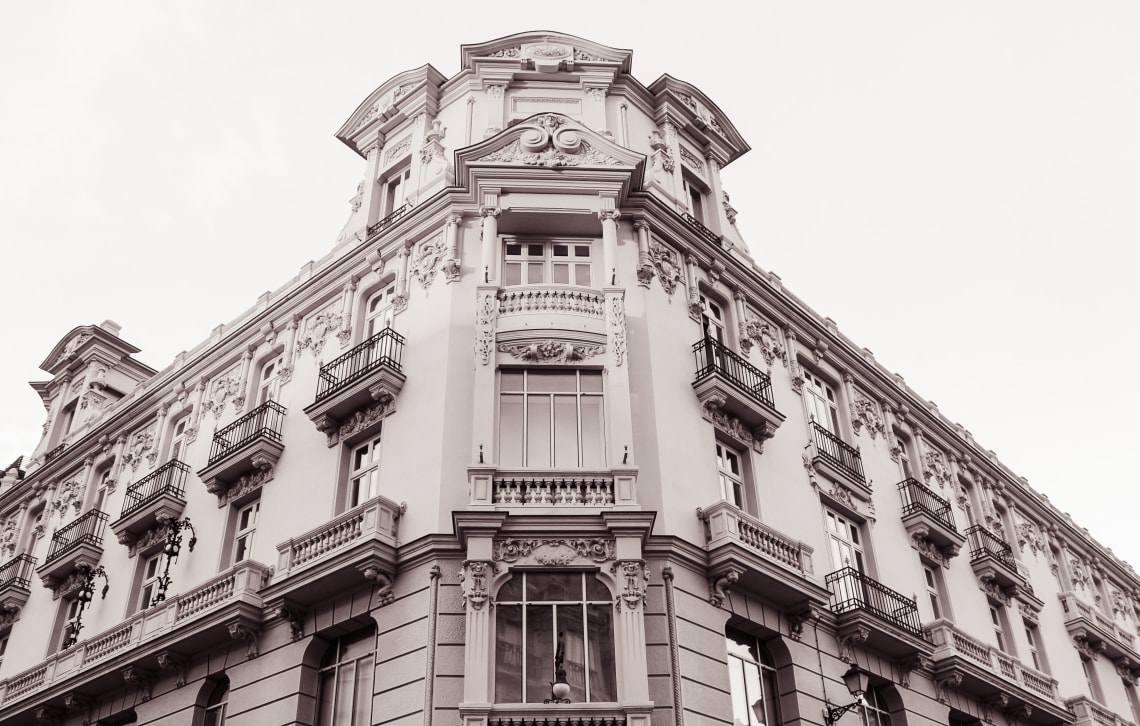 Where to stay in Madrid on a budget
From 5-star hotels to stylish Airbnbs to private hostel rooms to shared dorms and floors, Madrid has limitless options for accommodation.
If you're on a budget, stay away from the areas surrounding Gran Via and look for a place ~20 minutes away from the city center.
In my opinion, the best neighborhood to stay in Madrid is Malasaña. It's far enough from the center that it's quiet and calm, but still close enough to reach Madrid's major attractions by foot in 15 or 20 minutes. And the prices are fair. It's definitely not the cheapest place in town, but it's cheap enough.
Hostels in Madrid are a great option for budget travelers. I stayed at Hostel One Madrid, in the middle of Malasaña, and highly recommend it. It's well-maintained, has good vibes, all the facilities, and also offers free homemade dinner every night! They also offer free coffee, hot chocolate and churros every morning.
Laia, the owner of Hostel One Madrid, owns also Hostel One Sungate, a few meters away from Gran Via. Sungate is bigger and has the same facilities as Hostel One Madrid. Both hostels offers activities for guests every day, so it's easy meet other likeminded people and make friends while traveling.
Hostel One's prices fluctuate throughout the year, but on average, a bed in a dorm costs 18 Euros/night.
If you're a budget backpacker, why not exchange your skills for accommodation and live like a local? Worldpackers offers an incredible variety of work exchange opportunities in Madrid. You can even stay with a local family and enjoy a traditional homestay experience!

Another option for accommodation in Madrid is Airbnb. You can often find private rooms available through Airbnb for better prices than a hostel. And, if you look for an Airbnb far away from the city center, you can find modern and stylish places for pretty cheap prices!
Although I never go to hotels, I must admit that it is possible to find budget offers every now and then. If you're on a budget and want to stay in a hotel in Madrid, make your booking way in advance!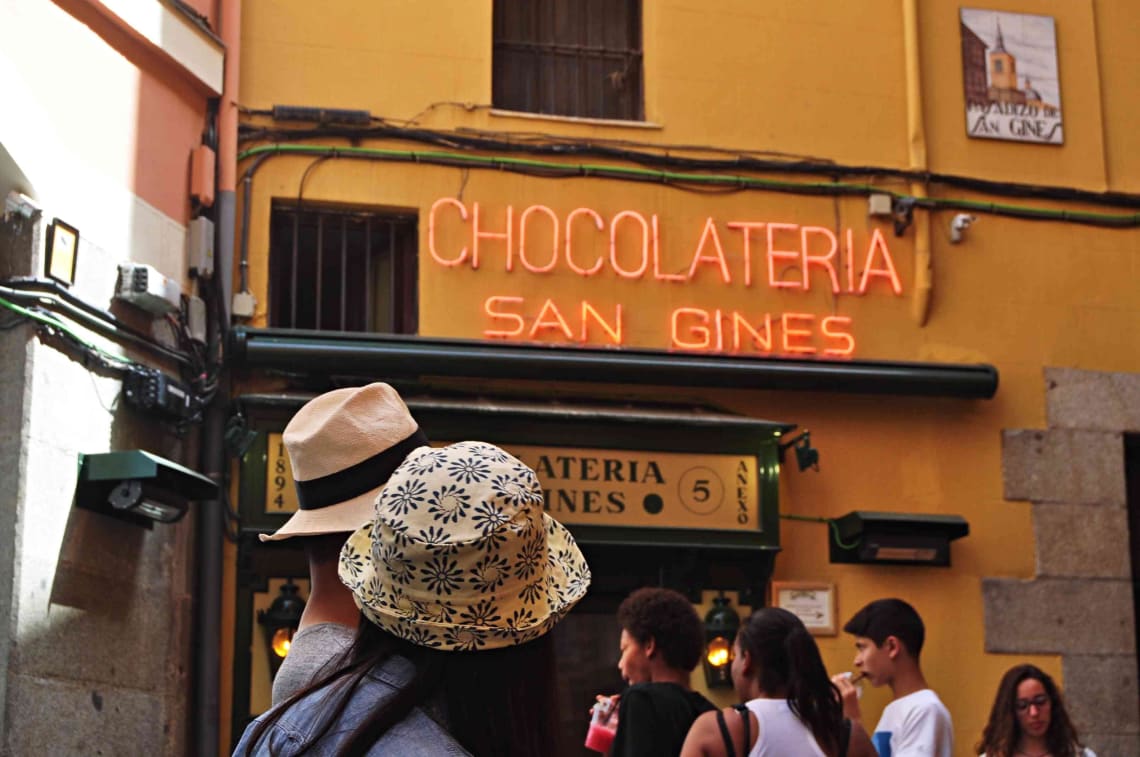 Where to eat in Madrid on a budget
You haven't been to Madrid if you didn't eat tapas. When in Spain, there seems to be an invisible force that makes you want to go for tapas at every moment. It's the break between activities. Have to wait 10 minutes? Have some tapas. Meeting an old friend? Have some tapas. It is so beautiful. I love going out for tapas in Madrid.
Spanish food is next level. In Madrid, you can find hundreds of amazing places to eat. But for Spaniards, it's not just about savoring your food, it's about savoring the moment.
It goes like this: you enter a bar and order a caña (a small beer). Along with your caña, you'll get some light snacks — ham, potatoes with sauce, olives, etc. What you receive is up to your server and their mood. And I love that.
If you are on a budget, there is really no need to order lot of tapas from the menu. With each caña you order, your server will bring you something to eat. Another beer, something else to eat... and so on.

One of my favorite tapas spots in Madrid is El Tigre Sidra Bar. This is the place to go for tapas in Madrid on a budget. Famous among locals, El Tigre Sidra Bar is located a few minutes away from Gran Via in the Chueca neighborhood.
When you order a caña at El Tigre, they bring you a huge amount of tapas, for free. And I mean, huge. If you are a group of three, after three cañas, you are done. Chances are you won't even be able to finish what they bring you.
I love El Tigre. If you want find other similar places and have a full and varied experience of tapas in Madrid, go to the local places away from the city center.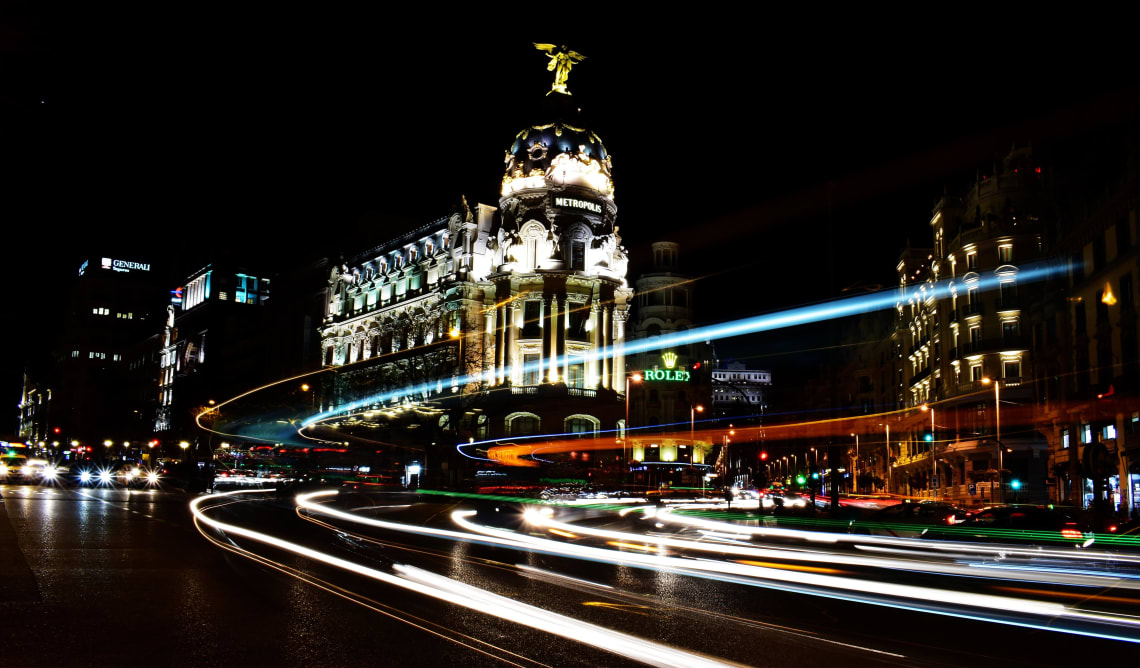 Nightlife in Madrid
Madrid has an amazing night life. If you want to go for a beer, there is a place for you. If you want to go to a cozy bar for live music, there is a place for you. If you want to go to a disco, there is a place for you. Madrid doesn't sleep.
Malasaña, La Latina and Lavapies are Madrid's most popular neighborhoods to party. There's nightlife everywhere in Madrid, but these specific areas are home to Madrid's most popular bars and clubs.
Malasaña is the neighborhood right now in Madrid. You can find tons of bars and discos, and if you're a beer fan, Fabrica Maravillas has the best beer in Madrid.
La Latina is steadily gaining popularity. There's a whole street full of nice bars, and plenty of famous discos around, like Shoko Madrid.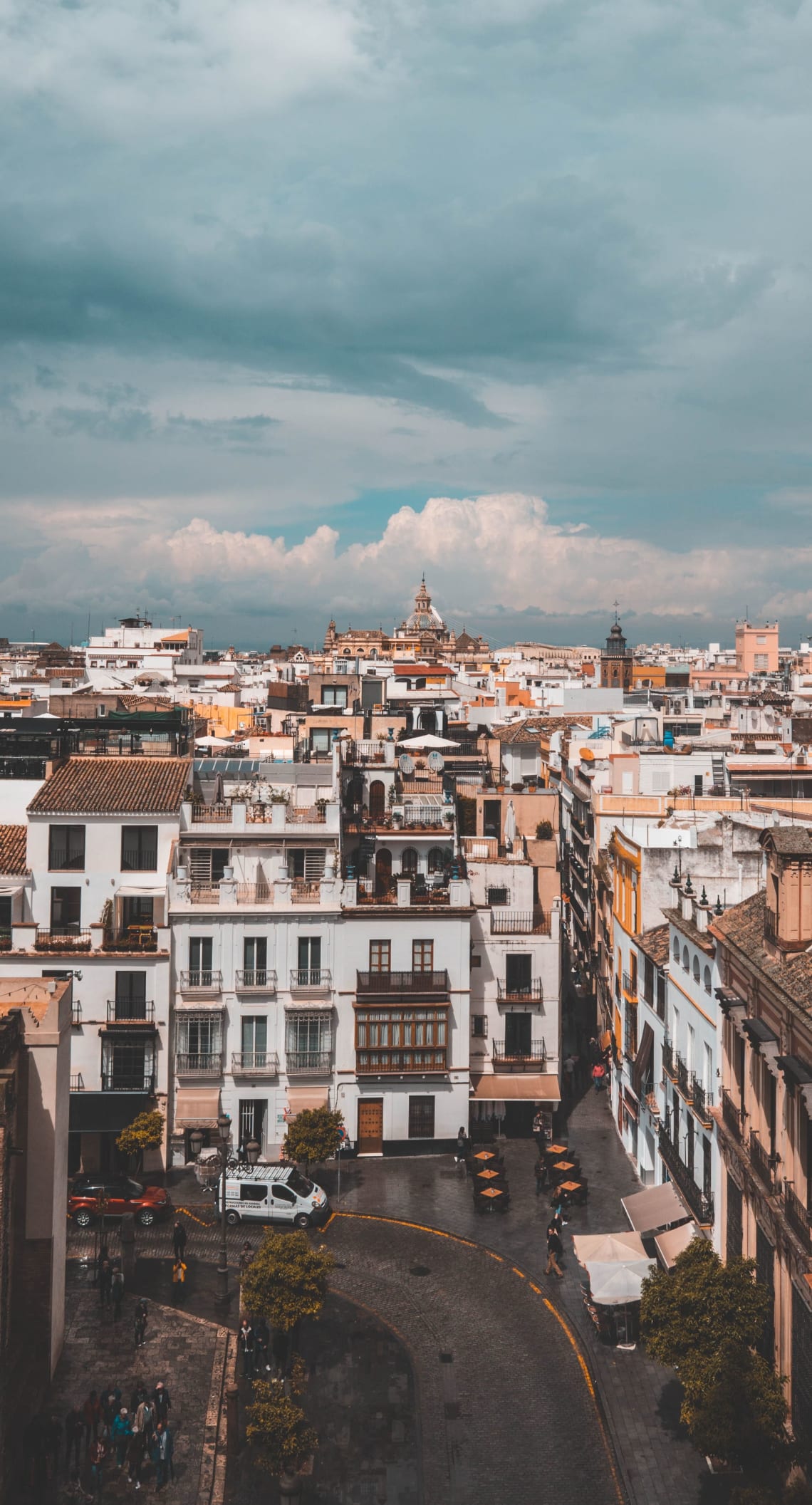 Madrid and I didn't get along at first, but after my last visit, Madrid has forever earned a place in my heart.
Often referred to as "the city that really knows how to live", Madrid has an enchanting energy that truly captivates.
So, what are you waiting for? Use this guide and discover Madrid today!