Spanish immersion through volunteering, traveling, and more!
Learning a language can be hard, but Spanish immersion can make it a lot easier. Keep reading to learn fun and effective ways to learn Spanish through language immersion.
7min
For many of us, learning another language is a goal that we would like to achieve in our lifetime. We download language apps like Duolingo and spend hours learning vocabulary, but never really feel like we could hold a conversation in that language.
Language apps can give you a great head start when learning a language, but one of the best ways is to fully immerse yourself in the language and culture.
That's what language immersion is. It's a way of learning a language where you hear, speak, and learn the language in authentic everyday contexts and experiences. You start absorbing the language without realizing how much is actually sinking in.
What is Spanish immersion?
Spanish immersion is essentially the same thing as language immersion, just focusing on Spanish in particular. You surround yourself with Spanish, to improve your Spanish vocabulary, fluency, and comprehension.
There are many ways that you can immerse yourself in Spanish. In this article, I'll cover Spanish immersion techniques and Spanish immersion opportunities through study, work, and travel. If you want to learn Spanish, keep reading…
Why should you learn Spanish?
If you speak English and Spanish, then you're able to speak to 80% of the world. It's a very useful language that can be used all across the world.
It's a beautiful language that connects you with so many people. I'm also slightly biased. I love Latin America, and knowing Spanish there really helps to enhance your experience.
Also, learning a language in general has been shown to improve your problem-solving skills, memory function, creative thinking, and much more. You've got nothing to lose!
Tips to maximize your Spanish immersion experience
Just studying Spanish with a textbook is not enough. Let's see some tips so you can fully immerse yourself in the language that you're learning.
Surround yourself with Spanish speakers
You may be thinking, "I'm not in a Spanish-speaking country right now, so how can I surround myself with Spanish speakers?" Over 500 million people speak Spanish around the world, and a bunch of them probably live in your own city. Sometimes you just have to put in a little effort to find them.
Try looking for language exchange groups and meet-ups in your area. These are great for sharing your own language and helping others, as well as improving your Spanish speaking and listening skills.
Social media can also be a great way to find Spanish speakers. Try reaching out on Instagram and seeing if anyone in your network speaks Spanish and can practice with you. Facebook groups also work wonders for building connections.
Travel to learn Spanish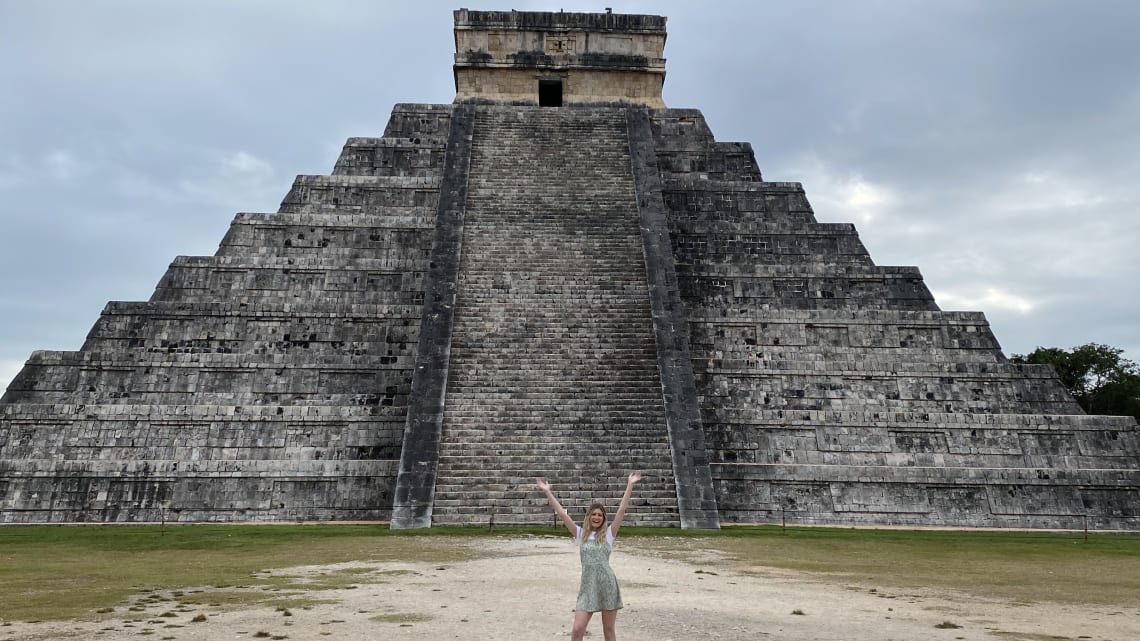 If you can, traveling in a Spanish-speaking country can be one of the best Spanish immersion experiences. That way, you'll constantly be surrounded by Spanish-speaking people, writing in Spanish and the culture.
There are 20 Spanish-speaking countries, so there are plenty to pick from. Spanish from Spain is slightly different from Spanish from Latin America, so do some research on which one you'd like to learn. No matter which one you pick, you'll still be able to communicate on both continents.
In my experience, learning a language whilst traveling is one of the most effective ways, as long as you put the effort in. If you're a backpacker, it's easy to simply hang out with people who speak your language all the time. A few weeks later you realize that you've spoken no Spanish and haven't learned any new vocabulary since you've been there.
Push yourself. Once you've got some Spanish vocabulary under your belt, use it! Strike up conversations with locals, make sure to always speak Spanish when you're interacting with a local, and make time to study Spanish.
Use technology (TV shows, music, apps)
Whether you're in a Spanish-speaking country or not, technology is your best friend when it comes to Spanish immersion. You can do simple things like changing the language on your phone to Spanish. Without even realizing it, you'll start recognizing the words in Spanish for follow, send, and like just by using Instagram.
Spanish TV shows

Watching shows in Spanish is one of my favorite ways to learn and improve my Spanish. Here are some of my favorite Spanish TV shows:
La Casa de Papel
Monarca
Narcos
Encanto (watch it in Spanish as it's based in Colombia)
Another way that I've found really helpful for Spanish immersion is to watch Disney movies in Spanish. The language is simpler as it's aimed at kids, so hopefully, you'll be able to understand more even if you're a beginner at Spanish.
Spanish music
After spending a year in Latin America, I'm also obsessed with Spanish music. That's all I listen to now. Reggaeton can be fun to listen to, but it's not the best for learning Spanish as it's so fast and hard to understand. Here are some of my top Spanish singers who thankfully sing a bit slower:
Bacilos
Morat
Sebastian Yatra
Carlos Vives
Take Spanish classes online or in person
Spanish classes can be super useful, especially at the start of your journey learning Spanish. They help you to understand the basics, build vocabulary and get a grasp of the grammar.
Spanish lessons can be done in person or online. You can find Spanish lessons for as little as $5/hour on websites like Preply. A couple of Spanish classes with the Spanish immersion techniques in this article and you'll be speaking Spanish in no time.
You can also do Spanish classes in person where you live, or whilst you're traveling. I highly recommend taking some Spanish lessons within the first few weeks of your arrival in a Spanish-speaking country. That way you can gain a good level of Spanish and improve it by practicing with people that you meet.
Depending on where you take your Spanish lessons, they can be very affordable. For example, I paid $145 for 15 hours a week in San Cristobal in Mexico. And it was great!
Some Spanish language schools offer classes and a homestay, meaning you get to stay with a Spanish family. This is the best Spanish immersion. Your whole day will be filled with Spanish!
Volunteer in a Spanish-speaking country
This has been one of the most successful Spanish immersion techniques for me. I have volunteered in Peru and Colombia teaching English.
Unlike traveling, volunteering ensures that you're surrounded by Spanish-speaking people. Your host will most likely speak Spanish, and some of them don't speak great English, so you'll need to work on your Spanish skills in order to communicate.
If you volunteer in a less touristy town, you'll also need to practice and improve your Spanish to speak to the locals in that town. You'll be forced to use your Spanish, which really helps if you're lacking the confidence to use it.
Spanish immersion through work & travel
Here are some Spanish immersion opportunities that you can get involved in to accelerate your Spanish:
Learn Spanish in Colombia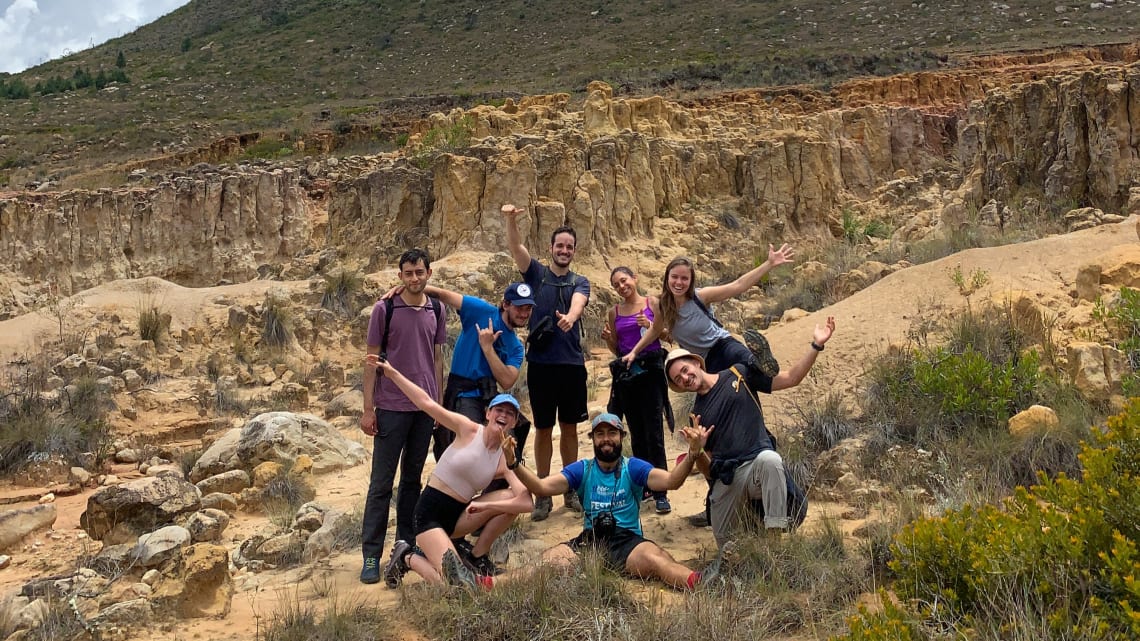 I spent 5 weeks volunteering in this language institute in a small colonial town called Villa de Leyva in Colombia. I spent my time teaching kids English, which also helped to improve my Spanish and I would have to explain some of the activities in Spanish for them to understand.
One of the reasons why I picked this volunteering opportunity, in particular, was that in return for my time, I received an hour of Spanish lessons every day.
Two of the people that I lived with were Colombian, so I would practice my Spanish with them. I also made friends in Villa de Leyva whose English wasn't very good. Great! I had to use my Spanish instead. My Spanish improved massively whilst I was there.
Learn Spanish in Spain
Spanish from Spain is slightly different from Spanish from Latin America. They pronounce some words differently, and some words have different meanings depending on where you are. Even the north and south of Spain speak Spanish slightly differently.
It's good to get experience with lots of different types of Spanish so that your listening and comprehension improve.
With this volunteering opportunity, you can combine learning Spanish with a very unique experience. On this farm in Leon, you'll take care of bees, prepare the fields, extract honey, and sell the honey to their customers.

Learn Spanish in Mexico
In my opinion, Spanish in Mexico is really fun! They have a lot of slang and their accents have a lot of life behind them. Mexican people are also very friendly and always willing to practice Spanish with a stranger.
As I mentioned with my volunteering in Colombia, teaching English is a great way of improving your Spanish at the same time. Why not try teaching English in Ario de Rosales in Mexico?
Learn Spanish in Costa Rica
Close to Tortuguero, one of my favorite places in Costa Rica, is a sustainable community where you can help with a range of things — teaching, keeping the community and beaches free of rubbish, agriculture, and animal care. There's plenty to keep you busy.
In return for your time, they also offer free Spanish lessons to improve your Spanish even more.
Learn Spanish in Argentina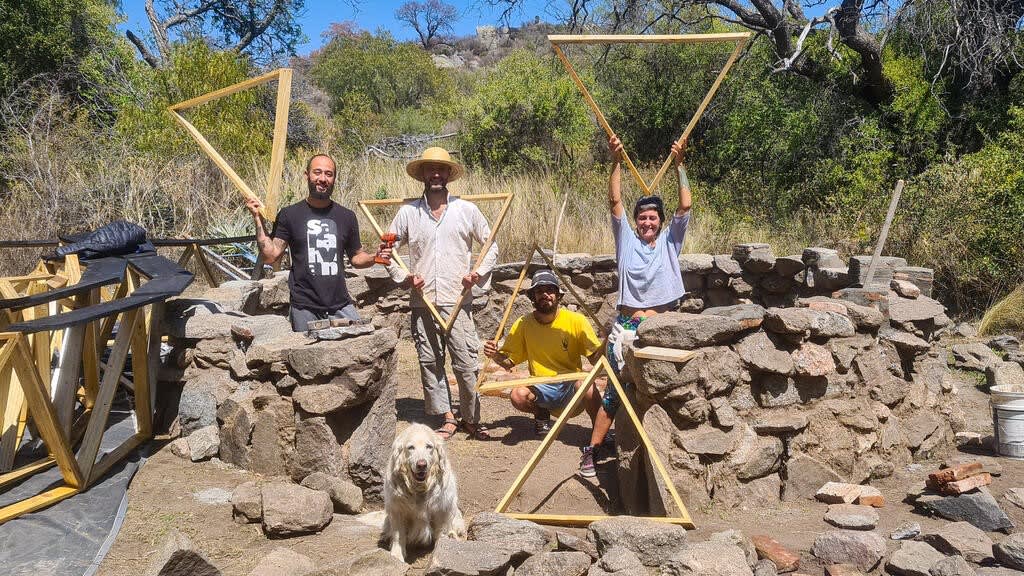 Argentina is a country filled with the most incredible landscapes, bustling cities, and great wine. Nature plays a big part in Argentina, so volunteering at an eco-village is a great way to see this side of the country.
You can spend a few weeks farming, tree planting, and learning about bioconstruction, whilst improving your Spanish at the same time.
Summing it up
Volunteering in a Spanish-speaking country is essentially a free Spanish immersion program. Your entire day will be flooded with Spanish words and culture. Before long, you'll notice a real difference in your Spanish-speaking abilities, and learning aside, the experiences are super fun and rewarding!
To make finding the right Spanish immersion opportunity easier for you, use the purpose of the trip -> practice Spanish filter on Worldpackers. That way you'll see all of the opportunities that will maximize your Spanish immersion experience.
Buena suerte!
If you like these tips, follow Worldpackers social media to keep up with the news: we are on Instagram, Tiktok, and YouTube!