St. Lucia travel guide: How to plan your trip
In this article we are going to discuss a full travel guide of Saint Lucia, an East Caribbean island of lush rainforest, volcanoes, and crystal clear waters.
13min
When people think of the Caribbean islands, most automatically resort to Jamaica, Puerto Rico, or the Dominican Republic. While these are all amazing islands with their own unique culture (and equally delicious food), the Caribbean region is home to over 13 sovereign nations and 17 dependent territories.
Before getting started, Saint Lucia was one of the countries in the world with extreme travel restrictions due to Covid and has recently started to open up to the public, and have to say that is one of the safest Caribbean islands to visit.
Before planning a trip and booking that ticket, be sure to check the IATA interactive map/website for required documents as things change weekly.
History of Saint Lucia: people/culture, language, enslavement
First gaining independence in 1979, Saint Lucia was not its original name. Initially named and recognized as Louanalao by the indigenous Arawak people, which translates to "Island of the Iguanas" in native tongue, this tiny island surprisingly has a lot of history.
The country has a mixed heritage which shows in the French based creole language as the French, Dutch, and English were all looking to unfairly colonize the land at once.
The European colonizers and native people fought back and forth for half a century before becoming a French colony in 1651. The island was one of the last Caribbean nations to gain its fully fledged independence but it is celebrated to this day and shows in the rightfully proud people.
The two national flowers of the country include the rose and the marguerite. These two beauties truly capture the biodiversity and uniqueness of the island.
The calabash and bamboo are also recognized as the national trees of the country. All along the island's roadside, you may see some locals selling brown bowls made from calabash which provide a completely natural alternative to usual plate-ware.
St Lucia Travel Guide: Things to do/Best places to visit
Let's talk about some of the most beautiful and well worthy attractions to see and experience while in Saint Lucia.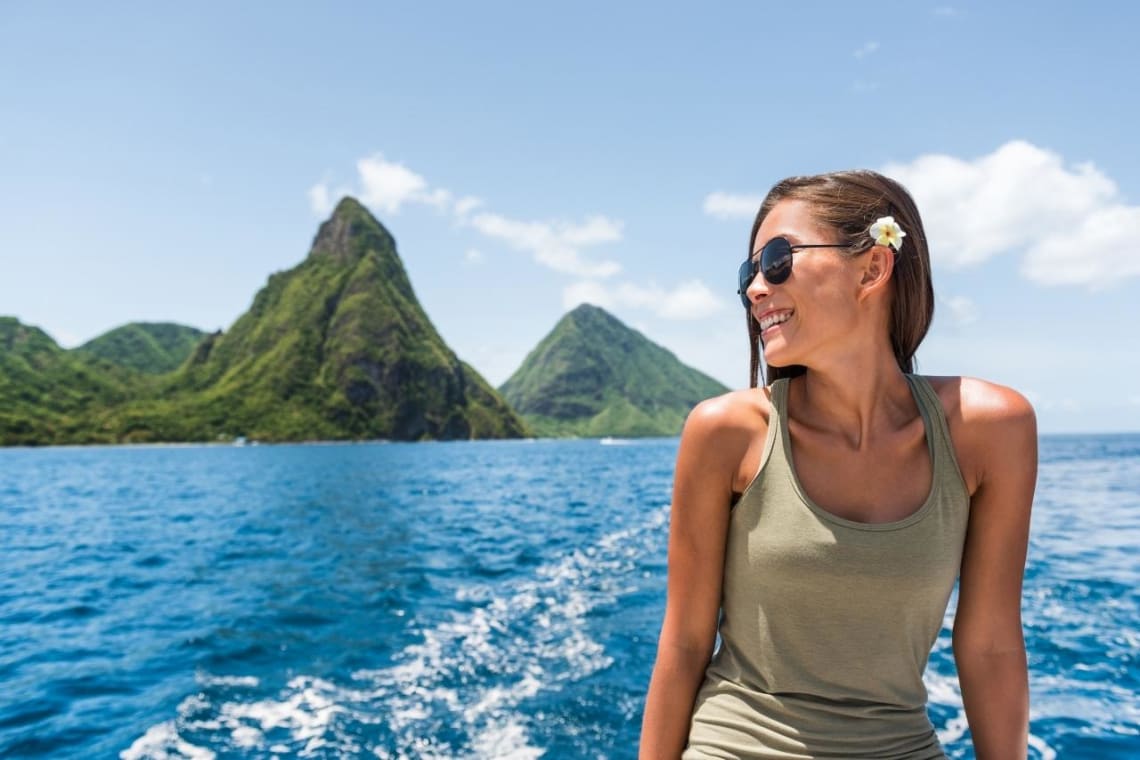 Piton mountains
One of the most well known natural sites in Saint Lucia, the Pitons are certainly a view not to miss.
The mountains consist of Gros Piton and Petit Piton. Once you head over there, you will see why so many tourists decide to check them out.
It takes about three to six hours to hike to the top, be sure to bring your camera as you will come across once in a lifetime views.
Sulfur springs
The sulfur springs, aka mud baths on the island, are very good for your skin! Not only will you get an unusual but exotic bath experience, you'll also get to see the only drive-in volcano in the world.
After you take a bath in the mud, you'll get the opportunity to have a refreshing shower at the nearby waterfall.
Gros Islet
This village is known for horseback riding, rum drinking, delicious food, and local interaction.
Gros Islet is starting to become one of the most popular tourist destinations in St Lucia in yearn of an authentic experience.
Shop at the local market in Castries
One of my favorite parts of my trip to the island had to have been stumbling across the fresh fruit market in Castries, the capital of Saint Lucia.
There were so many options available and as a vegan traveler who adores fresh fruit and vegetables, it felt like a tropical paradise!
Try some of the local produce, grab a bite to eat at a local restaurant, and enjoy people watching.
Have a (free) beach day
What's better than heading to the beach, soaking up vitamin D from the Caribbean sun and dunking under the sea water? Packing a cooler full of snacks (possibly from the local market) and spending a day at the beach is a great way to have fun on a budget.
Some of the best beaches in Saint Lucia include: Marigot Bay Beach, Reduit Beach, Sugar Beach, Pigeon island, Anse Louvet, and so many more!
Of course there is an endless list of things to do in the country, but these are a few notable activities to get the adventure started.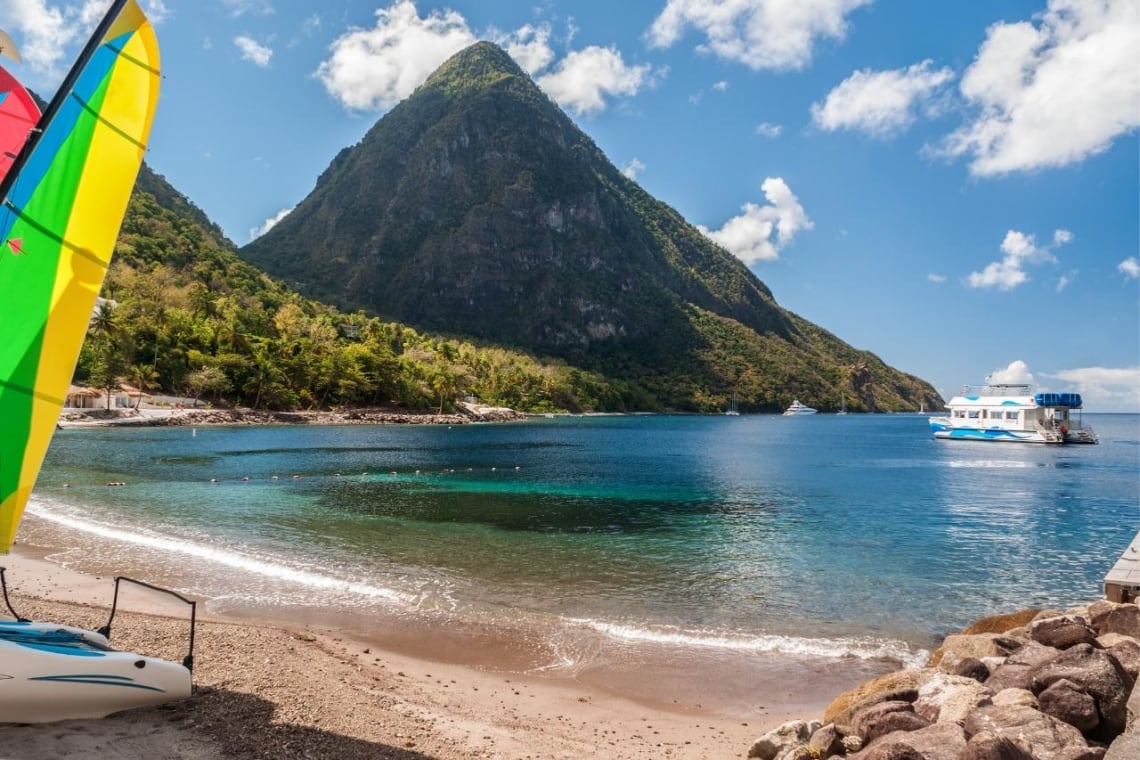 St. Lucia Travel Guide: Cultural food in Saint Lucia & Places to eat
If there is one thing the Caribbean is known for, is the delicious and flavourful food. Although the nations are extremely small, the food talks really big.
Caribbeans are known to throw an array of spices and heat into their food, making this region loved worldwide for their culinary talents. As my mouth is already watering, let's go ahead and talk about some popular (and tasty) dishes you'll find on the island.
Green Fig (banana) and salt-fish
Known as green banana in other Caribbean countries, green fig and saltfish is quite simple but is bursting with flavors.
First, an unripe green banana is boiled until cooked and served on the side. The saltfish is commonly the start of the show as it can have tomato and onion seasoned with an array of different spices.
Breadfruit
Found in many Caribbean and subtropical regions, the breadfruit may not be what you think. It is classified as a fruit that grows on a tree and has seeds but tastes more like starch.
Locals usually roast on a fire until it has become completely blackened, cut it open and remove the heart, and fry individual pieces. It is an absolute treat and can be put on a dinner plate and served as a side or eaten by itself.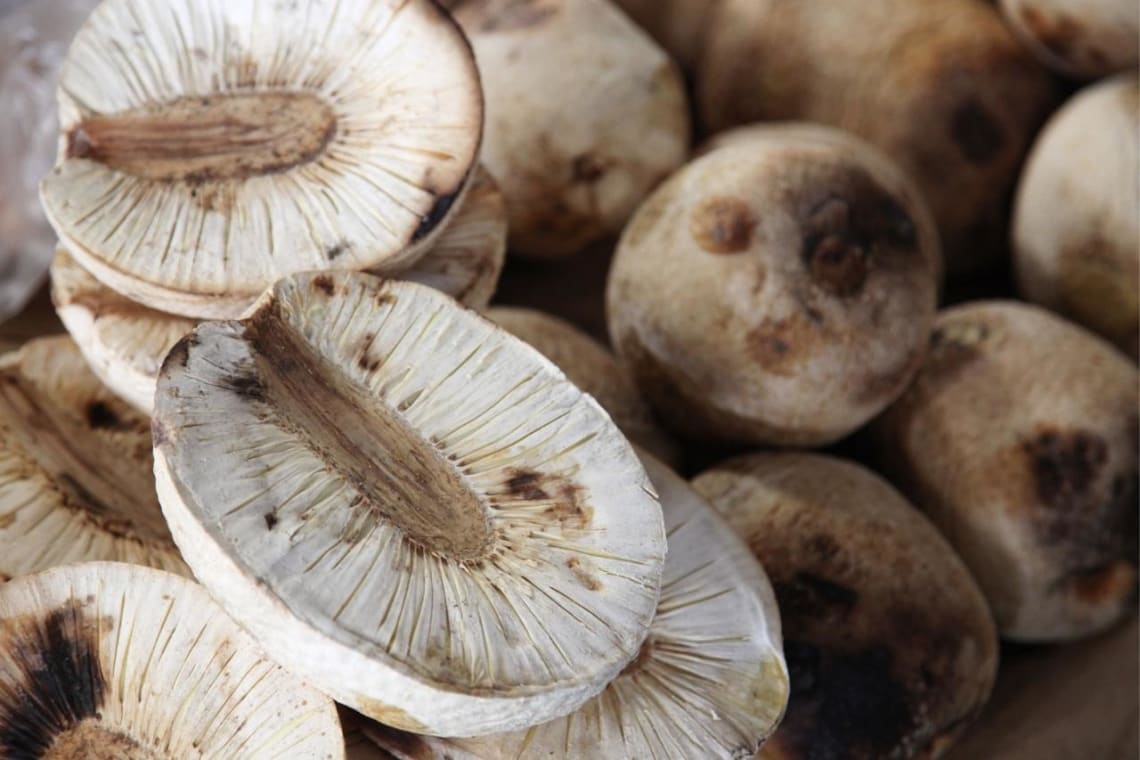 Tropical fruits
When we think of the Caribbean our minds resort to tropics, of course. Although Saint Lucia is a tiny island, its diversity will surely surprise.
The different types of tropical fruits you can find in Saint Lucia, includes: soursop, mango, papaya, coconut, passion fruit, guava, pineapple, custard apple, plantain and many more.
Mannish water
Manish water is a hearty soup pot that usually consists of different parts of a goat. Although it may sound strange, I used to eat this soup as a child and it is actually extremely tasty. It is bursting with flavor so if red meat is your thing, find a laid back local restaurant and sip.
Paime
A delicious corn based dessert, Paime is loved by many Saint Lucians whenever a sweet tooth arises.
It consists of coconut, raisins, different spices, and of course cornmeal, and is as local as it gets.
Bakes
Also known as Johnny cakes in many other Caribbean islands, this side dish is very simple as well as popular.
Made with just flour, yeast, baking powder, salt, a little bit of sugar, and of course water to combine the dry ingredients.
Bakes can commonly be suitable for vegans but be sure to ask the ingredients before diving in as some vendors may out butter or milk into their bakes.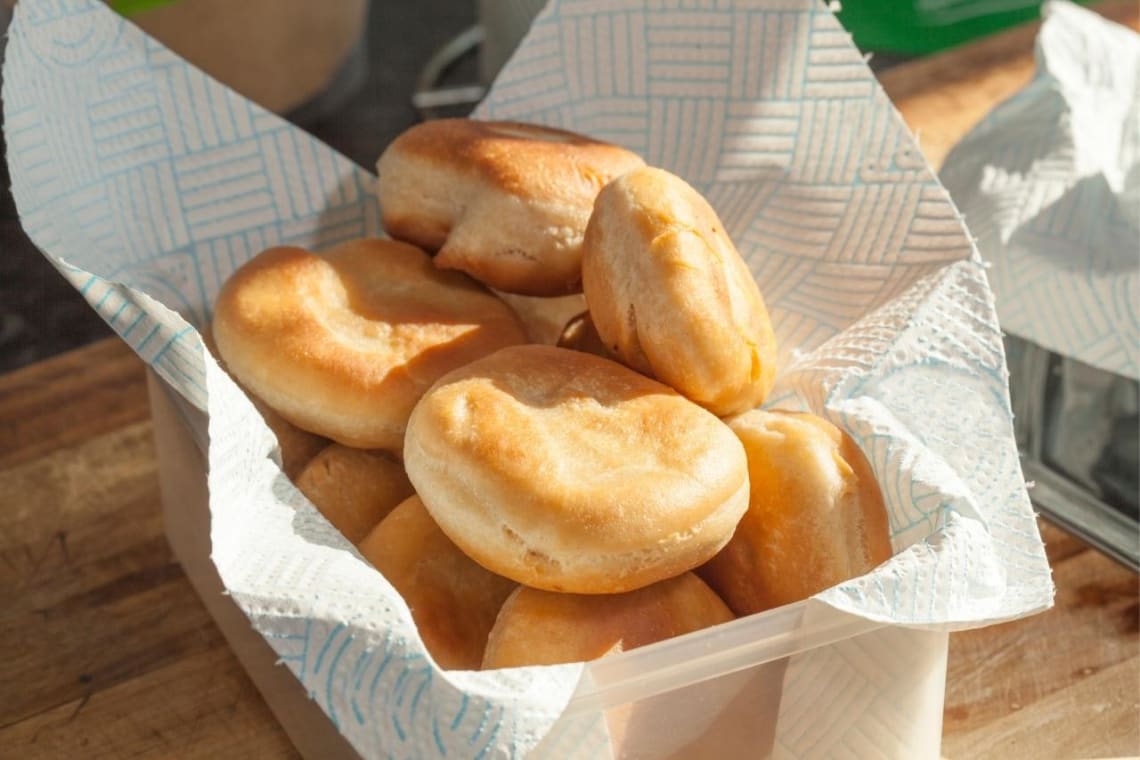 Cocoa tea
This drink is kind of like hot chocolate, but healthy! I have tried this many times in Jamaica and seeing it in Saint Lucia was a treat for my eyes (and soon to be for my tongue as well).
Cocoa tea usually has cinnamon and nutmeg for a kick and is truly enjoyable.
Vegan and vegetarian options
For all my fellow veggie eaters, don't worry or feel left out from the list of cultural foods I just listed. Majority of Caribbean islands have meat incorporated into almost all of their meals but a large population of plant-based eaters exist in the rising rastafarian community.
Of course you can hop over to the local market and crack open a fresh jelly coconut and grab some vegetables to cook for yourself, we all like to eat out every once in a while.
Listed down below are some delicious vegan restaurants where you can still enjoy and experience the local flavors while eating plant based.
Located on different parts of the island offering a menu of delicious vegan and plant-based options include restaurants: I-tal, Mokocho Vegetarian cuisine, Three Angels Cafe, Beyond Vegan, Ancient of days Mina's love vibes, KB's grubs. For easier access to finding plant-based restaurants, most vegan travelers download the app Happy Cow.
As a solo female traveler who has been to over ten countries and territories, I've had my fair share of food vendors who think fish is vegan. Traveling on a plant-based diet with people who are not fully aware what is vegan and/or do not offer any vegetable options has certainly been hard.
Despite the odds, I have learned how to successfully stay true to my dietary beliefs even in the most meat loving countries. Learn more about traveling the world as a vegan and staying true to the strict diet.
St Lucia Travel Guide: Transportation & Accommodation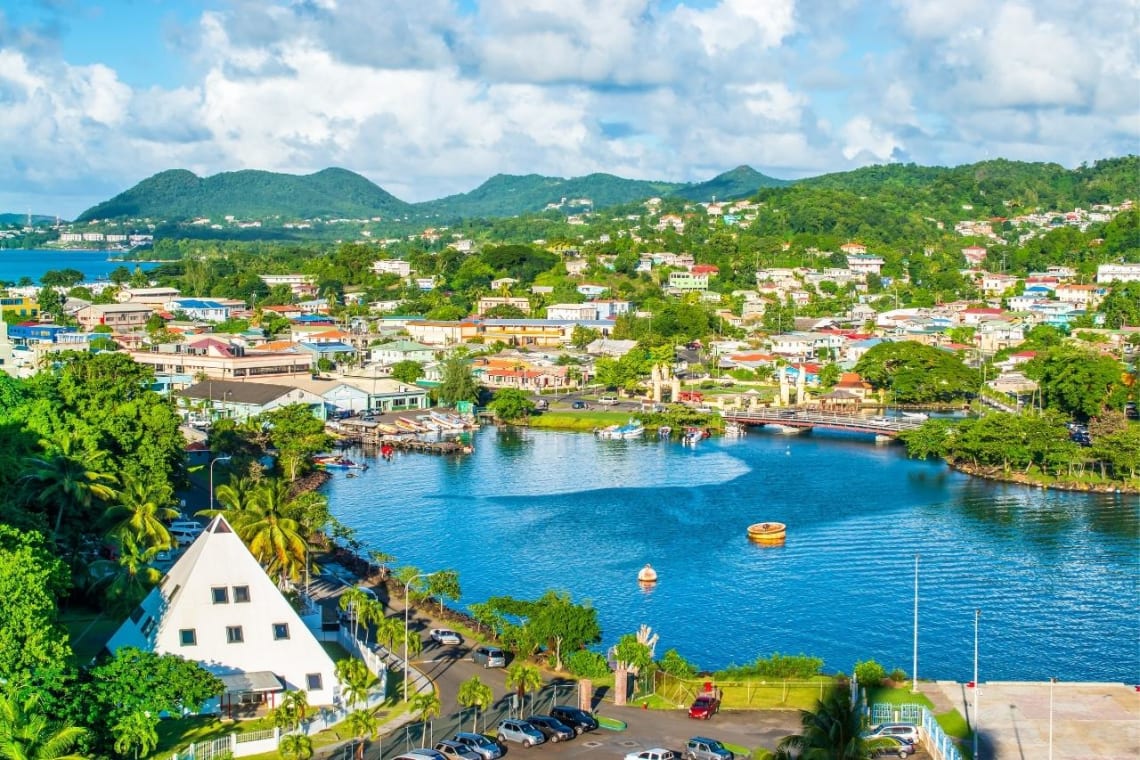 Taxi
This is going to be the most common way (for tourists) to get around the island as there is no uber or other app based driving systems.
Although taxis are the most common mode of transportation, they're also the most expensive so if you are on a backpacker's budget, taxis are probably not the best way to go.
Car rental
Cars are available for rent on the island as soon as you get off your plane. Different rates are offered for different cars so be sure to get the best deal and negotiate a bit before just taking one.
Renting a car may be the best way to see the island alone as you can be your own tour guide and explore according to your schedule. Just be aware of the Caribbean's many hills and mountains that make driving seem more of a rollercoaster as opposed to a form of transportation.
Mini bus
The most local and popular (amongst residents) form of transportation is to ride the minibus. It is an authentic experience as well as an affordable one.
Rides range from 2 to 8.50 East Caribbean dollars making the most expensive ride just a little under 3 USD. My favorite mode of transportation in any new country, city, or destination is always taking the bus because of how affordable it is. Why not save a few bucks on transportation and redirect it towards activities and flights.
Want to see more of the Caribbean on your trip? Saint Lucia also offers boat rides to their neighboring cousins of Guadeloupe, Dominica, and Martinique. Be sure to brush up on your French because it will be needed to communicate with the locals in the other countries as well as booking your ticket on the french based website.
Accomodation in Saint Lucia
Accommodation is going to be one of the more expensive legs of a trip to Saint Lucia. As a budget backpacker, I almost exclusively stay in hostels but unfortunately the island does not have any.
Instead, a backpacker can opt for the next best thing: a private room on Airbnb. Rooms can start at $30 USD and go up to around $70 USD, so be sure you're getting the best deal.
Of course, there is always free accommodation available by volunteering with Worldpackers but we will review that more at the end of the article.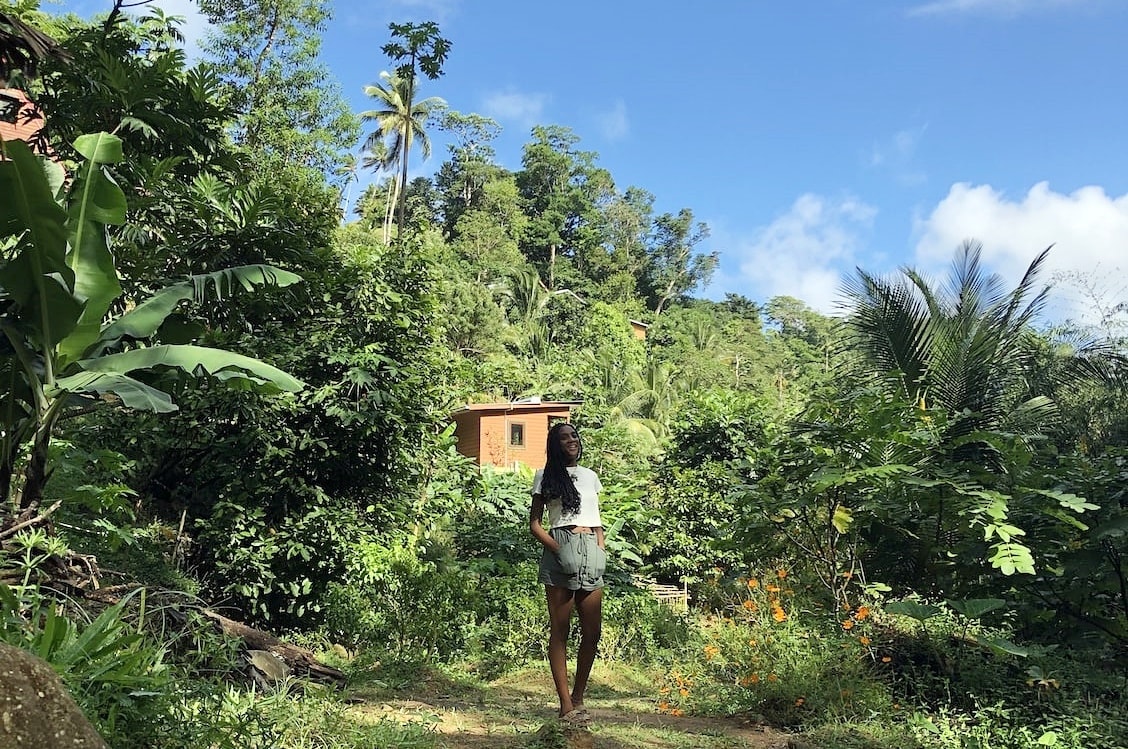 St. Lucia Travel Guide: When to visit
The most popular time to visit the island is between North American winter to spring time. This is when prices will be at their high so it is not the ideal season for budget travelers.
Hurricane seasons fall between July and November so be cautious planning a trip on these days.
The more preferable time to visit St. Lucia has been reported to be in between the months of February to May. The beauty offers less tourists during this period of time and Hurricane season will have more than ended so weather won't be too much of a concern while visiting during this time.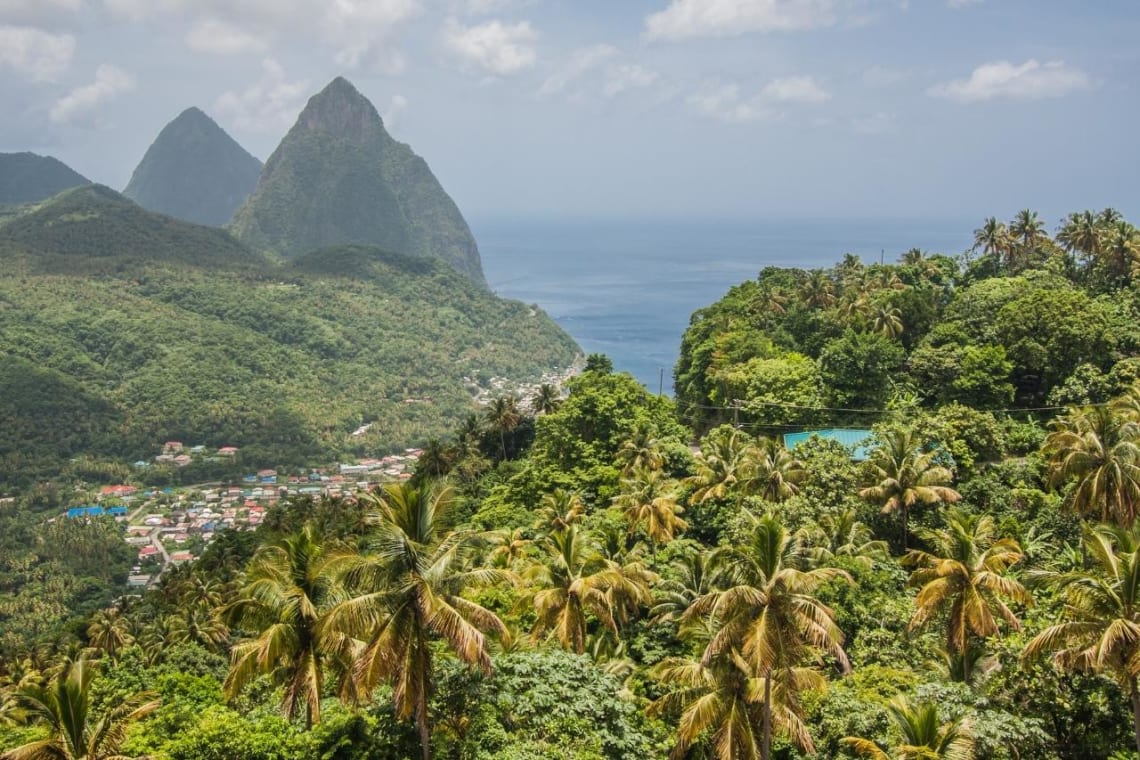 Cost of traveling in Saint Lucia
The cost of a trip to this country will depend on the type of traveler making their way out there.
Are you a person that likes to eat out every day on vacation or do you prefer to stay in an Airbnb room and cook up delicious meals as opposed to going out? Or are you the type of traveler to stay in the most luxurious five star resort?
Using a one week trip for an example, the price can range from $1,000USD to $3,000USD including all transportation, food, activity, and accommodation costs.
How to travel St. Lucia on a budget
This island is a bit hard to travel on a strict budget as the majority of tourists this island promotes to are folks on the wealthier side. Despite the heavy price of traveling here, it is still one hundred percent worth it to see all the beauty it has to offer.
The Caribbean region is generally not the cheapest place on earth but it is possible to travel throughout the islands with a backpack and a few dollars in your pocket.
Check out this blog article for more tips on traveling the Caribbean island on a budget.
Airfare to Saint Lucia is surprisingly not that bad when booked in advance. When traveling to Saint Lucia, it is more than likely a traveler will have to make a stop in the United States for a connection.
When I was backpacking Costa Rica and wanted to go straight to Saint Lucia, my flight required me to go all the way back to the USA before continuing to the Caribbean. I was able to snag a $90 USD plane ticket from New York to the island but going back, my ticket was much more expensive as the departure was not planned or well thought through.
The two websites I religiously use to find affordable airfare are Kiwi.com and Skyscanner.
Budget travel airline websites are every backpacker's dream to save money and have an enjoyable and somewhat affordable vacation. A trip to Saint Lucia is certainly not going to be the most budget friendly location but it is good to save money whenever possible.
Traveling during the off season
Another way to save money on airfare and possibly tour prices is to travel to Saint Lucia during the off season.
The winter leading up to summer times (December through April) are the most popular seasons to visit the island. Everyone is trying to escape the North American and European winter season and trade in snow for a rather desirable tropical rainforest temperate.
Traveling during this time will surely leave a hole in a penny pincher's pockets as airfare, accommodation, and tourist activities will be at their height.
A budget traveler can either opt for the summer months for a bit more affordability or even the Hurricane season which is the end of summer to fall.
If choosing to travel to the Caribbean during hurricane season, be sure to recognize the risks of a trip getting canceled or not going as planned.
Do affordable/cheap things with locals
Something that has saved my pockets in several regions such as Costa Rica, Mexico, and Jamaica has been to look for free or discounted activities.
For example: when I was in Ocho Rios, Jamaica, there was this tourist destination called Dunns River where people climbed a waterfall for $20 USD. As a Jamaican-American who has been there many times, I didn't see it as cost efficient as once you finish climbing you are required to leave and can't enjoy the beauty of the area. Instead, I opted for a completely free alternative right down the street that was a waterfall but flowed into the sea. It was much more authentic and beautiful in my opinion and I could pack a picnic and stay all day if I wanted.
Saint Lucia is home to many waterfalls, beaches, and hikes that can easily be found and explored on one's own. If you aren't up for exploring by yourself, make friends with locals and they may take you for a spot that you would have never known if you went alone!
Buy groceries/market food & cook
One of my favorite ways to not only save money but interact with local people and culture is through shopping at local markets.
When I was in Jamaica I practically exclusively shopped at the local fruit market where I got different fruit, vegetables, and starches for an amazing price. Afterall, I was on a strict budget and could only afford a certain amount dedicated towards food each month.
Getting fruit and vegetables that are native to the country I'm in helps me feel more connected to the culture and enjoy a more unique and authentic experience as well.
The most local (and affordable) means of transportation is the Saint Lucian minibus. Taxis on the island are extremely expensive and not the best option for someone who is on a tight budget so opting for the bus is the next best option.
Prices range from 2-8 East Caribbean Dollars (about $.74-$2.96 USD). Traveling this way can also allow a backpacker to see more of the island in a different local perspective.
The best way to save even a little bit of money not only in Saint Lucia but to any travel destination is to budget, budget, budget.
When a person who has a limited amount of funds is always spending and making purchases without calculating how much money is being spent, they could end up with an overdrawn bank account. Nobody wants that on vacation.
What I personally do is write down everything I've spent in a day and input into a Google spreadsheet. I calculate how much I have set aside for that specific trip, and a limit of what I want to spend in the day, week, or month.
I have found this way most efficient and find myself being extremely conscious of where my money is going as there have been certain times where I look at my bank account in complete disarray and confused as to where all my money could have gone.
I personally feel that every backpacker or budget traveler should have a plan and or sheet to help them organise their finances for any/all trips.
St. Lucia Travel Guide: Volunteering in Saint Lucia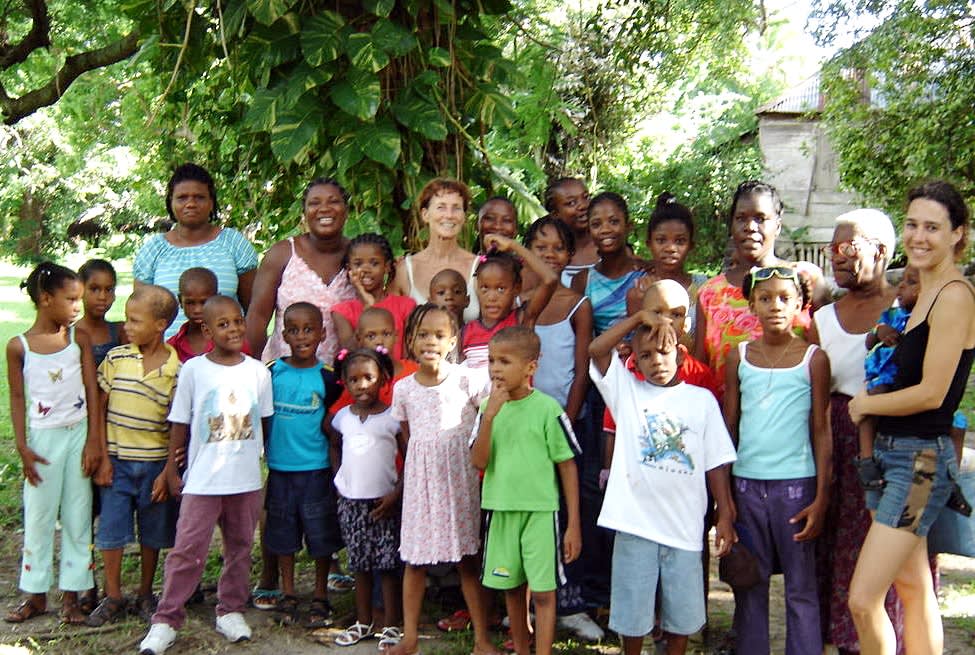 This next one will not only benefit all my backpackers on a tight budget, but will allow travelers to have a more enriching and full cultural immersion.
Volunteering with the Worldpackers program in Saint Lucia (and any country in the world) gives individuals the opportunity to closely interact with locals and give back to the people and community in neighboring areas.
As a solo female traveler that has done four different Worldpackers opportunities in Mexico, Jamaica, and the United States, I feel very safe traveling with the program.
I often prefer to have Worldpackers as one of my top picks for accommodation when going to a new place to not only benefit from free accommodation but to also feel safer as a young woman alone on the road.
As Saint Lucia is an island on the smaller side, there are not as many volunteer opportunities but the few that are offered are certainly more than worth exploring:

Interested in exploring more islands? Check out all of Worldpackers' opportunities in the Caribbean.

Want to learn more about planning your tropical East Caribbean getaway? By subscribing to the WP pack plan you have unlimited access to +120 courses at Worldpackers Academy, the travel school made by travelers. Pack a suitcase and go explore all the beauty Saint Lucia has to offer!