Where to go in Costa Rica: 15 amazing places
Do you wish to visit Costa Rica? In this article we listed the top 15 places of this amazing countries for you.
7min
Costa Rica is one of the most visited countries in the world. It counts millions of tourists every year, thanks to its amazing nature and national parks, its unique fauna that you can spost almost everywhere and the "pura vida" lifestyle.
Pura vida means slow down and enjoy life, people from Costa Rica always say it, everytime. In this country, nobody is on a rush, everybody is taking their time to enjoy life, and of course to enjoy all the wanders around them. The symbol of Costa Rica is the sloth, the slowest and most relaxed animal on Earth.
And you can spot sloths in every corner, you just have to look around. And it's not the only animal you can spot, this country is full of fauna and natural amazing places. It is one of the most biodiverse countries in the world, so you can just imagine.
But let's see in details some important information you have to know about Costa Rica.
Where is Costa Rica located and how to reach it
Costa Rica is located in the centre of Central America. It is quite easy to reach it from most of the USA cities. You can also reach it from Nicaragua by bus and by plane. Its main airport is located in the capital, San José.

Is Costa Rica safe?
Costa Rica is pretty famous to be the safest country in Central America. This is because compared to other countries in that area, it's quite rich and people are really not interested in committing crimes, "pura vida", remember? And maybe also because Costa Rica is mostly covered by forests and national parks instead of cities.
Of course you have to be careful in big cities like San José, like in every other city in the world, but comparing to other Latin American countries, crime rate in Costa Rica is really low.
Where to go in Costa Rica: discover the best places
It is not easy to pick just 15 places to visit in Costa Rica, because it's a small country but filled with a lot of things to see and do.
In this list you will find the 15 places that you can't definitely miss if you are visiting the land of pura vida.
1. Arenal National Park
Arenal National Park is one of the most beautiful places in Costa Rica. It is famous for the stunning Arenal Volcano, but that's not the only thing you can see here. This place is covered by a rainforest where you can go hiking and spot amazing fauna, with volcano view.
You can also visit the famous hanging bridges and look at the volcano from there, you can enjoy free hot springs and visit wonderful waterfalls. You have everything here!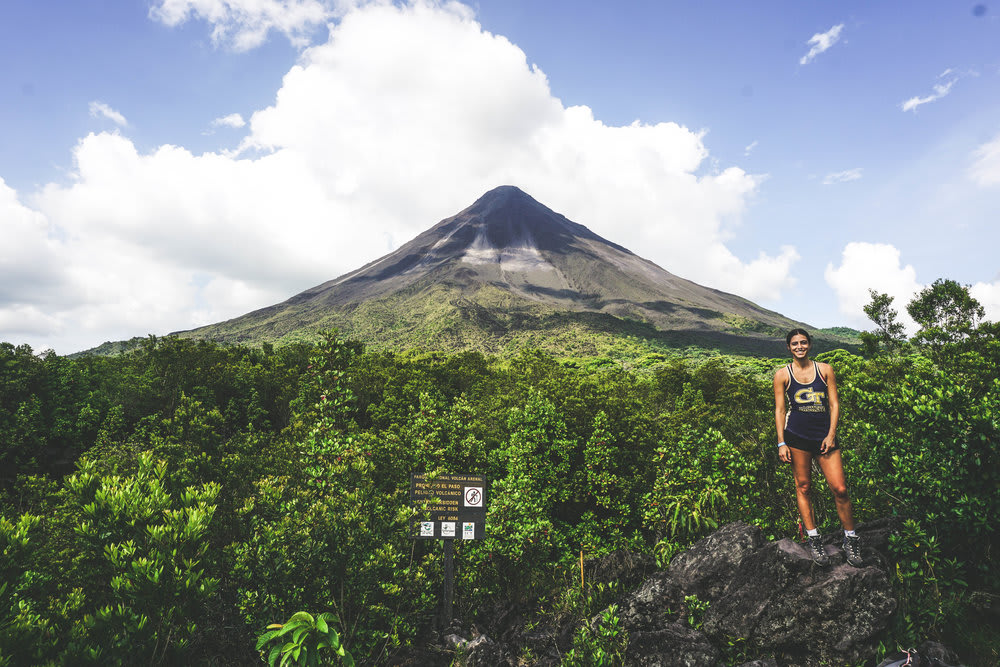 2. Manuel Antonio National Park
Manuel Antonio National Park is located on the Pacific Coast of Costa Rica. This is not only a place to mention when talking about where to go in Costa Rica, but it's also one of the best parks to spot sloths.
Whether you choose to visit the park by yourself or with a guide, you have very high chances to see a sloth, and if you are lucky you might even spot a mum with her baby!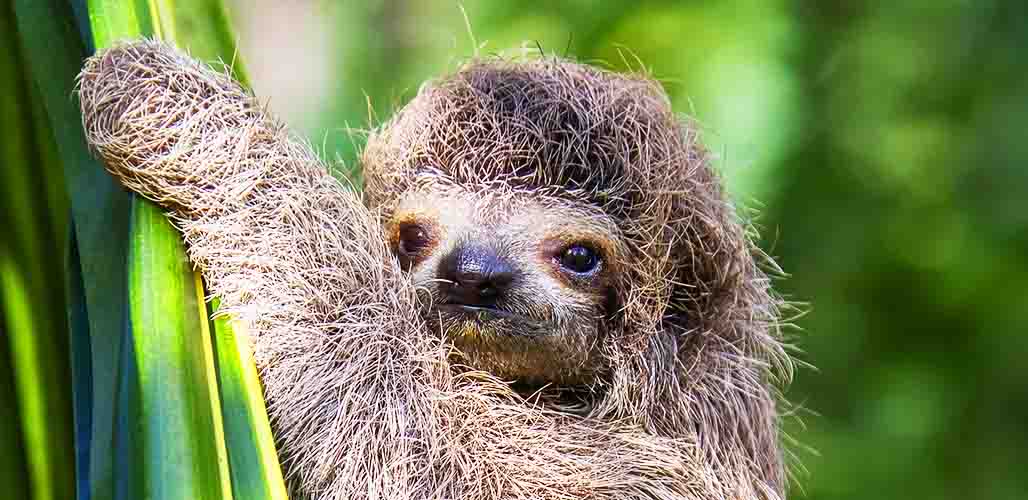 3. Cahuita National Park
Cahuita National Park is located on the Caribbean Coast of Costa Rica. Here you can find some of the most beautiful beaches of the country and this park is completely free, which is awesome because national parks in Costa Rica are usually expensive.
Walk all the way to Punta Cahuita to see the most amazing view and the best beach of the area. The water is so clear and great for snorkeling.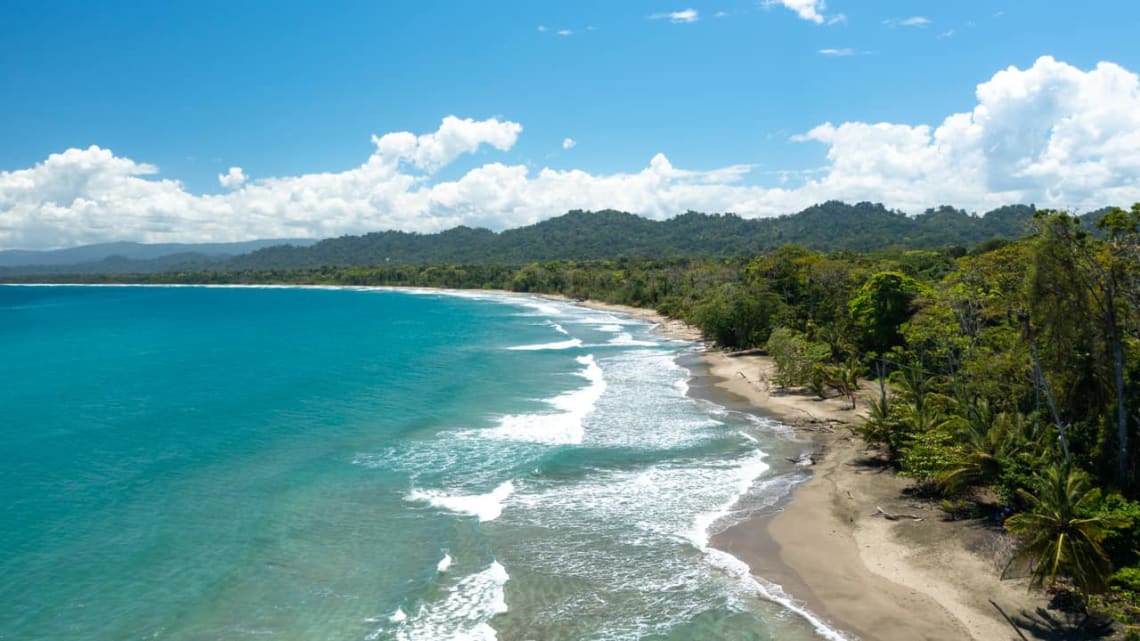 4. Corcovado National Park
Corcovado National Park is not so easy to visit. Located in the Osa Peninsula, at the very bottom of the country, it's a long trip to reach it, but it's worth the effort.
To visit this park it's mandatory to have a guide, but you won't regret the money you'll spend because you can spot a lot of amazing animals like jaguars, tucans, monkeys and poisonous snakes (but don't get close!).
5. Monteverde National Park
If you are feeling too hot, a good idea is to head to Monteverde. This place is usually colder than the rest of Costa Rica, thanks to its particular cloudy forest. There are famous hanging bridges even here.
You will always see Monteverde on the list of where to go in Costa Rica, because it's a truly remarkable place.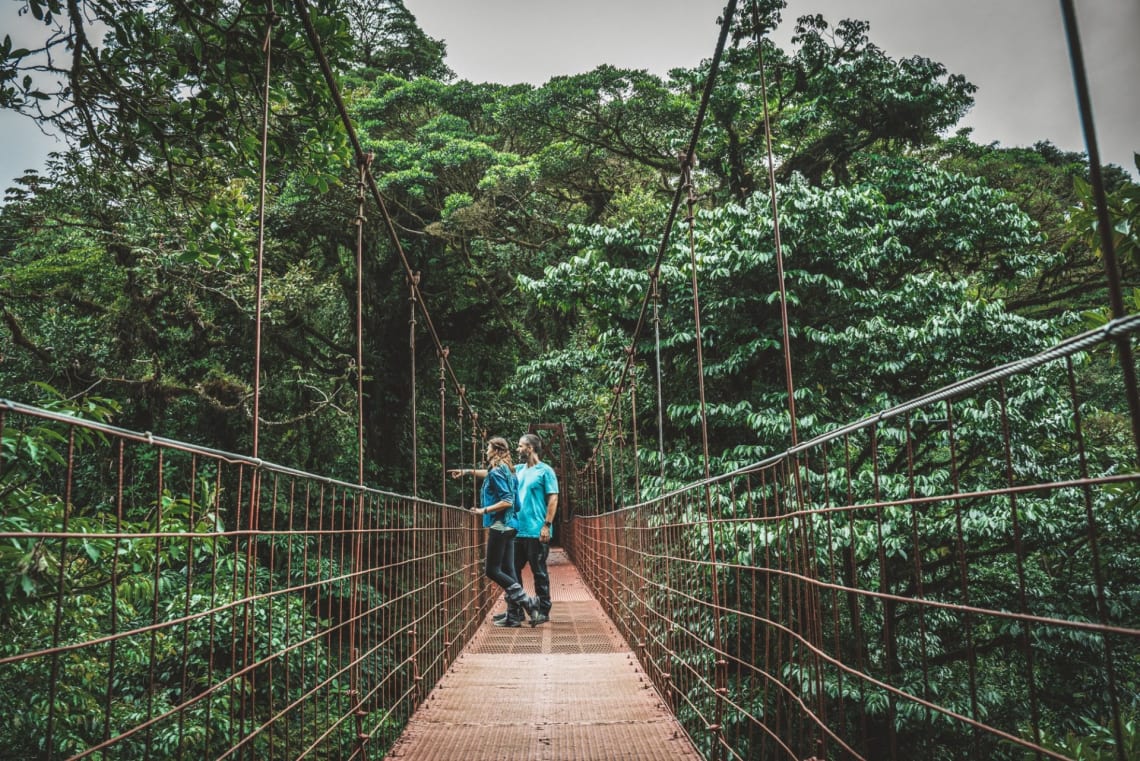 6. Tamarindo
If you love surf you definitely have to go to Tamarindo. Full of fancy restaurants, tourists and surf boards for rent, it's the best place to go if you want to enjoy Costa Rica's waves.
Tamarindo beach is famous worldwide among surfers on the Pacific Coast.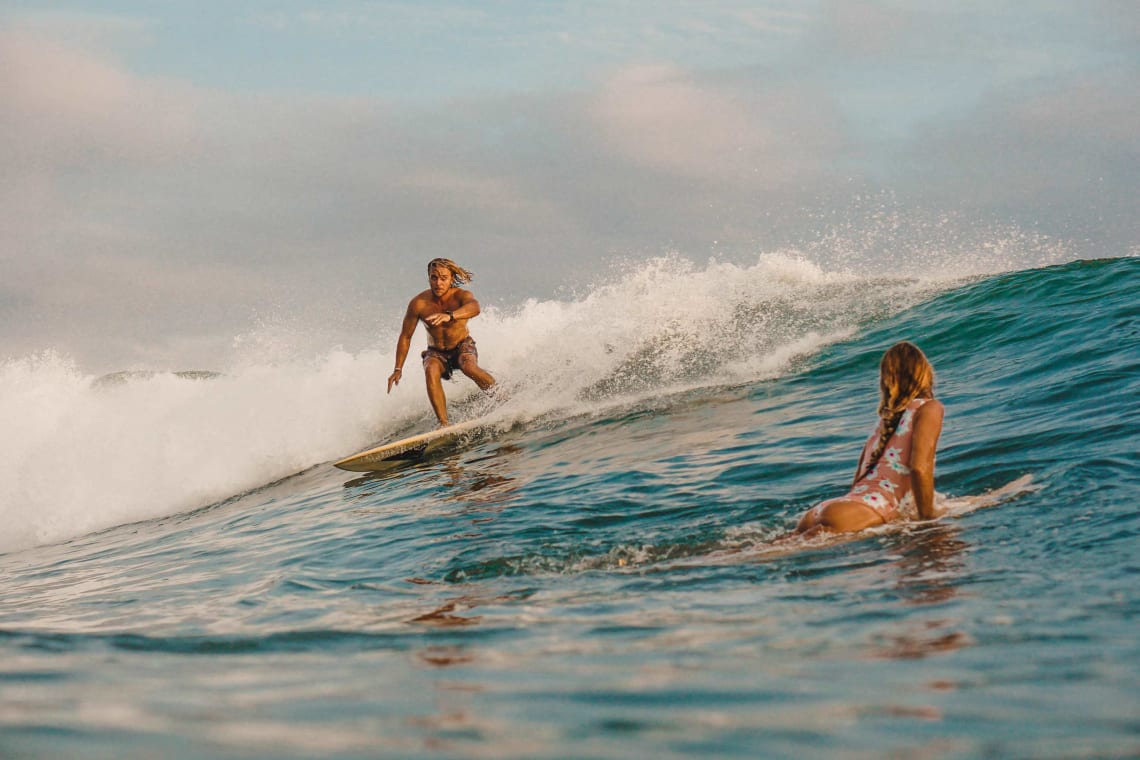 7. Santa Teresa
If you prefer to relax and enjoy amazing sunsets, Santa Teresa is the place to go on the Pacific Coast. Sunsets here are something else.
This is the place to enjoy a drink on the beach, relax and take amazing pictures.

8. Tortuguero National Park
Tortuguero National Park is a place you should definitely go while in Costa Rica, especially during turtle season, from July to November. In this season you can see turtle nesting, an experience to do once in a lifetime.
It is quite interesting all year round, though. You can go looking for animals by the river with a boat, enjoy the beach or go hiking in the forest.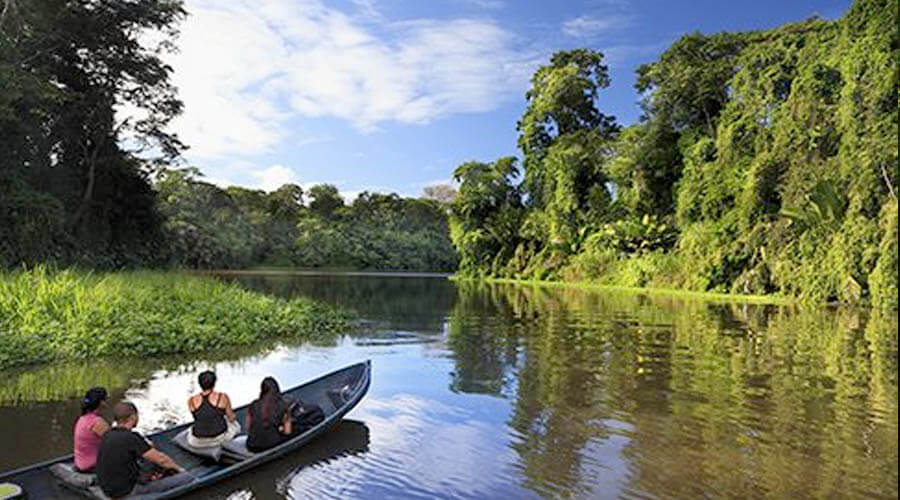 9. Guanacaste National Park
Guanacaste National Park is not the first place you think about when planning where to go in Costa Rica. It's not one of the most visited park and its quite off the beaten path. But this can be something positive if you want to avoid crowds and tourists, which is not always easy in such a visited country like Costa Rica.
In Guanacaste you can go hiking, enjoying the unique nature, and of course spotting animals like amazing birds.
10. Puerto Viejo
Puerto Viejo is a little town and it's the best place to experience Caribbean vibes and Rastafarian culture in Costa Rica.
Full of good and cheap Caribbean sodas, the typical local restaurants, and craft shops where you can buy homemade stuff, Puerto Viejo is definitely a place to add on your list. And of course, it's just by the beach.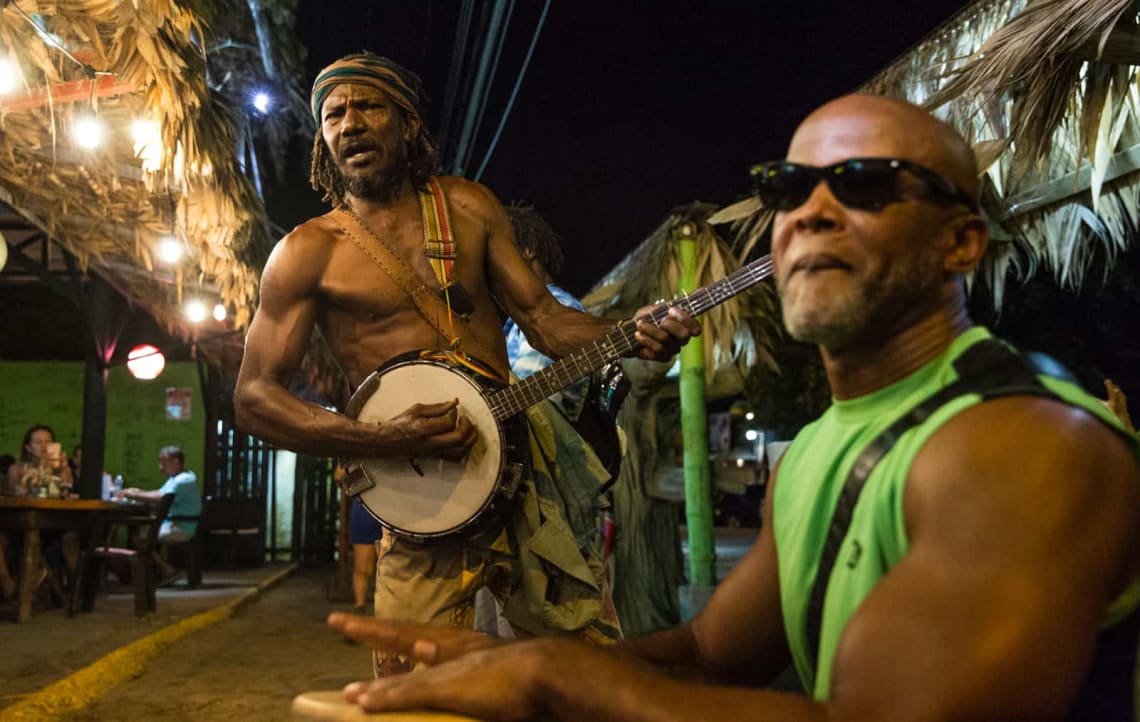 11. Uvita
If you are looking for one of the most amazing beach towns in the Pacific Coast of Costa Rica, you have to add Uvita on your list.
In this place you can enjoy unique beach views, go whale watching, and if you are looking for more adventures, go exploring the inner areas full of nature and hidden waterfalls.
12. Punta Uva
Punta Uva is maybe the best beach in the Caribbean Coast of Costa Rica. It's a big beach, good to relax and sunbathe, but also to surf because it has great waves.
Surrounded by a little river, you can also go kayaking there. It's a beautiful beach for everyone, both to relax and to go adventuring.
13. San José
Costa Rica is not famous for its cities, but you can't come here skipping its capital San José. If you arrive by plane, you will land here. And that's a good reason to have a visit.
Don't miss Costa Rica National Museum and Mercado Central, the best place to eat cheap and local food.
14. Liberia
If cities are your thing and you are heading to Guanacaste region, you could think about having a visit to Liberia.
This city is full of interesting historical sites and museums, good restaurants and the surroundings are simply amazing, from forests and waterfalls to volcanoes.
15. Jacó
We close this list of where to go in Costa Rica with the little beach town of Jacó, another important and famous surf location in the country. Lots of backpackers go here to try surf and have cheap lessons.
The place is less famous and of course cheaper than Tamarindo, so it's a good option if you want to surf but you have a low budget. You can find lots of delicious sodas and cheap hostels here.
Volunteer in Costa Rica and help the preservation of the place
Costa Rica is an amazing place in terms of nature and fauna, and it is trying to get more and more independent energetically. This country is really trying to be sustainable in everything, and it would be great if you, as a traveler, participate in this process.
If you want to make the difference in Costa Rica and help to preserve this unique place, getting something very useful for every traveler in exchange, you should think about volunteering there, and in this case, you have to know about Worldpackers.
Worldpackers is a platform in which you can find volunteering positions all around the world. In exchange for some hours of work per day as a volunteer, you get free accommodation and sometimes free board.
Costa Rica is a great place for you if you want to learn about permaculture projects and organic farming. You can apply to positions like this if you want to be part of an eco project about farming and animal care.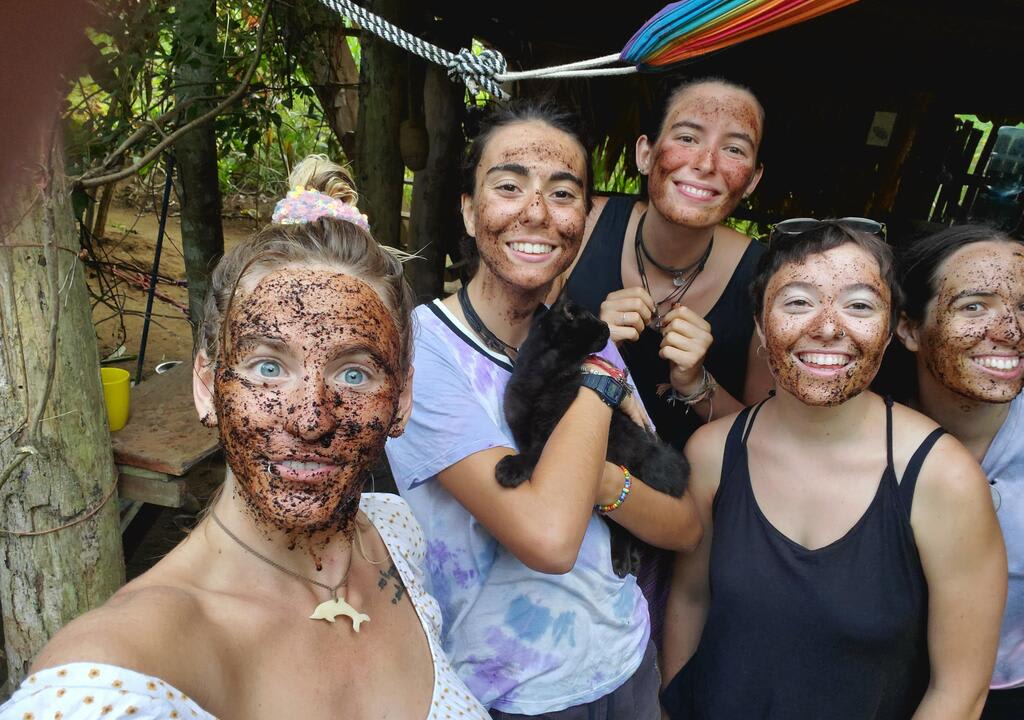 If you love animals, you can volunteer in an animal rescue centre. If you want to have a good social impact and you speak different languages well, you can teach languages to the children. And if you love photography you can help this amazing eco lodge with social medias!

There are plenty of things you can do as a volunteer in Costa Rica, the important thing is to choose wisely and always try to help preserving the place and having a good social impact on the country. If you want to do that, you are in the right place.
So, don't waste another minute, pack your things to go to Costa Rica now, and don't forget to subscribe to one of Worldpackers' plans to volunteer, save a lot of money and help the country.
If you are heading to Costa Rica, maybe you could be interested in these other articles:
Best beaches in Costa Rica: Getaway tropical beach vacation

How to visit Costa Rica on a budget

The best time to visit Costa Rica: planning your trip wisely